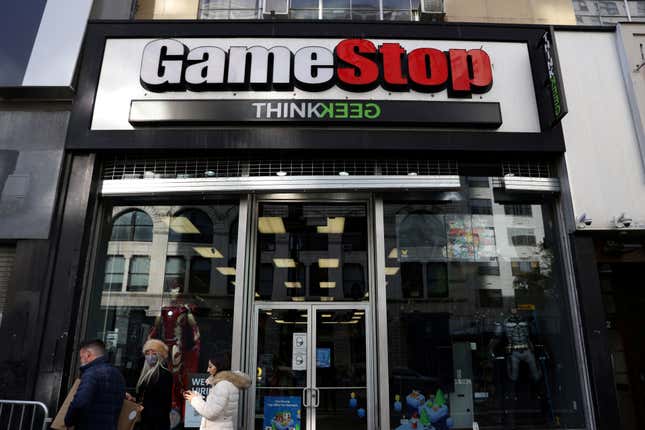 Activist investor Ryan Cohen is taking the reins at GameStop in a dramatic day for the embattled retailer of meme stock fame.

The video game retailer yesterday (June 7) disclosed that its board of directors has elevated Ryan Cohen as executive chairman, effective immediately, to "focus on capital allocation and overseeing management." Cohen's appointment coincides with CEO Matt Furlong's termination, the company announced alongside first quarter earnings results.
Soon after the shuffle, Cohen posted a cryptic message on his Twitter account that appears to be a play on the ousted CEO's name—"Not for long." The firm did not share the reason for Furlong's termination months after he delivered a profitable quarter (Q4 2022) for the company—its first in his two years at the helm.
"We believe the combination of these efforts to stabilize and optimize our core business and achieve sustained profitability while also focusing on capital allocation under Mr. Cohen's leadership will further unlock long-term value creation for our stockholders," the ailing company said in a regulatory filing.
GameStop floundering, by the digits
More than 20%: How much GameStop's shares plunged after Furlong's firing news
11.9%: Ryan Cohen's RC Ventures' stake in GameStop
2: Chewy executives were named to the retailer's board as part of an agreement with the company's management in January 2021
$1.24 billion: Revenue in the period ended April 29, down from $1.38 billion during the same period last year.
$5.93 billion: Annual sales last year, down drastically from a recent peak of $9.36 billion.
5: Rounds of layoffs at GameStop across 2022 and the start of this year owing to high inflation, low consumer sentiment, and profitability goals.
Quotable: GameStop is struggling
"Everything's on clearance. No one comes in anymore and the corporate layoffs have started."—TikTok user RedSonja (@redsonjattv), who works as a manager at a physical GameStop store, said in a viral video from February this year.
Other leadership and structural shuffles at GameStop
GameStop's general counsel, Mark Robinson, will become general manager and principal executive officer, handling "administrative matters, corporate development, legal affairs and support for GameStop's holdings, including the oversight of other executive officers besides [Cohen]." He will continue to serve as general counsel as well.
Alan Attal, a former Chewy executive and a current member of GameStop's board, was named lead independent director of the board.
Moreover, GameStop dissolved its Strategic Planning and Capital Allocation Committee, which was so far tasked with assisting the board in its oversight of "operational objectives and corporate strategy, capital allocation priorities and other opportunities for maximizing stockholder value."
Person of interest: Billionaire Ryan Cohen
Cohen, whose net worth is $3.6 billion according to Forbes, bought a stake in GameStop in 2020 and joined the board a year later, after the company was sucked into the meme stock mania.
The co-founder of online pet food company Chewy was heralded as a hero of sorts in Reddit circles, where users watch his every move—cryptic tweets included—for investment clues. Retail investors saw him as a figurehead who was on their side.
In January 2021, GameStop's shares surged 1,625%, including a 400% gain in one week, as traders on Reddit teamed up to push the stock higher and squeeze short sellers. Cohen's involvement had a similar effect on other so-called meme stocks like AMC and now-bankrupt Bed, Bath & Beyond, too.
A recap of Matt Furlong's resume
Chief executive officer, GameStop (June 2021-June 2023)
Country leader, Australia, Amazon (May 2019- May 2021)
Director, technical advisor—North America consumer business, Amazon (March 2018-Apr 2019)
Category Leader and Director, Consumer Electronics & Home, Amazon (January 2014 to Feb 2018)
Associate director, Procter & Gamble (2000 - 2012)
Fun fact: The exodus of ex-Amazon execs at GameStop
GameStop brought in several Amazon execs to fill top-level roles around the time when Furlong started his tenure in June 2021. All of them—ex-chief financial officer Michael Recupero, former chief operations officer Jenna Owens, former chief technology officer Matt Francis, and ex-chief growth officer Elliott Wilke—have all left GameStop.
Related stories
🎮 GameStop posted its first profitable quarter in two years
🤔 Why investors love GameStop's stock split
🎁 GameStop's FTX deal is about gift cards. Its stock went up anyway.