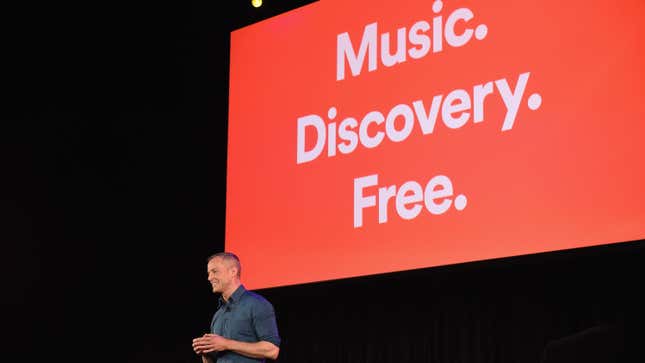 Spotify is taking on the likes of TikTok and YouTube Shorts, introducing a video feature to aid users' music discovery process, locking them into its own ecosystem.

Paulina Porizkova on approach to Instagram
Yesterday (Mar. 8), the Swedish music-streaming service unveiled "a new, dynamic mobile interface built for deeper discovery and more meaningful connections between artists and fans." Specifically, the app is adding video clips in an endless scrolling feed that recommends music, podcasts and audiobooks.
The videos come from the Canvas feature, which lets artists add a short looping visual to each of their tracks on the platform. The company describes it as "album artwork, for the streaming age." Users can save and share the recommendations, and also explore related genres using the hashtags within the feed. Eventually, Spotify could sprinkle in ads in the video feed, à la Instagram reels.
Quotable: Keep artists and listeners within Spotify
"When you have your phone in your pocket, when you're listening to a playlist, we're really good at finding similar songs. But there's another part of the discovery journey, which is foreground discovery. We don't only want to rely on other platforms to do the foreground discovery." —Co-president and chief product and technology officer Gustav Söderström
Other things Spotify announced in its Stream On event
🎧 DJ, a new personalized AI guide, first introduced to premium users in the US and Canada, that can choose what to play for a listener based on their preferences. On days when users tune in, fans spend 25% of their listening time with the DJ.
🔀 Smart Shuffle, which makes personalized recommendations in the middle of an original user-generated playlist.
▶️ Autoplay for Podcasts, which will play another relevant episode that fits a user's taste automatically when a podcast finishes.
Company of interest: TikTok
Viral TikTok trends have a track record of propelling songs to the top of the charts, so it's no surprise the Bytedance-owned Chinese company is making similar moves to Spotify, albeit in the opposite direction. The video-streaming platform has set its sights on music streaming and it's talking to music labels to make that happen.
Spotify's business, by the digits
489 million: Spotify subscribers, around 205 million premium ones
Over $1 billion: Money Spotify spent on podcast companies and talent since 2019
56%: Share of Spotify's user base that is female in the US
$7 billion: Payouts by Spotify, artist's royalties, made in 2021
600 employees or 6% of the workforce: How many people Spotify fired this January, owing to investing too much too fast
Related stories
✂️ Spotify is laying off about 6% of staff as tech layoffs continue
👣 Napster paved the way for our streaming-reliant music industry
👑 How Spotify plans to challenge YouTube's video podcasting supremacy