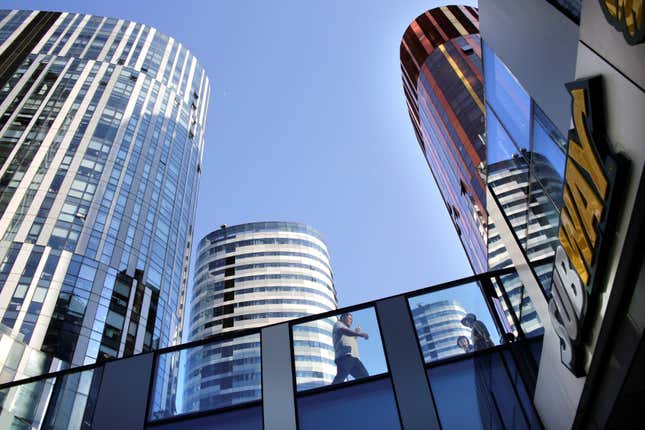 Subway, one of the world's largest fast-food chains, has announced a sprawling deal with a Shanghai development company to open nearly 4,000 new restaurants in mainland China over the next 20 years. It's the largest franchise deal in Subway's history.
Marcus Samuelsson on the New York City restaurant scene
The sandwich chain reached an agreement with Shanghai Fu-Rui-Shi Corporate Development Co. to open the restaurants, as well as acquire the exclusive rights to manage all of the roughly 500 existing Subway locations in mainland China. The deal includes additional funding from a consortium of private investors, including Asia Investment Capital.
"China is a key market with significant long-term growth opportunity," Subway CEO John Chidsey said in a press statement.
Subway's global footprint, by the digits:
37,000: Approximate number of Subway restaurants around the world. By comparison, McDonald's has about 38,000.
9,000: Planned commitments to open new Subway stores worldwide.

20,000: Estimated number of franchisees who own Subway locations.
Fast food looks to China's massive consumer base
Subway has prioritized international expansion in recent years, opening stores in more than 100 countries even as it closed a number of US locations. The chain now has more than 3,500 restaurants in Asia and is looking to double its presence in the region in the next five years.
Other companies have followed suit, similarly targeting China's massive consumer base as a prime opportunity for expansion. Starbucks, another fast-food giant, plans to add about 1,000 stores in the country every year until 2025. The company already operates 6,100 locations in mainland China, with former CEO Howard Schultz predicting that China could one day be its largest market.
McDonald's announced aggressive plans to expand its locations in China this year, confirming that almost half of its proposed 1,900 new stores will be there. The burger chain already has more than 4,500 restaurants in mainland China and Hong Kong.
Related stories
China is ditching Western fast food joints for healthier options
Subway agrees to measure its footlong subs to make sure they're really 12 inches