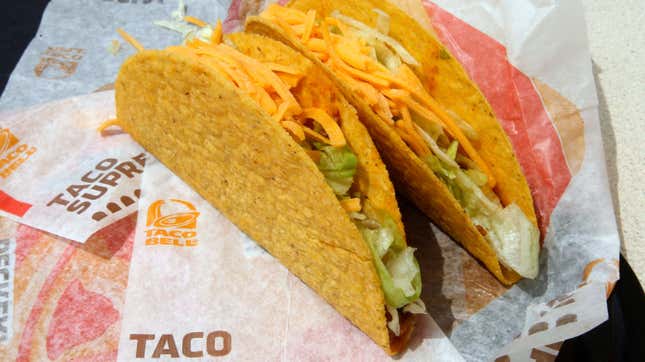 In a win for Taco Bell, Taco John's is giving up its Taco Tuesday trademark. But it's not accepting defeat quietly. The fast food chain wants Taco Bell to pay for picking the fight in the form of a donation to charity.
Why a tightening of credit conditions could lead to a weak economy
Taco Bell mounted a Freeing Taco Tuesday campaign in May, filing a petition with the US Patent and Trademark Office's (USPTO) Trademark Trial and Appeal Board to cancel trademarks on the "common term." Taco John's decided it doesn't want to be "paying millions of dollars to lawyers" to defend its position.
Taco John's CEO Jim Creel instead announced the company will "begin sharing Taco Tuesday with a pledge to contribute $100 per location in our system to restaurant employees with children who are battling a health crisis, death or natural disaster," with a challenge that "our litigious competitors and other taco-loving brands to join us."
Taco John's, which has owned the trademark in 49 states for the past 34 years—a small business called Gregory's owns the registration in New Jersey—has 400 restaurants in 21 states, and made a $40,000 donation to non-profit organization Children of Restaurant Employees (CORE).
While the move is majorly aimed at Taco Bell, the Wyoming-headquartered company also urged Del Taco, Taco Bueno, Taco Cabana, Jack In The Box and mom and pop taco shops across the country that intend to use Taco Tuesday to consider making donations.
One big number: How much Taco Johns is challenging Taco Bell to donate
$720,000: How much Taco Bell will have to donate if the chain takes up Taco John's challenge to match the $100-per-restaurant pledge, given its network of 7,200 outlets. It's "less than they'd have to spend in a legal battle for the mark," Creel said.
Quotable: Will Taco Bell give foregone legal fees to charity?
Let's see if our friends at Taco Bell are willing to "liberate" themselves from their army of lawyers by giving back to restaurant families instead. —Taco John's CEO Jim Creel in a statement on July 18
Person of interest: LeBron James
Taco John's also took a jab at NBA star LeBron James, whom Taco Bell recruited as a global ambassador in its fight to free "Taco Tuesday." The company invited "Taco Bell spokesperson and prolific trademark owner LeB*** Ja***" to donate "any fees he received from the latest multi-million-dollar Taco Bell Taco Tuesday ad campaign to CORE."
The basketball star, a taco fan, is himself a trademark petitioner for the term "Taco Tuesday," having filed in 2019 an application for the term in the fields of "advertising and marketing services," "podcasting services," and "online entertainment services."

A brief history of "Taco Tuesday" trademark wars
1971: The earliest documented use of "Taco Tuesday" is in the April 5 issue of Spokane Chronicle, according to Los Angeles Times.

1978: Greg Gregory started Taco Tuesdays at his family business Gregory's Restaurant and Bar in Somers Point, New Jersey, because that's the only day his family let him put tacos on the menu.
1982: Following the advice of his college professor, Gregory trademarks "Taco Tuesday."
Early 1980s: David Olsen, the owner of a Taco John's in Minnesota, coins the term "Taco Twosday" when he started selling 99 cents tacos in pairs, as per Taco John's lore.
1984: Steve Levinson, owner of Tortilla Flats in Laguna Beach, applies for a state trademark for "Taco Tuesday" in California in 1984. (It has since lapsed.)
1989: Taco John's successfully applies to trademark Taco Tuesday.
1997: Tortilla Flats in Laguna Beach files a lawsuit in federal court against the El Torito chain and seven other Orange County restaurants for trademark infringement.
1997: In Canada, MTY Food Group's TacoTime Canada gets the trademark for term.
2011: Salsa's Fresh Mex Grill owns the trademark to the term in Australia.
2014: After receiving a cease-and-desist letter from Taco John's, Old Fashioned Tavern and Restaurant in Madison, Wisconson, held a competition to choose a new name for their Tuesday taco special, where the submissions included jabs like "Corporate-free Taco Night" and "Drive Taco John's Out Of Business Tuesday."
Related stories
🌮 Taco Bell is suddenly hungry to fight the "Taco Tuesday" trademarks
🔍 Should Google own the verb "google"?
📱 Apple no longer has exclusive rights to the "iPhone" name in China