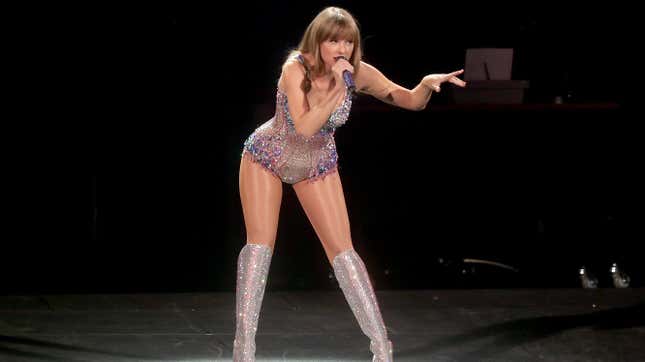 Taylor Swift's inquisitiveness saved her from jumping on the doomed FTX bandwagon.

More than a dozen celebrities, including NBA star Stephen Curry, NFL player Tom Brady, supermodel Gisele Bündchen, tennis legend Naomi Osaka, and popular TV show Seinfeld co-creator Larry David are named in a November 2022 class action lawsuit filed in Miami. The complaint blames FTX and its paid brand ambassadors for actively participating in the "offer and sale of unregistered securities in the form of yield-bearing accounts," as well as abetting fraud "designed to take advantage of unsophisticated investors from across the country, who utilize mobile apps to make their investments."
Swift avoided getting dragged in FTX's collapse because the singer did her due diligence, and asked one important question: "Can you tell me that these are not unregistered securities?", according to South Florida attorney Adam Moskowitz. Moskowitz, one of the lawyers representing the plaintiffs in the class action lawsuit, discussed the case in this week's episode of The Block's The Scoop podcast.
One big number: Taylor Swift's unfinished business with FTX
$100 million: How much FTX was willing to pay the celebrated singer-songwriter. They had reached the late stages of negotiating a sponsorship deal a little before the crypto exchange crumbled last November. A report in Rolling Stones cites an anonymous source saying Swift "would not, and did not, agree to an endorsement deal," but smaller-scale partnerships, like a ticketing arrangement involving NFTs for her Eras Tour, was on the table. But she turned that down, too.
Quotable: The confusion over crypto
"I mean, why would you possibly promote cryptocurrency if it may be an unregistered security? That's just baffling to me. There's a long list of influencers that promoted this. But you know, you've got to be realistic. I mean, I can't go after 1,000 right now. So you go after the largest ones." —Adam Moskowitz on The Scoop podcast
Person of interest: Shaquille O'Neal
Former NBA star Shaquille O'Neal, who goes by Shaq, was served outside his home just yesterday (Apr. 18). He had apparently been dodging lawyers for months, thereby stalling the case. Moskowitz even complained to the sheriff's office in Central Florida, where O'Neal is a sheriff's deputy. The office allegedly cashed the $50 check but did not serve O'Neal. In the meantime, Shaq has been trying to distance himself from crypto and its controversies ever since FTX collapsed last November.
Companies of interest: Other crypto exchanges Moskowitz is suing
Binance: The world's largest cryptocurrency exchange, its executives, and a handful of influencers who promoted the platform are all being sued for a whopping $1 billion, according to a Mar. 31 lawsuit filed by lawyers from Boies Schiller Flexner and The Moskowitz Law Firm.
Voyager: Adam Moskowitz's firm is also involved in a class action lawsuit against Voyager as well as NBA team Dallas Mavericks, and its owner Mark Cuban, for allegedly promoting a ponzi scheme.
A brief timeline of Taylor Swift's bold business moves
2014: The singer pulls her music from Spotify over a dispute about royalty per song play—an issue that had almost stopped her from releasing her 2012 album Red on the platform. Three years after the stand-off, Swift will put all her back catalogue back on Spotify and other rival services.
2015: Swift calls out Apple Music's decision to not pay artists during the three-month free trial period. In a now-deleted Tumblr post, the singer calls it "shocking, disappointing, and completely unlike this historically progressive and generous company." A day later, Apple reverses the controversial payment policy. Swift then let Apple stream her most recent album, 1989, for the first time. By the end of the year, Swift's 1989 World Tour Documentary became Apple Music's first big video exclusive.
2018: Swift forges a deal with Universal that helps all artists: "I asked that any sale of their Spotify shares result in a distribution of money to their artist, non-recoupable."
2021: Swift begins re-releasing recordings of her old songs tagged "(Taylor's Version)" to get ownership of her masters.
2022: The artist releases four exclusive Midnights vinyls—a superb business decision.
Related stories
👩‍⚖️ A $1 billion lawsuit is making matters worse for Binance
🧐 US regulators sued Binance for encouraging customers to buy unregistered crypto commodities
💰 Binance's proof-of-reserves is just another black box
Correction: The number FTX was willing to pay for a collaboration with Taylor Swift was $100 million, not $100 billion. We regret the error.