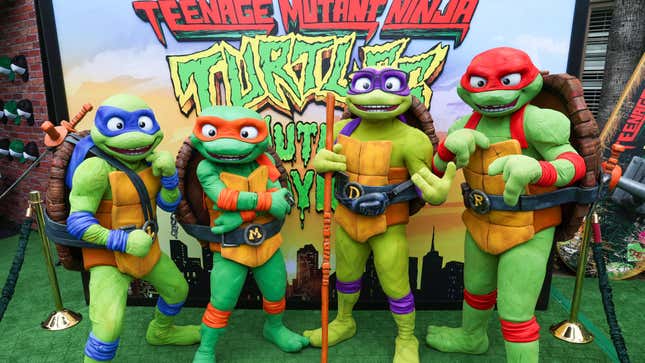 Paramount Pictures' Teenage Mutant Ninja Turtles: Mutant Mayhem, bombed at the Chinese box office, earning well below half a million in its Aug. 11 opening weekend. It failed miserably despite the presence of legendary Chinese action star Jackie Chan voicing the character of Master Splinter, a mutant rat who plays the part of adoptive father to the four evil-fighting turtles.
How to gather hybrid employees with purpose
The movie, which features the characters who first appeared in a 1984 comic by cartoonists Kevin Eastman and Peter Laird, faced intense competition. Not only did Barbie and Oppenheimer continue to bring in audiences, a big-ticket release shook the box office: Local crime thriller No More Bets.
The local movie is making bank at a time when China's sentiment towards Hollywood tentpoles is souring. From Transformers: Rise of the Beasts and Spider-Man: Across the Spider-Verse to Avatar: The Way of the Water and Top Gun: Maverick, most massive movies have delivered lacklustre performances in the mainland. Barbie became an anomalous success story in the list of underperformers because of strong word-of-mouth.
Luckily for the anthropomorphic amphibians, their global box office performance is overall a success. The film is on its way to breach the $100 million mark, recovering its budget of $70 million and then some.
China box office on the Aug. 11 weekend, by the digits
$55 million: No More Bets preview earnings for the Friday-Saturday period on the Aug. 4-6 weekend, beating the opening figure—$53.7 million—for Meg 2, according to Artisan Gateway, used by studio distributors as definitive rather than estimates
$88 million: No More Bets box office earnings between Friday and Sunday in China alone, according to Comscore. It raked in more money than Barbie on its fourth weekend globally at $78.8 million ($33.7 million in North America and $45.1 million in international territories)
$310,000: TNMT: Mutant Mayhem ticket sales for its opening weekend in China, according to entertainment magazine Variety, which quoted local box office services placing it as the ninth most popular film in the country

$1.5 million: How much the Ninja Turtles movie is poised to make in China overall, according to local ticketing service Maoyan
$510 million: Maoyan' prediction for No More Bets earnings over its theatrical run
Movie of interest: No More Bets
The Ning Hao-produced Chinese crime action movie No More Bets, about a computer programmer and a model who go overseas and get themselves involved in an online fraud scheme, was the best performing movie in the world on the Aug.11-13 weekend, as per ComScore rankings.
The movie was initially set for an unusual mid-week release on Aug. 9 but even that was moved up by a day. When the previews over the last weekend garnered promising turnouts and reactions that, its Dirty Monkey backers moved the release date to Aug. 8.
Related stories
🎟️ Barbie made almost twice as much as Oppenheimer during opening weekend
🍿 China didn't release a single Marvel movie in three years. Next month, two will hit the screens
🎞 "Top Gun: Maverick" shows Hollywood can survive without China's film market