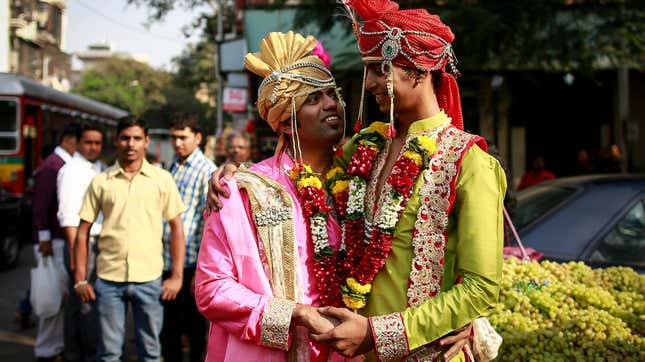 Five years after India's Supreme Court decriminalized homosexuality, its government is still homophobic.
Eric Beiley Part II: Where rates are heading
As the court begins to hear dozens of petitions in a collective lawsuit demanding the right of LGBTQ couples to marry, the dissent from Narendra Modi's Bharatiya Janata Party (BJP) government is loud and clear. In a strongly worded affidavit asking the court to throw these cases out, the government has argued that same-sex marriage is an "urban elitist concept" that undermines religious and social values.
In a landmark verdict in September 2018, the Supreme Court had struck down a 2013 judgement that upheld a 157-year-old colonial-era law called section 377. That law had deemed gay sex an "unnatural offence." But although the 2018 decision identified private, adult, consensual same-sex relationships as a fundamental right, it didn't translate into absolute, stigma-free social acceptance—and definitely not into the right to marry, which is both a social and legal currency.
"It's not good enough to say that we'll leave you alone with 377, now be happy," Mukul Rohatgi, the advocate arguing on behalf of the petitioners, said in court.
The government, meanwhile, is dissuading the court from passing "omnibus orders" on the matter, arguing that same-sex marriage is a sensitive social issue falling under parliament's law-making powers. In a country where even heterosexual couples are under attack from rightwing Hindu organizations when it comes to interfaith and inter-caste marriages, same-sex couples have a long road ahead.
By the numbers: The Indian Supreme Court's same-sex marriage hearings
5: The number of judges on the panel that will hear the case
18: The number of couples who have petitioned the Supreme Court to allow same-sex marriage in India. At least three of the petitions have been filed by couples who are raising children together.
At least two weeks: How long the hearings are expected to last
37%: The proportion of Indians who say homosexuality should be accepted, in a 2020 Pew survey—a steep increase from 15% in 2014, when Pew first asked the question in the country.
Quotable: The marriage and biological gender debate
"There is no absolute concept of a man or an absolute concept of a woman at all. It's not the question of what your genitals are. It's far more complex, that's the point. So even when Special Marriage Act says man and woman, the very notion of a man and a woman is not an absolute based on genitals."

— Chief Justice DY Chandrachud , after Tushar Mehta, the government's solicitor-general, argued that the Special Marriage Act was intended for relationships between a "biological male and biological female." 
What happens if same-sex marriage is legalized in India
💸 Money matters. Same-sex couples should technically be able to open to joint accounts together, claim inheritances and tax deductions, and more.
👶 The right of same-sex couples to adopt. The National Commission for Protection of Child Rights, a government-appointed body, is already arguing in the Supreme Court that allowing same-sex couples to adopt is akin to "endangering" the children.
🫶 A growing recognition of trans rights. For trans people to have their relationships and families of their choice legally recognized is also part of the larger fight for the right to marry who you chose, regardless of gender, religion or caste.
Person of interest: Saurabh Kirpal
The Modi government asked the Supreme Court to reconsider the promotion of Saurabh Kirpal, an openly gay lawyer, to a judgeship in the Delhi High Court. The government added that Kirpal's Swiss partner—a human rights activist—poses a security threat.

During this long legal tussle, the collegium that first recommended Kirpal for promotion in October 2017 stood by him. As recently as January, the Supreme Court rejected both lines of reasoning. Kirpal, the son of a former chief justice, would be India's first openly gay judge if his appointment is confirmed.

(Not so) fun fact: Most of Asia doesn't allow same-sex marriage
If India legalizes same-sex marriage, it will become only the second country in Asia after Taiwan to do so.
Related stories
🏳️‍🌈 A personal account of what it means to be gay in India
👊 Here are the crusaders who've spent decades fighting for gay rights in India
🏁 Timeline: The struggle against section 377 began over two decades ago