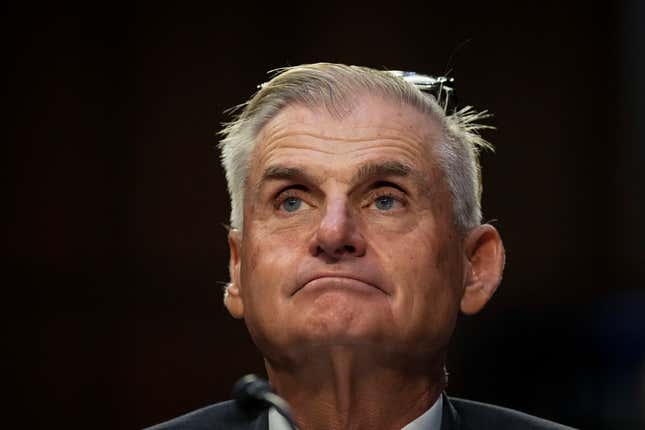 When the PGA Tour and LIV Golf announced that they were merging on June 6, that was a bit premature. They hadn't actually signed a deal to do so—and they still haven't.

Should you keep investing in Big Tech?
The seismic sports announcement boasted of a "landmark agreement to unify the game of golf" and promised to combine the businesses of the PGA Tour with Europe's DP World Tour, and LIV Golf, backed by Saudi Arabia's Public Investment Fund.
But that statement was at best confusing and at worst misleading. The golf tours signed a document known as a framework agreement (pdf). Under the terms of this contract, the PGA Tour and LIV agreed to drop their litigation pending in a federal district court in northern California, to stop poaching each other's golfers, and to work toward a merger.
So, there's no deal yet in place to "unify" golf, merely one to stop the lawsuits and a pledge to try to combine.
"There is no merger, there is no deal"
On July 11, two officials from the PGA Tour testified before US lawmakers on the Senate Permanent Subcommittee on Investigations. Jimmy Dunne, the PGA Tour board member leading deal negotiations, admitted that he and other officials botched the announcement.
"The framework agreement—although critical for ending the litigation—is very limited in scope," Dunne said in his prepared remarks. "This has been widely misreported, and I think we at the Tour clearly did not do a good enough job explaining that limited scope, so that it was understood by fans, players, the media, and Congress."
Later in the hearing, Dunne went even further. "The rollout was very misleading and inaccurate, which was everyone's fault," Dunne said. "There is no merger, there is no deal, there is simply an agreement to get to an agreement and settle the agreements."
The revelation was cheery news to senator Richard Blumenthal, the subcommittee's chair, who urged Dunne and PGA Tour chief operating officer Ron Price, who also testified, to pull out of the deal with the Saudi government while it still can. "So you still have the choice to stand up against sportswashing, against the Saudi monarchy, against the hundreds of billions of dollars… that the Saudis will throw at you and stand up for America," Blumenthal said. "Maybe you're contractually bound to give it your best efforts to reach an agreement but there is something that stinks about this path that you're on right now."
The deal to combine the PGA Tour and LIV has sparked widespread outrage over allegations that Saudi Arabia is using sportswashing to help mend its abysmal record on human rights, something that PGA Tour officials called out for years before acquiescing and committing to working directly with the Saudis.
But a combined PGA Tour-LIV Golf entity is still a ways away. Even if and when a deal is signed, it would still need to pass muster from global antitrust regulators eager to scrutinize the terms.
"Chapter one of a multi-chapter book"
Gerald Maatman Jr., a partner at the law firm Duane Morris and former president of the Chicago District Golf Association, said that the tune PGA Tour officials were singing was "night-and-day different" from when they first announced the deal. "This was chapter one of a multi-chapter book—maybe the introduction," Maatman said. "The other chapters need to be written and then we need to read them in order to figure out what's going on."
At the very least what's going on is a joint commitment to cease litigation, which was becoming extremely costly for the PGA Tour—and would only continue to drain the tour's coffers, with a trial at one point set for January 2024 and then delayed even further.
"We cannot compete with a foreign government with unlimited money," PGA Tour commissioner Jay Monahan told The Wall Street Journal on June 10. "This was the time… We waited to be in the strongest possible position to get this deal in place."
LIV Golf joined an antitrust lawsuit filed by professional golfers against the PGA Tour in 2022, alleging that the PGA Tour illegally engaged in anti-competitive practices to shut out a budding rival. But the PGA Tour countersued LIV, claiming the Saudi-backed tour and its players breached numerous contracts as a result of LIV poaching former PGA Tour players such as Phil Mickelson and Bryson DeChambeau.
Henry Hauser, an antitrust lawyer at the firm Perkins Coie, told Quartz that framework agreements are uncommon but not unheard of in preceding formal merger contracts. This one merely stops the cash-draining litigation and LIV poaching PGA Tour golfers, but The New York Times reported on Thursday (July 13) that agreement has been watered down even more. The two parties reportedly dropped the non-solicitation clause, which prevented poaching, under pressure from the US Department of Justice, which is already reviewing the early-stage deal.
The two tours agreed not to sue each other in the future
It's "a little surprising," Hauser said, that the framework dismissed the litigation with prejudice—meaning neither party can sue over the same legal claims in the future—before an actual merger was signed. "It kind of shows a lack of confidence in their lawsuit or a lot of confidence in this agreement," Hauser said.
But if that confidence is misplaced, there is a real possibility that the PGA Tour and LIV do not merge, can no longer sue, and will have to simply settle for coexisting.