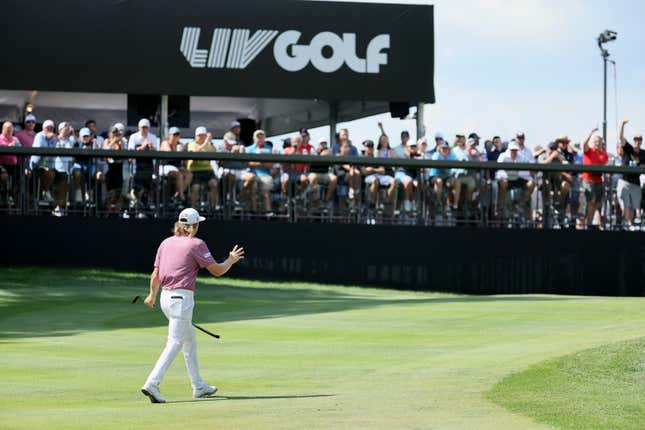 In a stunning about-face, the PGA Tour is merging with LIV Golf, ending both the flamewar between the two tours and an ongoing antitrust battle over the PGA's market dominance.
The benefit of leveraging coaches for performance
The PGA and its major stars have railed against LIV since the insurgent golf tour's 2022 debut. LIV, backed by Saudi Arabia's sovereign wealth fund, represented an unprecedented challenge to the PGA's preeminence, luring away some of the established tour's brightest stars with the siren call of gargantuan paydays.
"After two years of disruption and distraction, this is a historic day for the game we all know and love," PGA Tour commissioner Jay Monahan wrote in a statement. The merger also includes the DP World Tour, the European golf tour.

"Going forward, fans can be confident that we will, collectively, deliver on the promise we've always made—to promote competition of the best in professional golf and that we are committed to securing and driving the game's future," Monahan added.
Monahana's allusion to promoting competition is a sordid play on words. He must be talking about promoting competition between golfers—now without restrictions imposed on them by pledging allegiance to a single golf tour—because this mega-merger does anything but promote competition within golf as an industry.
Instead, it consolidates the sport into one supercharged and centralized behemoth.
Saudia Arabia's blatant sportswashing
LIV Golf was widely seen as a "sportswashing" effort by Saudi Arabia—a way to repair its political image through the prestige of professional sports.
But just months after golf legend Phil Mickelson called the Saudi government "scary motherfuckers" in an interview about the government-ordered murder of Washington Post columnist Jamal Khashoggi and the country's brutal treatment of gay people, Mickelson joined LIV in 2022, calling it a "once-in-a-lifetime opportunity to reshape how the PGA Tour operates."
Mickelson was fundamentally right on both accounts. As a tour hatched by a monarchist regime that regularly engages in human rights abuses and political oppression, LIV presented a woefully inelegant but exceptionally well funded vehicle for a legitimate challenge to the PGA Tour's monopoly power.
A win-win for the tours, and a loss for competition
While the exact terms of the merger are unknown, the announcement indicates that Saudi Arabia's Public Investment Fund (PIF), which owned LIV, will "make a capital investment into the new entity to facilitate its growth and success." PIF currently controls more than $600 billion and bought a majority stake in the English association football team Newcastle United in 2021.

The golf merger is a win-win situation for the PGA Tour and the Saudi government. The PGA maintains its central authority while receiving a deep-pocketed new investor. The Saudi government not only can claim victory in its efforts to break into golf, but now presumably controls a significant stake in golf's biggest tour. And both parties can avoid expensive litigation, as the merger agreement ends all pending litigation between them.
The world's professional golfers are now largely free to play against one another again. But, despite what Monahan says, the merger is an abject failure for competition in golf and a sobering admission that near-unlimited money can buy an oppressive government into the power seat of a major sport.