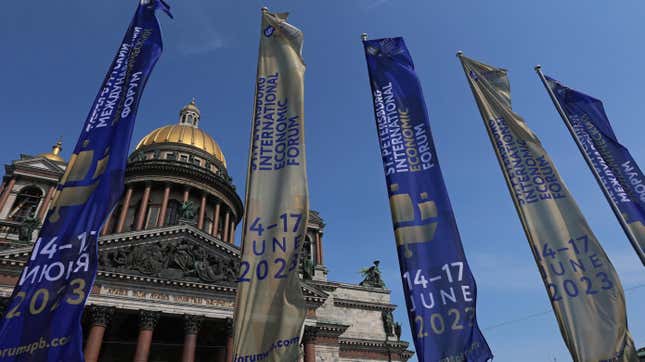 To check on the state of Russia's standing in the international business community, look no further than the 26th edition of the St. Petersburg International Economic Forum (SPIEF), scheduled for three days starting today (June 14) in the Russian city.
Why a tightening of credit conditions could lead to a weak economy
Attendance of high-profile business and political leaders at the so-called "Russian Davos" was already impacted last year by the country's invasion of Ukraine, and this year it's looking even worse. The latest snub came from Kazakh president Kassym-Jomart Tokayev—the only foreign political leader who physically shared the stage with Russian president Vladimir Putin last year—will not attend the Kremlin's flagship economic summit.
The country is still sending some representation—deputy prime minister Roman Sklyar and deputy economy minister Timur Zhaksylykov will be present, yet Kazakhstan has cautiously but surely reduced its dependence on Russia after its northern neighbor invaded Ukraine. The country hosted its own international event in a bid to position itself as a global business powerhouse, the Astana International Forum, whose first edition took place earlier this month.
Brazilian president Luiz Inacio Lula da Silva, who has pitched himself as a broker of sorts between Russia and Ukraine, declined Putin's invite three weeks ago. Other countries have been far more explicit with their condemnation, and with boycotting the business networking event.
US tech leaders aren't going to SPIEF 2023
Former CEO, chairman, and advisor at Google's parent company Alphabet, Eric Schmidt, was named in a draft programme for Vladimir Putin's flagship summit—but he has not been invited and he won't go, the Financial Times reported. Schmidt attended the event back in 2011 but his visit to Kyiv last year is proof of where his allegiance lies.
Others from the US named in the draft seen by FT, Lucid Motors chief executive Peter Rawlinson, Stanford professor Ilya Strebulaev—who quit Russian tech giant Yandex's board last March—and renowned AI researcher Eliezer Yudkowsky, also said they would not attend.
The media presence is likely to be reduced too, considering journalists from countries Moscow deems "unfriendly"—ones that have sanctioned Russia over its invasion of Ukraine—aren't welcome (and at least one, Moscow-based WSJ reporter Evan Gershkovich, is behind bars).
St. Petersburg International Economic Forum, by the digits
14,000: Attendees for the SPIEF claimed in 2022—more than the 13,500 in 2021
130: Countries that were represented by the 2022 attendees—less than the 141 in 2021
Over 100: Countries expected to send delegates this year. Dignitaries from countries Saudi Arabia, India and China—nations that have deepened their trade relationships with Russia despite western sanctions—as well several other Middle Eastern and southeast Asian countries will be there. Western presence will be scant, though.
695: Agreements signed on the sidelines of the 2022 summit to the tune of $66 billion
27 times: How often the phrase "technological sovereignty," a synonym of sorts for ending dependence on western supply chains, appears in the SPIEF 2023 programme.
Country of interest: France
France is a prime example of a country that backed away from building relations with Russia in light of the war in Ukraine.
Back in 2018, French president Emmanuel Macron shared the stage with Putin. At the time, over 500 French companies operated in the Russian market. France ranked second among foreign direct investors and employed 170,000 Russian citizens, Macron said at the time. The two leaders bonded over shared views on then US president Donald Trump's actions on Iran, climate change, and international trade.

Today, France is toughening sanctions against Russia while increasing up its arms supply to Ukraine. Several French companies including financial services companies BNP Paribas and Credit Agricole, sports goods firm Decathlon, and luxury giant LVMH, have stopped doing business in Russia.
A non-exhaustive list of leaders attending SPIEF 2023
🇦🇪 Among those who are welcome is United Arab Emirates Minister of Economy Abdullah Al-Marri will join as a guest of honor. This marks the third year in a row, after Qatar in 2021 and Egypt last year, that the guest country is from the Middle East.
🇧🇮 Burundi, which is still toeing the line on Russia's invasion of Ukraine, has sent a high-level delegation, including its first lady.
🇨🇺 An ally, Cuba, is sending its prime minister, Manuel Marrerobur.
🇦🇹 Former Austrian foreign minister Karin Kneissl, who infamously danced with Putin at her wedding and won a seat on the board of oil giant Rosneft, "will be in several panels," as she tweeted on June 10.
🇨🇳 Zhang Kejian, head of China's National Space Administration, is on a BRIC countries in space panel.
One more thing: Russia's 10% taxes to make money
Russia's feeling the pinch of continuing the war in Ukraine, and doing business in a world full of sanctions.
The Kremlin yesterday (June 13) approved a draft bill for a one-time 10% windfall tax on large Russian companies' excess profit for 2021-2022 over the same indicator for 2018-2019, according to a Tuesday announcement by the country's finance ministry. It's targeted towards companies that annually made more than 1 billion rubles ($11.9 million) in profits since 2021.
There is no definitive list of who will be taxed, but analysts told the Financial Times that Russia's fertilizer and metals sectors were likely candidates. The tax must be paid no later than Jan. 28, 2024.
Separately, Western countries looking to leave Russia may incur a 10% exit tax of their own. And companies may well need to take permission from the their home country's treasury to pay it, or risk violating sanctions.
Related stories
💛 The moral philosophy behind boycotts
🍫 Top Scandinavian companies are boycotting the maker of Oreo and Toblerone for its business in Russia
⛽ How the new sanctions on Russia will affect what you pay at the pump