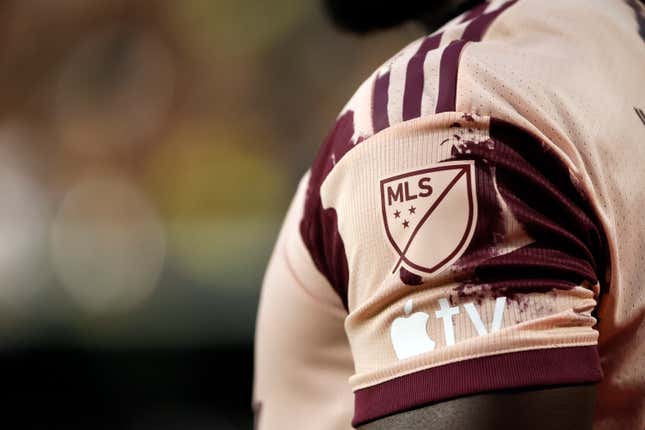 Live sports are, far and away, the most popular thing on television in the US. Last year, the top 10 telecasts in the US were all major sporting events. This is nothing new. In US history, 22 of the 30 most watched television programs ever are Super Bowls (the 2023 NFL championship game is No. 2, just behind the moon landing).
Why the Apple developer conference could signal a Disney stock buying opportunity
Then why does it feel increasingly difficult to keep up with your favorite team? Short answer: The biggest streaming platforms are in the midst of an aggressive live sports cash grab—trying to compete with the broadcast strategies employed by traditional networks by snatching up licensing agreements—and fans are suffering as a result.
The last decade has seen Americans switch to streaming en masse—in 2022 streaming became the way most Americans watch television. But the model pioneered by Netflix—buying content from studios after it was initially broadcast—hasn't included live sports, until now.
Major players in the streaming world (with deep pockets) like Disney, Apple, and Amazon, have been changing their business strategy and jockeying for the rights to stream live sports.
This pivot in strategy stems from the fact that, historically, sports have been among the most lucrative segments of the television industry, in addition to the most popular. For example, ESPN's position as the most watched cable network for Americans under the age of 55—the most desirable demographic for sponsors—allows it to generate as much as $2 billion in ad revenue annually for Disney, its parent company.
So, this year, major streamers will spend over $6 billion on the rights to exclusively broadcast major sporting events, looking to chase a new lucrative revenue stream.
How much does it cost to be a devoted sports fan?
The migration of live sports to cable-cutting streaming services is only partly done. This means that if you want to be a casual fan of the five major sports leagues—MLB, MLS, NBA, NFL, NHL, or baseball, soccer, basketball, football and hockey—you not only have to subscribe to a bunch of different online streaming platforms, but you also have to keep your expensive cable subscription.
The average cable plan (including major national sports broadcasters ESPN and TNT) costs $83 a month. This also includes regional channels that broadcast hometown games when they are not being nationally broadcast.
Perhaps you want to watch Thursday night football—a marquee matchup between exciting teams—and you're also interested in following Lionel Messi's much-heralded debut in the American soccer league. You'll need an Amazon Prime and Apple TV+ account, which cost a monthly fee of $15 and $7 respectively. Including cable, that's $105 per month.
What if you're a college football fan, who also wants to keep up with the PGA Tour? That will be another $10 for ESPN+ and $6 for NBC's Peacock streaming service. That comes to $99 a month.
Let's say you want to see regular season matchups of pro teams outside the broadcast market you live in, often the only way to see exciting young players who don't make the playoffs.
Well, sports leagues have you covered with their own streaming services dubbed "league passes." It's $25 for baseball, $15 for football, $25 a month for hockey, and $15 for basketball, with the potential for the stream to be blacked out if a national broadcast decides to broadcast the game. The WNBA also has its own $25 a season streaming service—separate from the NBA—as well as a handful of national broadcasts. Altogether, a rabid sports fan could find themselves paying well over $200 a month—just to watch sports.
Spectrum vs. Disney: how streaming is breaking cable's business model
If this all seems unsustainable, it is. And the skyrocketing prices of the live sports market were put on full display this month during a standoff between Disney and Charter's Spectrum Cable, a major regional cable company in California.
Amid a financial dispute between the two companies, Charter has blacked out Disney-owned channels like ABC, FX, and ESPN, and replaced the programming with a sign telling customers that Disney's exorbitant demand for $2.2 billion in licensing fees is to blame. The company has also demanded that Disney allow Charter customers access to Disney's vast library of streaming content.
This price dispute is part of a larger trend. Since 2015, networks like Disney have more than doubled their licensing fee for cable distributors, which is, in large part, caused by the rising price of the rights to professional sports broadcasts. The broadcast rights to the five major American sports leagues will cost $15.4 billion in 2023—or double what it was a decade ago—with high bids from wealthy companies like Amazon and Apple driving up prices across the industry.
It's also indicative of how direct-to-consumer streaming services affect the financial calculus of current cable distributers. Disney owns two of its own sports streaming services, Hulu Live Sports and ESPN+, begging the question: Why would CEO Bob Iger pay cable companies to broadcast their sports, when Disney can just do it themselves? Iger has been transparent about this new reality, admitting that "taking our ESPN flagship channels direct-to-consumer is not a matter of if, but when."
This tension was also evident in one of Disney's responses to Spectrum's shot across the bow, sending Stephen A. Smith—the bombastic face of ESPN—to rally frustrated customers on Twitter. His advice for sports fans? Sign up for streaming.
Related stories:
💰 Disney is making ESPN earn its keep by going all-in on sports gambling
🐁 Bob Iger's successor at Disney is still Bob Iger
⚾ Minor league baseball players scored a $185 million settlement in pay dispute