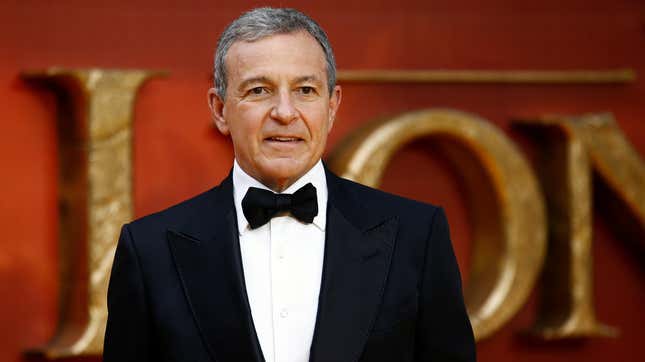 In November 2020, Disney made the surprising move of bringing veteran CEO Bob Iger out of retirement and back into office to pull the company's business act together. The arrangement had a caveat: He'd only stay in the role for another two years. Now, in yet another plot twist, Iger's term has been extended for two more years through Dec. 31, 2026, the Walt Disney Company board of directors announced yesterday (July 12).

Why the Apple developer conference could signal a Disney stock buying opportunity
Mark G. Parker, chairman of the company's board, cited Iger's "unparalleled ability to successfully transform Disney to drive future growth and financial returns" as the reasoning behind the board's unanimous decision to hold on to him a little longer.
Iger, who was CEO for 15 years before retiring in February 2020, initially returned to undo the wrongs of his successor Bob Chapek with a limited contract and a mandate to find a new leader to take over the business. But two years was apparently not long enough to turn the business around and find a new CEO.
Quotable: Iger will wait to hand over the reins
Despite the challenges, I believe Disney's long-term future is incredibly bright. But there is more to accomplish before this transformative work is complete. —Bob Iger in a statement on July 12
A brief timeline of Bob Iger leading Disney
1996: Disney hires Iger as chairman of the Disney-owned ABC Group
1999: Iger is given the additional responsibility of president of Walt Disney International, to expand the company's footprint outside the US
2000: Iger is appointed president and chief operating officer at Disney
2005: Iger is appointed Disney's sixth-ever president. He succeeds Michael Eisner, who'd held the post for two decades.
2006: Iger makes his first game-changing acquisition, purchasing computer animation studio Pixar, which was owned by Apple CEO Steve Jobs, for $7.4 billion. Fifteen years later, he'll call it his "proudest decision" when Pixar has minted over $11 billion at the box office for Disney.

November 2009: After decade-long negotiations, Iger gets the greenlight from the Chinese government to open a new Disney theme park in Shanghai, China.
December 2009: Disney completes its $4 billion acquisition of comic book company Marvel and its "treasure trove of over 5,000 characters." Only two of the 32 Marvel Cinematic Universe (MCU) movies—Ironman and The Incredible Hulk—had released at this time. By February 2023, Marvel will earn over $28 billion for Disney. 
2012: Disney completes its $4 billion acquisition of Lucas films in December. Of the five Star Wars movies Disney released between 2015 and 2019, all but one—Solo: A Star Wars Story—were box office hits, and Disney has recovered its investment. With three new live-action Star Wars film on the way, and popular Disney+ shows, the franchise is a gift that keeps on giving.

2016: The nearly 1,000-acre Shanghai Disneyland opens in June. It attracts over 11 million visitors in the years before the 2020 Covid outbreak.
March 2019: Disney acquires film and TV studio 21st Century Fox for a whopping $71 billion, bringing major properties like Avatar, Alien, The Simpsons, X-Men, Planet of the Apes, and more, to Disney.
May 2019: Disney takes full control of streaming service Hulu

November 2019: Iger launches the company's own streaming platform Disney+
February 2020: Iger steps down as CEO
February-November 2020: The non-Iger months where Bob Chapek takes the helm shape up poorly. Financially, the business struggles with streaming posting losses upwards of $1.5 billion in the quarter ended Oct. 1, 2022. Chapek bungles reorganization, has an ugly public spat with Black Widow star Scarlett Johansson over streaming remuneration, and botches his response to Florida's so-called "Don't Say Gay" bill, which restricted instruction on gender identity and sexual orientation in classrooms.
November 2020: Iger comes back to lead as CEO.
Charted: Times are tough for Iger
Iger's list of redressals at Disney now, by the digits
7,000: Layoffs Iger undertook starting February as part of restructuring efforts in a bid to save $5.5 billion as streaming subscribers slowdown plagues the industry
50+: Shows Disney announced it's purging from Disney+ and Hulu to save money in May
$104: The price for the one-day pass that was limited to some school days in winter and spring but Iger made it usable for more than 60 days throughout the year this January. Disney also reinstated perks like complimentary self-parking at resort hotels and free photo downloads for its theme park rides and meet-and-greets. In March, Iger admitted Disney was "too aggressive" in raising admission prices.
$29.6 million: The poor domestic box office earnings of Pixar's June 16 release, Elemental, the worst three-day weekend start in the company's history behind Pixar's first release, 1995's Toy Story, which earned $29.1 million (upwards of $50 million, when adjusted for inflation). But, slowly and steadily, over three weeks, the worldwide total has grown to...
...$251.9 million: Elemental is now on track to beat Encanto (which earned $256.8 million worldwide) to become Disney's biggest animated hit since the beginning of the covid-19 pandemic.
Person of interest: Christine McCarthy
In June, Christine McCarthy, who had been with the company for 23 years, stepped down as chief financial officer after nearly eight years in the role. A critic of Chapek's missteps, McCarthy cited family medical leave as the reason for her departure. Kevin Lansberry, executive vice president and CEO of Disney Parks, Experiences and Products, started serving as the company's interim CEO on July 1. McCarthy, meanwhile, has assumed the role of "strategic advisor" as the company hunts for her permanent replacement.
Related stories
👑 Real-life CEOs on what succession means to them
👎 In the ScarJo versus Disney PR war, everyone's a loser