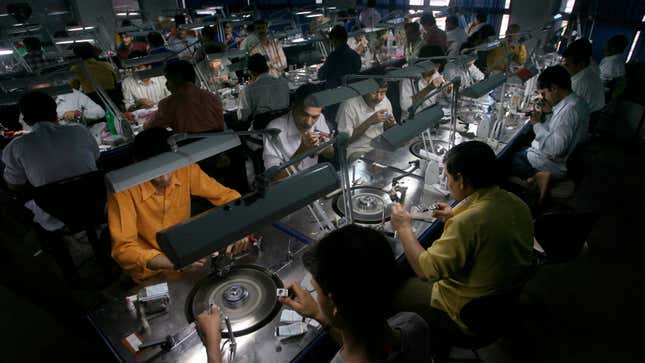 A new office building in India's diamond city—Surat in Gujarat, where 90% of the world's diamonds are manufactured—has surpassed the Pentagon as the largest structure of the kind.
Why a tightening of credit conditions could lead to a weak economy
Built over 7.1 million square feet of floor space, the Surat Diamond Bourse (SDB) has a big leg up on the 6.5 million square feet headquarters building of the US department of defense in Arlington, Virginia. The Pentagon was the world's largest building for 80 years before it got dethroned.
The 15-story structure, featuring a succession of nine rectangular structures spilling out from a central "spine," cost a whopping 32-billion-rupee ($388 million) to develop and build, according to CNN. 
Indian architecture firm Morphogenesis stopped and started construction over four years because over pandemic-related delays. The building is finally due to open its doors in November 2023, with prime minister Narendra Modi due to inaugurate it.
Quotable: Narendra Modi lauds Surat Diamond Bourse
"Surat Diamond Bourse showcases the dynamism and growth of Surat's diamond industry. It is also a testament to India's entrepreneurial spirit. It will serve as a hub for trade, innovation and collaboration, further boosting our economy and creating employment opportunities."—Prime minister Narendra Modi, who was Gujarat's chief minister from 2001 to 2014, quote-tweeted a CNN video of the Surat premises yesterday (July 19)
Working in the Surat Diamond Bourse, by the digits
4,700 office spaces: Office spaces in the Surat Diamond Bourse, which can also double up as small workshops for cutting and polishing diamonds. The offices were all purchased by diamond companies prior to construction, project CEO Mahesh Gadhavi told CNN
65,000: Diamond professionals, including cutters, polishers and traders, that can work on the premises at a given time. Besides offices, the workers also have access to dining, retail, wellness and conference facilities
9: Number of 1.5-acre courtyards with seating and water features that can serve as casual meeting places for traders
131: Number of elevators on the premises
7 minutes: The maximum amount of time it takes to reach any office from any of the building's entry gates, according to Sonali Rastogi, co-founder of the Indian architecture firm Morphogenesis that designed the behemoth building. In a democratic move, the offices were assigned to business via a lottery system
3 times: How much bigger SDB is compared its counterpart in Mumbai, Bharat Diamond Burse (BDB)
400: The small number of merchants that were willing to move in during the touted November 2022 opening, which led to the opening being postponed. Mumbai's Palanpuri diamantaires are staying put because they do not want to incur establishment cost, transport cost, and take on overheads of maintenance when the trading business is struggling
A non-exhaustive list of why Mumbai diamond traders are not keen to move to Surat
📲 There's poor connectivity since SDB is 15 kilometers outside the city.
🏙️ Mumbai's glitzy Bandra Kurla Complex, where the merchants are located, is far more conducive to hosting international clientele with its high-end hotels, restaurants, and bars.
🏃‍♀️ Last January, Mumbai-based traders were irked by an SDB circular that said members completely winding up their polished diamond trading from Mumbai will feature in the "leading members" list
🛃 Unlike Mumbai's bourse, SDB does not have a customs' clearing house to process shipments.
Place of interest: Surat
As seen in this video shot in January, SDB really stands out among the low-lying buildings of its surrounding area. But that's due to change soon. Surat, the gem capital 7 million people call home, is the subject of a massive redevelopment plan dubbed "DREAM City," which stands for Diamond Research and Mercantile City. SDB is an anchor building in that project.
Related stories
💚 The innovative design of one of the world's largest net-zero buildings
🙏🏽 Mumbai has the world's second-largest collection of Art Deco buildings but no one notices them
🏢 The biggest office-to-residential conversion project in the US is underway