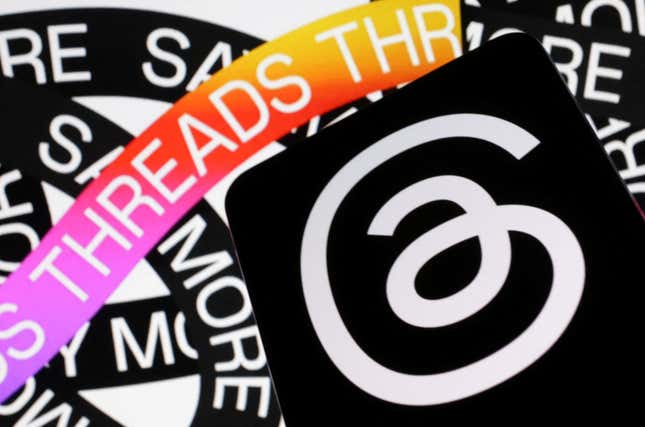 Threads, Meta's competitor to Twitter, launched globally today (July 6)—except in the European Union, where privacy concerns have put its release on pause. Two recent rulings in the EU are likely behind the delay.
The fight for equal pay continues
Ruling 1: The European Court of Justice ruled on July 4 that Facebook cannot use "legitimate interest" to justify processing user data for advertising, effectively shooting down Meta's targeted ad model. The court also ruled that EU watchdogs can factor in tech giants' violations of data privacy in antitrust investigations.
Ruling 2: Meta has been barred from transferring Facebook user data from the EU to the US, and was fined €1.2 billion ($1.3 billion), after a crackdown by privacy regulators in May. That ruling, in fact, could be the death knell for Facebook in the EU altogether.
Threads has not been actively blocked by Ireland's Data Protection Commission (DPC), the EU's lead privacy regulator, according to a report in the Irish Independent. But Meta appears to still be figuring out how to launch in the bloc, given its stringent rules around data protection.
Here's a look at what EU regulators would likely flag in Threads' privacy policy.
🚩 Threads collects sensitive personal information about you
The data collected by the Threads app could include your sexual orientation, race and ethnicity, biometric data, trade union membership, pregnancy status, politics, and religious beliefs. This data may potentially be sent to "service providers" and "analytics partners," which is often code for third-party advertising and marketing firms.
🚩 Threads collects data about your employment
Information about your company, your role on your team, your job history, and your performance evaluations may be collected and sent to third parties.
🚩 Threads collects data about your body
Details about your health, fitness, and exercise may be hoovered up to be sent to third parties.
🚩 Threads collects data about your web activity
Threads may scour your browsing history, web page interactions (including with ads), and the referring web page or source through which you accessed Threads links. This information may be sent to third parties as well.
🚩 Threads collects data about your location
Photos, videos, or other recordings of a user's environment, as well as "IP-address-based location information," may be collected and sent to third parties.
One🧵 thing: You can't delete Threads without deleting Instagram altogether
In the same vein as Facebook and Messenger, once you commit to Threads, there is no going back without also deleting Instagram. Your Threads profile can only be deactivated if you still want to keep your Instagram account.
Related stories
📋 A list of the social media sites trying to compete with Twitter
🧒 Meta is offering new privacy protections for kids, but only if they opt in
 Meta will let you keep your Instagram and Facebook accounts separate after German antitrust concerns