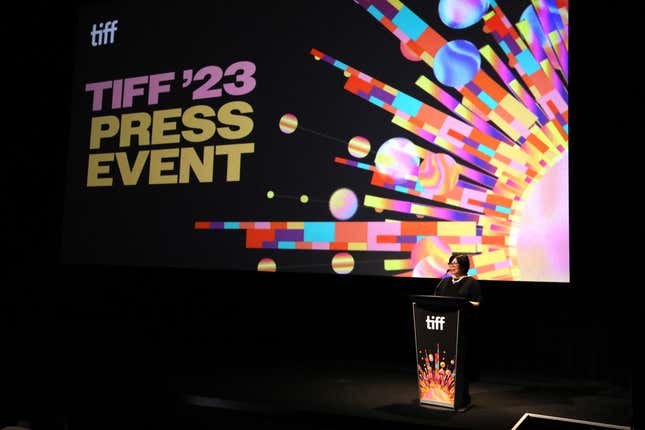 Attendees to this year's Toronto International Film Festival (TIFF) are facing a Ticketmaster-sized obstacle to obtaining tickets to their favorite shows.

Should you keep investing in Big Tech?
Despite all the backlash and the lawsuit received over the botched Taylor Swift's Eras tour sales last year, with tickets being resold at much higher prices even as the regular price sale was on—issues repeated with concert sales tickets of artists such as Beyoncé and Drake—the world's largest ticketing company has yet to fix its scalper problem, which has now spilled over from concerts to film festivals. Tickets for high-profile films at the TIFF are being resold for more than ten times their face value, according to Variety.
For the opening night of The Boy and the Heron, the latest Studio Ghibli release from acclaimed filmmaker Hayao Miyazaki, tickets sold out on TIFF's ticketing site via Ticketmaster. But thereafter, they went up for sale for up to $388 Canadian dollars ($285) on reselling site Stubhub. For a screening on Sept. 9, four seats are currently available at at least CAD$415 ($309) via verified resale.
That's exorbitant in itself—but especially so for a premiere that Miyazaki is not even attending.
Quotable: "Scourge" Ticketmaster
"Ticketmaster is a scourge and using it as an official ticketing platform for a film festival is incredibly bizarre. It's genuinely insane that people are allowed to buy and re-sell TIFF tickets pretty much the day they go on sale." —Writer and filmmaker Siddhant Adlakha, who brought attention to the high resale prices, in a tweet on Monday (Aug. 29)
TIFF price gouging, by the digits
$417 CAD ($306): Resale price for Taika Waititi's Next Goal Wins at TIFF on Ticketmaster
$179 CAD ($131): Resale price for Sylvester Stallone's documentary Sly at TIFF on Ticketmaster, despite tickets still being available directly for $88 CAD ($65)
$53 CAD ($39): Resale price for Youth (Spring), a documentary on textile workers, on Stubhub. Regular $32 CAD ($24) tickets are still available on Ticketmaster.
Legislation of interest: Fair Ticketing Act
Politicians have been calling for the reevaluation of the decade-old Ticketmaster merger which gave Live Nation a "near monopoly of the primary sales of tickets," accounting for 70% or more. The US Senate even held a hearing about the company to discuss ticket sales, monopolisation, resale markets and Ticketmaster's influence on the live music industry.
"We need to do better and we will," Joe Berchtold, president of Live Nation, Ticketmaster's parent company, said in the Jan. 24 hearing, writing the Taylor Swift debacle off as a one-off event driven by a wave of bot attacks creating "a terrible consumer experience."
The following month, Live Nation, Ticketmaster's parent company since 2010, expressed support for the Fair Ticketing Act, saying "Artists create their music and their concerts. It's only fair that they should decide ticketing rules, too." At the time, it also said policymakers should "expand the scope of the BOTS Act and increase enforcement to deter those who break the law, cheating artists and fans in the process."
Ticket resale laws vary by state, but Live Nation urged Congress to "make a federal law that backstops artist's ability to control their tickets."
Reseller site StubHub hit back at Ticketmaster's call to action would only serve to help the firm with a monopoly on the primary ticketing market "strengthen their own control over the industry and consumers." Instead of specifically focusing on the secondary ticketing market, StubHub backed the BOSS Act—short for the "Better Oversight of Secondary Sales and Accountability in Concert Ticketing Act" that attempts to crack down on bots, price-gougers, and other malicious forces.
Band of interest: The Cure
British rock band The Cure did everything to ensure prices remain low and make sure tickets end up in the hands of authentic buyers ahead of its US tour tickets going on sale in March.
From only opted for the Verified Fan program with chosen price caps to declining to participate in the company's dynamic pricing and Platinum ticket scheme which Robert Smith, the band's co-founder and lead singer, called "a bit of a scam," the band made all the right moves.
So when Ticketmaster tacked on exorbitant fees that at times exceeded the cost of the ticket itself, Smith took action, demanding and obtaining some refunds.
Related stories
🫣 Ticketmaster's parent company Live Nation will end hidden fees
🫥 The Cure forced Ticketmaster to refund fans a portion of "unduly high" fees
🔥 Taylor Swift fans' rage sparks calls to break up Ticketmaster and Live Nation