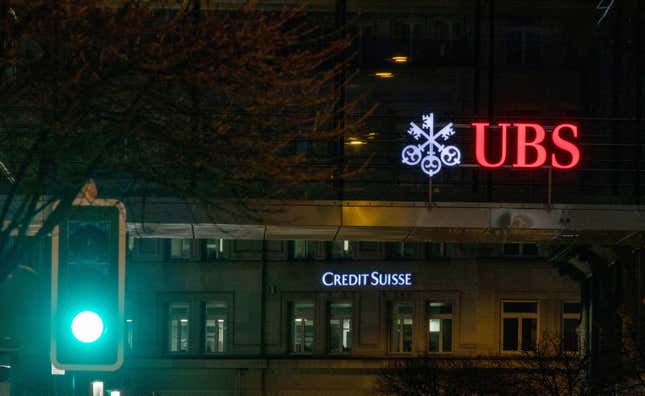 Swiss bank UBS estimated a $17 billion loss from its pending takeover of Credit Suisse in a filing to the US Securities and Exchange Commission on Tuesday (May 16), including an estimated $4 billion cost from litigation and regulatory costs related to the merger.
UBS characterized the deal as rushed given the "emergency circumstances" of Credit Suisse's potential collapse.
"If the circumstances of the due diligence affected UBS Group AG's ability to thoroughly consider Credit Suisse's liabilities and weaknesses, it is possible that UBS Group AG will have agreed to a rescue that is considerably more risky than it had contemplated," UBS said in the filing.
UBS agreed to purchase Credit Suisse in March for 3 billion francs ($3.4 billion), amid a surge in deposit outflows and plummeting shares that prompted the Swiss government to offer liquidity assistance.
According to the filing, the two banks entered negotiations for a merger on March 16, giving UBS just three days to conduct due diligence before the purchase was announced on March 19.
UBS also reported it began an initial assessment of a potential Credit Suisse purchase in December of last year. Two months later, in February, the UBS Strategy Committee concluded that an acquisition was "not desirable" but counseled further analysis of the situation.
Additionally, the filing confirmed that UBS had conducted meetings with the Swiss government about a potential merger with Credit Suisse as early as last year.
Timeline of the Credit Suisse acquisition:
March 10, 2023: Silicon Valley Bank collapses, sending markets spiraling. Credit Suisse shares fall by as much as 30% in the aftermath.
March 14: Credit Suisse reveals a loss of 7.3 billion francs ($8.1 million) in its 2022 balance sheet and publishes an internal audit of the company.
March 15: Shares in Credit Suisse fall as much as 30% after the Saudi National Bank, the bank's largest shareholder, says it will not invest any more funds in Credit Suisse. The bank borrows 54 billion francs ($60 billion) from the Swiss National Bank that evening.
March 19: UBS agrees to buy Credit Suisse at a steep discount, after multiple rounds of negotiations.
Why it's still a good deal for UBS, by the digits:
$3.4 billion: The price of the Credit Suisse purchase. Credit Suisse was worth $50 billion at the end of 2022.
$35 billion: The day-one profit for UBS after absorbing Credit Suisse's business.
$400 million: Amount UBS will save in canceled bonuses for Credit Suisse bankers.
$57 billion: Estimated gain in UBS second-quarter profits after the acquisition.
Related stories:
UBS's takeover of Credit Suisse failed to reassure markets
Activist investor Carl Icahn is Hindenburg Research's latest short-selling target
HSBC shareholders will vote on an activist investor's proposal to split off the bank's Asian business