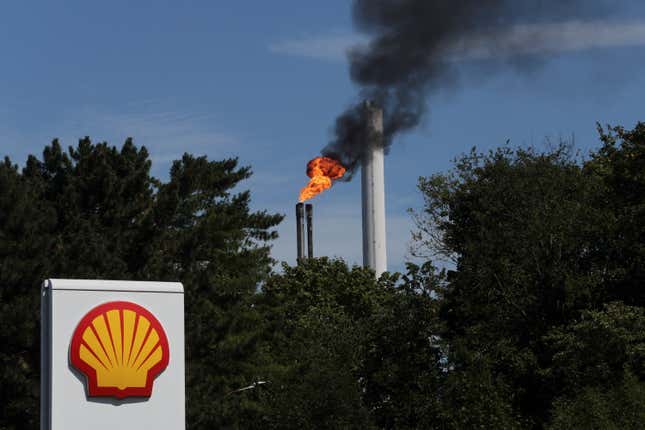 Fossil fuel companies try to present a green face when advertising to consumers. British regulators are now cracking down on the oily practice.

On Wednesday (June 7), the Advertising Standards Authority (ASA) announced a ban on a Shell ad campaign featuring its renewable energy business because it glossed over the energy giant's main source of revenue: oil and gas.
"The ads were misleading, because they omitted significant information about the overall environmental impact of Shell's business activities in 2022," the ASA said in a statement.
The ASA also banned adverts from other fossil fuel companies, Spain's Repsol SA and Malaysia's Petronas International, which included online and TV ads, on similar grounds.
Campaigners from Adfree Cities, a UK advocacy group, brought the Shell and Repsol ads to the ASA's attention, and have been calling for a ban on all fossil fuel company ads akin to the one imposed on tobacco companies in the UK and EU.
"Shell and other fossil fuel expanders should not be permitted to advertise at all, given their historic and ongoing role in wrecking the planet," said Veronica Wignall, co-director of Adfree Cities, in a press release.
Shell said in a statement to Bloomberg that "people are already well aware that Shell produces the oil and gas they depend on today," and that it "strongly disagreed" with the ASA ban.
Repsol also said it disagreed with its ad ban in a statement emailed to Quartz. Quartz contacted Petronas for comment but has not received a response.
A modest proposal for an honest ad: Fossil fuel profits, environmental damage, and loose net-zero goals
There are several key pieces of information an oil and gas giant like Shell would need to provide to fully inform consumers in its advertising. If fossil fuel companies were honest about their practices, here is what one of their ads would look like:
🛢️ We make the majority of our profits from fossil fuels, not renewable energy. 
Shell made a record $40 billion in profits in 2022, the highest sum in its 115-year history, while an estimated 90% of its business still comes from oil and gas. According to a 2020 report from the Institute for Energy Economics and Financial Analysis, 90% of capital expenditure at companies like Shell is still poured into fossil fuels.
💰 We invest far more in oil and gas than renewables.
Last year, Shell reported $4.3 billion was invested in "low-carbon energy solutions," comprising 12% of capital expenditure, but an SEC complaint from nonprofit Global Witness alleges the number was inflated and is closer to just 1.5%. That's just a fraction of what Shell spent on its oil business. In 2022, Shell reported a 30% increase in investments for oil production and products, pouring in an additional $12.5 billion, with another $4.2 billion going into natural gas. Shell also announced this year it is planning to put a hold on spending growth in its renewables segment.
🤑 We spend more on paying our shareholders than on renewable energy. 
Following record profits last year, Shell spent $26 billion on dividends and stock buybacks—far more than investments in renewables. Other oil giants have done the same.
🗣️ Our board and shareholders regularly reject stricter climate commitments. 
At recent annual general meetings for not just Shell, but also ExxonMobil, Chevron, and Total, shareholders have consistently voted against climate proposals and measures to expedite meeting net-zero targets, despite the commitments they have on the books.
🏭 Our annual CO2 emissions are higher than those of entire countries. 
In 2022, Shell emitted an estimated 1.23 billion metric tons of carbon dioxide. For comparison, the UK's total emissions last year came to about 417 million metric tons, according to a provisional estimate (pdf).
☠️ We have a track record of damaging the environment, and not taking responsibility for it. 
In addition to its contribution to carbon emissions, a company should also put forward its track record of oil spills, shirking of cleanup responsibilities (as is playing out at the moment in Guyana with Exxon), or other polluting operations (such as Shell's massive plastics plant in Pennsylvania).
Related stories
👉 The fossil fuel industry owes at least $23.2 trillion in reparations for climate change
👉 ExxonMobil is preparing to fend off multiple shareholder resolutions related to climate change
👉 Climate lawyers are suing Shell's directors personally over the oil giant's emissions
This story was updated with a comment from Repsol.