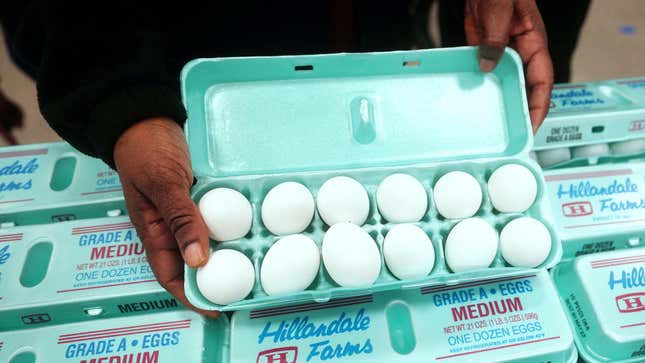 Egg prices have cracked.

In March, egg prices were up 36% year-over-year, according to data from the US Bureau of Labor Statistics. That's down from its peak of 70% year-over-year increase in January 2022.
Eric Beiley Part II: Where rates are heading
Even though prices have been rising for some time, during the past the few months the internet has had a field day with egg prices, leading to the production of many eggcellent memes, while some opportunistic Americans attempted to smuggle eggs from Mexico.
Overall, as of March, US grocery prices have slowed to an 8.3% year-over-year increase. The drop in price increases illustrate the resiliency of food supply chains. "Market forces, in general, work," said Wendong Zhang, an economist at Cornell University. "You see the resilient supply responses that cause the prices to eventually go down."

Why were egg prices so high?

The biggest contributor to high prices was avian flu affecting chickens in different parts of the world, including the US, Japan, and France, forcing farmers to cull chickens at a large scale, which reduced supply and drove up the price of eggs. In the US alone, avian flu infected about 10% of the country's egg laying hens last year.
Outside of the flu, the same things driving up food prices everywhere—like supply chain challenges—also contributed to the price of eggs, such as higher feed costs due to the Russia-Ukraine conflict. Chicken feed can account for up to 50% of the expenses related to the production of an egg, according to one economist who focuses on food and agriculture.
Transportation and labor costs also rose, pushing up egg prices. But, transportation costs are now declining, and labor costs show signs of easing, helping to explain lower grocery prices overall.


What do lower food prices mean for consumers?

What goes up, must come down. Economists say that food prices can quickly rise, but that it takes time for lower prices to make their way to retailers. The easing of egg prices is a good sign for consumers.