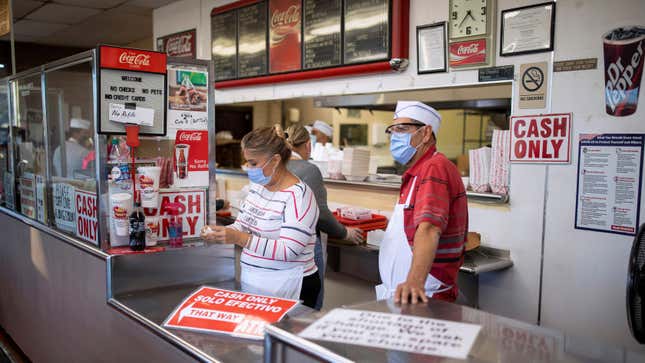 Wage growth for US leisure and hospitality workers is slowing. In March, average hourly pay for those in production and nonsupervisory roles grew 5.1% year-over-year, well below a record high of 17% in December 2022, according to data from the US Bureau of Labor Statistics. The recent reversal in wage growth has been sharpest for those workers, notes a new report by Goldman Sachs, which identifies them as the lowest-paid income group in the US.
It comes after lower-paid employees saw faster wage gains than the average worker during the pandemic. Those leisure and hospitality workers now make an average of $18.51 an hour, a 24% increase from $14.90 in February 2020. The average hourly earnings of a nonsupervisory employee rose 18% during the same period.

How the pandemic pushed up pay

Much of the wage growth was driven by temporary factors including a decline in labor supply, government policies "that discouraged workers from taking jobs," and energy and other price spikes pushing up the cost of living, the Goldman Sachs report says. The tight labor market gave low-wage workers—many of whom have faced undesirable working conditions—lots of leverage over their employers.

"All of these have fully or partially faded on their own and appear to have solved much of the problem of lowering wage growth to the 3.5% pace that we estimate would be compatible with 2% inflation," the report argues. "This has lessened the need for policy tightening to reduce labor demand, though we continue to think that further labor market rebalancing is necessary."
That isn't necessarily terrible news for low-wage workers, if unemployment stays down. In March, the US jobless rate was 3.5%.
"All in all, if unemployment can be kept below 4%, I think workers—including low-wage workers—could have a very good 2023 in front of them in terms of wage growth," says Josh Bivens, an economist at the left-leaning Economic Policy Institute think tank. "Nominal wage growth will likely cool just a bit further and inflation is likely to normalize throughout the year, boosting real gains."