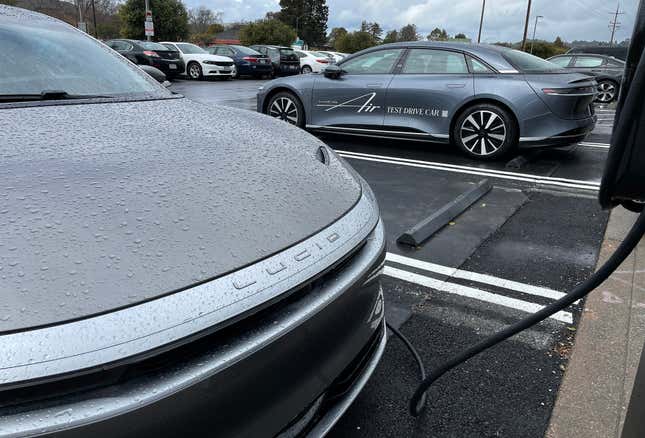 A luxury electric vehicle (EV) manufacturer in the US wants a piece of the world's largest auto market.

Why a tightening of credit conditions could lead to a weak economy
Lucid Group is preparing to enter China, its head of China operations, Zhu Jiang, said today (June 8). It'll start off by selling imported cars as it weighs local production options, Reuters reported, citing an anonymous source.
The move isn't totally unexpected. Last December, the California-based auto company was recruiting for 14 positions in Shanghai, according to its LinkedIn posts at the time. These roles, such as product management, public policy, and supply chain management, largely hinted at imported car sales.
The possibility of local production is also been in the works for a while. In November, Lucid's chief executive and tech officer Peter Rawlinson himself said the carmaker planned to have plants in China and the Middle East by 2025.
China accounted for 60% of global EV sales in 2022. One in four cars sold in the country were EVs during that period. So, the foreign play is a lucrative one—especially as Lucid, like its counterparts, struggles with mounting losses and tightening cash reserves in the face of looming recession fears and Tesla-led price wars at home.
Person of interest: Zhu Jiang
Jiang is an auto industry veteran who has been in the region for years. He boasts of past stints at Chinese upstarts like Jidu Motor, the EV arm of local technology giant Baidu, and startup Nio, as well as at American giant Ford, where he was project leader for Mach-E in China. Years of such experience has equipped him to shepherd Lucid's foray into the country.
Company of interest: BYD
Domestic tech conglomerate BYD, which released its first EV in China in 2008, dominates the market. Last year, it sold a whopping 1.8 million EVs—triple its 2021 figure and well above its 1.5 million target—on the back of robust manufacturing and supply chain management. Generous government subsidies have helped, too.
Tesla, which entered China in 2014, is second to BYD—albeit at a significant distance. (Tesla sold 94,469 Model Y units in the first quarter of 2023.) That leaves local Chinese upstarts like Guangzhou-headquartered Xpeng, Shanghai-based Nio, and Beijing-based Li Auto—all of whom credit Elon Musk's company as both an inspiration and a rival—struggling to catch up.
China's EV market and Tesla's attempts to break in, by the digits
300: Models of EVs offered by 94 brands cumulatively, ranging from just $5,000 to over $90,000, making the environment competitive.
81%: How much of the EV market local brands command, suggesting it's tough for foreign players to break in.
9%: How much Tesla slashed its prices in China last year to remain competitive
Three-quarters: Share of the world's manufacturing capacity for EV batteries that China controls; a single Chinese company, CATL, controls one-third on its own. The Asian country undoubtedly has the production upper hand, which is why even US carmakers want to make-in-China.
50 years: Tesla's lease agreement for its Shanghai gigafactory, which began production in late 2019
Related stories
🚗 Inside BYD—the world's largest maker of electric vehicles
💸 Tesla's $37,000 Model Y is outselling EVs that are seven times cheaper in China
🤖 Could software be the weak link in China's electric vehicle dominance?