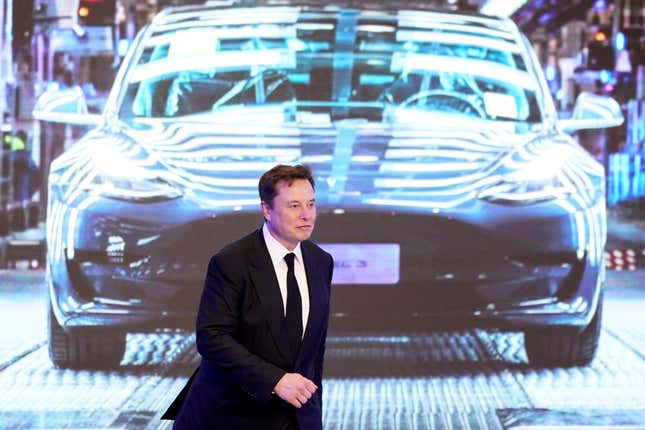 Chinese consumers are snapping up Tesla Model Ys almost as fast as Elon Musk can make them.

What inspired Elon Musk's design for Tesla's Cybertruck?
The Model Y, which recently became the first EV to claim the title of the world's top-selling car, sold 94,469 units in China in the first quarter of 2023, according to data from JATO, a London-based market research firm, as cited in a Reuters report.
Model Y sales increased 26% (link in Chinese) year on year in China, accounting for 11% of total EV sales in the first quarter, according to data published by the China Passenger Car Association (CPAC).
Musk, Tesla's CEO, who touched down in Beijing yesterday (May 30), previously engaged in an aggressive price cut strategy to compete with domestic EV brands including BYD, the EV manufacturer that is China's largest and is backed by Warren Buffet.
But after successive price slashes since the start of 2023, Tesla began inching prices back up globally earlier this month, with the largest hikes occurring in China. The price increase could be a way of testing the strength of Chinese consumers' appetites.
A standard Model Y now costs 263,900 yuan ($37,127) according to the Tesla China website, up from its 259,900 yuan ($36,564) price tag in January. In comparison, the Wuling Honggquang Mini, the second-best seller, costs as little as $4,730; with a battery subscription, that price drops even lower, to $2,850.

Charted: The Tesla Model Y topped China's EV sales in Q1 2023
BYD is still beating Tesla in overall sales in China
Despite the Model Y topping the popularity charts for individual models, Tesla was not the best selling car company in China in the first quarter. It didn't even come second-best.
The top spot went to BYD, which sold 552,076 (pdf) vehicles, marking a nearly 93% increase in sales compared to the previous year.
In second place was FAW-Volkswagen, with 368,800 sales, and China's state-owned Chang'an Auto came in third with 302,900 sales, according to the data from CPAC, as reported by China Daily.
Tesla sold 137,429 units across all models in China in the first quarter, representing a 13% increase from the fourth quarter last year.
Musk in China, and Tesla's plans for expansion in Shanghai
During his China trip, Musk is likely to make a stop in Shanghai to visit Tesla's gigafactory, which began production in late 2019. A lot hinges on its success, per the terms of the carmaker's 50-year lease agreement with the local government.
An SEC filing shows that, to maintain the plant, Tesla is required to spend 14.08 billion yuan ($1.98 billion) in capital expenditure and produce 2.23 billion yuan ($313 million) in tax revenue by the end of 2023. Failing to do so will require Tesla to return the land to the state.
It would seem that Tesla will meet these goals, even as it plans further expansion in China. In April, Xinhua News Agency reported that Tesla will build another factory in Shanghai to manufacture its Megapack batteries. That factory, which will contribute to some part of the capital expenditure requirements, is set to open in mid-2024.
Related stories
🎉 Chinese media are celebrating Elon Musk's Beijing visit as a much-needed vote of confidence
🏭 Tesla seems ready to open a factory in India
📈 BYD profit surged by 400% last year as the electric vehicle market keeps going in China