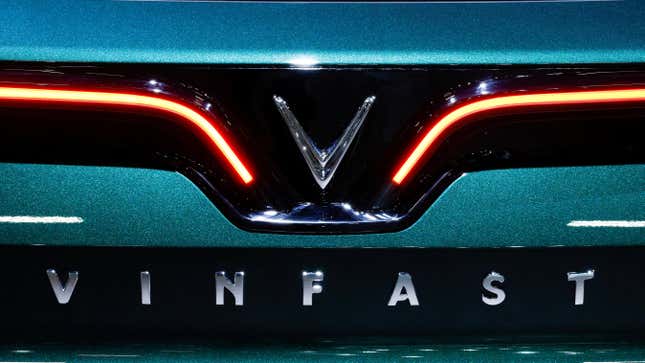 Loss-making Vietnamese electric vehicle (EV) manufacturer VinFast's stock has made massive gains, rising more than 688% since its Aug. 15 debut. On day one of trading, the EV company's valuation rose above the likes of legacy carmakers Ford and GM. Now, as its market cap nears $200 billion, it has surpassed even banking titan Goldman Sachs and aerospace giant Boeing to become the world's third-most valuable automaker behind Tesla and Toyota.
Should you keep investing in Big Tech?
But it's all mostly froth, analysts say.
The combination of a small number of shares being available, and retail traders showing heightened interest in the stock have fueled the hype. A look at the books shows there's been no material change in the business in the last two weeks. And if other EV manufacturers' past is any precedent, a comedown is inevitable.
Can VinFast sustain its extreme valuation?
Even though VinFast's business isn't in the black yet, speculation points at all the makings of success:
🕴 A deep-pocketed backer in parent company Vingroup, spearheaded by Vietnam's richest man Pham Nhat Vuong;
🇻🇳 A rapidly rising economy as its home base;
🏭 The growing opportunity to replace China as the world's factory;
💰 The prospect of securing additional investment from sovereign wealth funds and other investors in the next 18 months or so.
However, the biggest determinant of sustaining the business will be high volumes of mass produced cars and long queues of customers waiting to buy them. For now, Vinfast's production capacity and deliveries still lag behemoths like Tesla in the US and China's BYD, which are both engaged in intense price wars.
Meanwhile, demand for VinFast is still uncertain. And its foreign expansion is perhaps ill-timed, given that multiple American companies are struggling. Ohio-based Lordstown Motors filed for bankruptcy. Faraday Futures has been facing a cash crunch and a governance battle. And Nikola saw its stock plummet 98% from its June 2020 peak after founder Trevor Milton was found guilty of advertising nonexistent technology and, earlier this month, 209 of the company's Tre trucks were recalled.
Charted: VinFast's stock rally
Company of interest: Star Group
In a bid to diversify its supply chain away from China, South Korea's Star Group is investing $80 million to open a factory in Vietnam, with production due to start in 2024. This news, reported by Reuters on Aug. 21, made VinFast's stock jump because Star Group supplies magnets to VinFast. And it offered proof that rare earth companies are looking to set up shop Vietnam.
VinFast on Nasdaq, by the digits
$23 billion: Black Spade Acquisition's valuation for VinFast in May 2023
$22: Stock price at opening—more than double the $10 per share agreed with VinFast's SPAC partner Black Spade Acquisition. It ended the first day at $37
$85 billion: VinFast's valuation at market close on Aug. 15
$39 billion: Increase in VinFast chairman and founder Pham Nhat Vuong's wealth after the first day on the public markets, making Vietnam's richest man even richer
99.7%: Vinfast shares that Vuong still controls
16 or 17 million: Small float of VinFast shares that exaggerate moves in either direction, making the stock volatile
2.1 million: VinFast shares trade on Aug. 21
137: VinFast EVs registered in the US through June, according to S&P Global Mobility
11,300: VinFast EVs sold in the first half of 2023 versus Tesla's 888,000. Even struggling EV maker Rivian delivered almost double that amount
50,000: EVs VinFast expects to sell this year, compared with Tesla's projection to deliver 1.8 million cars and Toyota's target of selling 1.5 million EVs per year by 2026
3,600: Trading sessions Tesla took to hit a $200 billion valuation

7,700: Trading sessions Nvidia, the posterchild of artificial intelligence—another industry posting stock market gains on the back of retail investor attention—took to cross the $200 billion valuation mark
A brief timeline of VinFast's EV journey
June 2017: Vietnamese-founded and Singapore-headquartered automotive company VinFast is launched by Pham Nhat Vuong under his conglomerate Vingroup. Its first hub in Hai Phong boasts up to 90% automation. The following year it unveils two gasoline-powered car models Paris Motor Show to glowing reviews.
December 2021: VinFast delivers the first batch of 100 VF e34 electric crossovers—the first ever EV to be manufactured and sold in Vietnam—to local customers.
May 2022: VinFast moves legal and financial headquarters to Singapore while Vietnam remains the operational headquarters
November 2022: VinFast ships 999 all-electric crossover VF 8s to the US with the aim of handing over the first cars to North American preorder customers by the end of December
May 2023: VinFast recalls all 999 electric sport utility vehicles it over a software issue
July 2023: VinFast breaks ground on its first EV factory outside Vietnam—a $4 billion project in North Carolina, expected to create 7,500 jobs. It is poised to start production in 2025, with an annual production target of 150,000 vehicles.
August 2023: VinFast makes its public market debut on Nasdaq via a special purpose acquisition company (SPAC) deal—a gateway often used by startups to speed up the often slow and expensive process of taking a private company public simply by merging with a shell company that is already listed on the stock exchange
Related stories

💥 One casualty of the Fed's rate tightening cycle: EV startups
❌ Nasdaq is officially dropping Rivian for an auto industry chip maker
💸 An Ohio EV maker filed for bankruptcy and sued Taiwanese chipmaker Foxconn on the same day