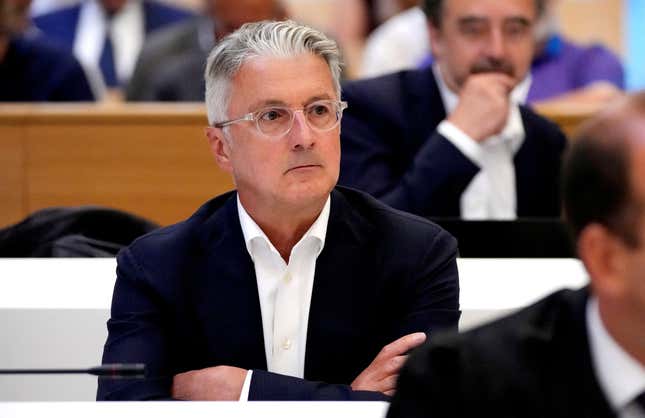 Rupert Stadler—the former head of Audi—became the first Volkswagen board member to be sentenced for fraud related to the 2015 emissions scandal that rocked the German auto manufacturer known as "Dieselgate." Stadler was fined €1.1 million ($1.2 million) and received a suspended sentence of one year and nine months on Tuesday (June 27).

Should you buy McDonald's and Caterpillar stock right now?
Specifically, Stadler was accused of failing to stop car sales despite being aware the car's software was deceiving emissions standards tests. Stadler initially denied the accusations, but later admitted that he had been negligent as part of a deal with the prosecution to avoid prison time.
Several court cases against other members of the Volkswagen board are ongoing. The high-profile criminal fraud case against former CEO Martin Winterkorn was delayed because of health issues last year.
The decision comes a day after Germany's highest federal court ruled that Volkswagen and Mercedes-Benz must pay compensation to consumers after illegally using emissions-controlling devices in cars. The court said that the manufacturers could be liable for between 5% and 15% of the initial cost of the vehicle.
The judge also ruled that the companies should be held liable, even if they had unintentionally installed an illegal device. This changes the court's earlier opinion and is in line with a ruling by the European Court of Justice that determined consumers were owed compensation, even in instances where the damage was caused by negligence.
How did VW manipulate emissions standards?
The lawsuits revolve around the technology known as "defeat devices," mechanisms that can turn down emissions when tested during car inspections, while increasing emissions far above legal limits during regular driving.
The system was intended to increase the car's miles per gallon efficiency, speed, and dexterity while maintaining emissions under the legal limit. Specifically, it was able to bypass a nitrogen oxide trap connected to the car's exhaust pipe that reduces pollutants but increases the amount of fuel needed for the car to run.
Earlier this year, a top European Union court found that Mercedes Benz—a rival of Volkswagen—was similarly liable for using the same type of devices to deceive consumers and cheat emissions standards.
VW's extensive fines, by the digits
$38 billion: Estimate of the total Dieselgate-linked fines and settlement paid by Volkswagen, or about half of the company's market capitalization
11 million: Number of vehicles equipped with defeat devices around the world
At least 22: Number of countries with active investigations into the Volkswagen emissions scandal, by Quartz estimates
$2.8 billion: The amount the US Justice Department fined Volkswagen in 2017, the largest criminal fine ever for an automaker in the US

475,000: Number of cars Volkswagen agreed to buy back from US consumers in a settlement that cost them $10 billion. The company paid an additional $4.7 billion to fund an EPA task force and invest in clean-vehicle projects
Related stories:
🚗 VW has been ordered to recall almost half a million cars over a deceptive algorithm
🇺🇸 Photos: Volkswagen has bought back thousands of diesel cars in the US. Here's what that looks like
🎂 Cake-throwing protesters called for an audit of Volkswagen's Xinjiang plant