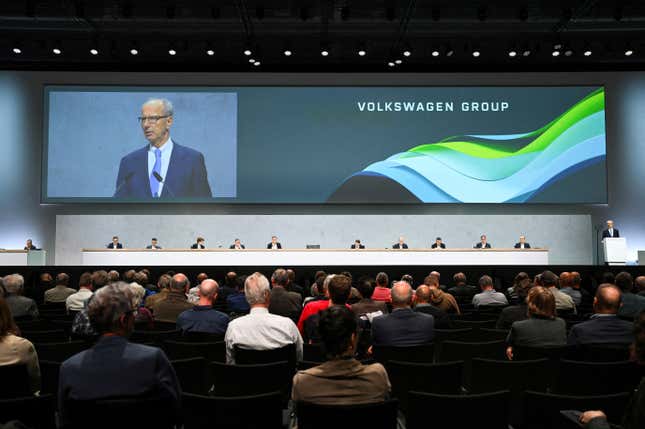 Activists interrupted an annual Volkswagen (VW) shareholder meeting in Berlin on Wednesday (May 10), according to a report from Reuters. The protestors demanded the auto manufacturer conduct an external audit of its plant in China's Xinjiang region, where international observers have documented forced labor and human rights violations of the prosecuted Uyghur minority group.
Ben Emons Part 2: The Fed, Apple shares
Activists with signs reading "End Uygher Forced Labour" threw a cake at the main podium, narrowly missing the company's supervisory board chairman Hans Dieter Poetsch.
Volkswagen has repeatedly insisted that it has found no evidence of unfair or forced labor practices in its Chinese manufacturing sector, one of the most profitable parts of its business.

"Of course we are aware of the critical reports, we take this very seriously," VW's head of China operations Ralf Brandstätter said after visiting the factory in February. "But we have no evidence of human rights violations at this plant—that has not changed after my visit."
The UN published a report last August that found evidence China had committed "serious human rights violations" against Uyghur Muslims in the Xinjiang province, including torture, forced labor, and placing them in reeducation camps.
In addition to the protests, numerous shareholders expressed frustration with Volkswagen stock's sharp decline in the last year, while climate change protestors from the climate change activist group Last Generation blocked roads outside the meeting.
Volkswagen's falling prices

VW's big China business, by the digits:

16%: VW's market share in China, down from 20% in 2019.
37%: Percentage of VW's new car sales coming from China, accounting for 15% of the company's pretax profit from its passenger-car business.
40: Number of VW manufacturing plants in China. VW was the biggest foreign investor in China in 2021.
€2.8 billion ($3.1 billion): Expected Chinese profit for VW in 2023, a 14% annual decline.
Related stories
VW to Elon: Mass-producing electric cars is easy. We're making 50 million.
That device also defeated the public's trust in the Volkswagen brand
VW is ending production of the Beetle. But the iconic car died long ago