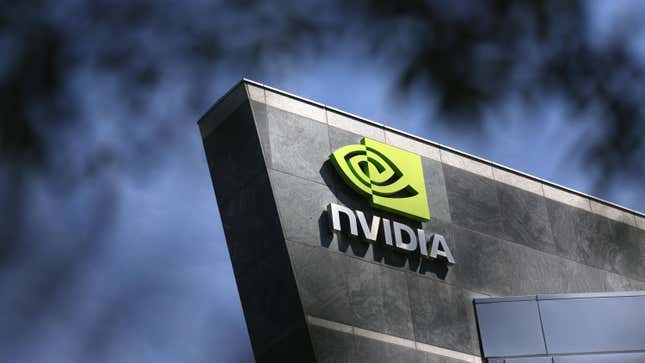 Nvidia's revenue is poised to fall again when it reports fourth-quarter earnings tomorrow (Feb. 22), but Wall Street won't mind.
Quartz Smart Investing with Jay Hatfield: Part 2
The Santa Clara, California-based semiconductor manufacturer faced the same headwinds that plagued most chipmakers last year—a slump in demand for consumer electronics due to high inflation, rising interest rates, and China persisting with its zero-covid policies until the end of 2022.
But there is something in Nvidia's core business that promises recovery and longevity: the ability to power generative artificial intelligence (AI) bots like ChatGPT.
Nvidia's AI bright spot
Nvidia, a 30-year-old chip manufacturer, has been known for graphics processing units, or GPUs, and has so far been largely associated with the gaming industry. However, with the rise of artificial intelligence—specifically, the rise of generative AI—GPUs are finding novel and rampant use cases.
Microsoft, which pumped billions into the ChatGPT creator OpenAI at the start of this year, already partnered with Nvidia in November 2022 to build a massive computer to "help enterprises train, deploy, and scale AI, including large, state-of-the-art models."
For Nvidia, the market leader in graphics chips designed for complex computing tasks, the AI revolution is promising. The more people use ChatGPT, the more computing power OpenAI will require. Even if ChatGPT itself turns out to be more fad and fluff than gamechanger, its fundamentals hold the potential for huge changes in the computing industry.
Quotable: Nvidia piggybacks on the generative AI rage
"[Nvidia's] full-stack of accelerated silicon/systems/software/developers positions it uniquely to lead the nascent generative AI arms race among global cloud and enterprise customers... Computational requirements for running AI models are quickly changing, and so are costs related to running those models."

— Vivek Arya, a Bank of America securities analyst, in a Feb. 13 note to clients
Charted: ChatGPT hype boosts Nvidia stock


By the digits: Nvidia's business
42%: Year-on-year drop in the sales of standalone graphics processors for desktops and laptops by AMD, Intel, and Nvidia in the third quarter of 2022, based on data from Jon Peddie Research. Together, the three companies sold 14 million processors.
86%: The market share achieved by Nvidia's discrete GPUs, the company's highest ever
17%: Year-on-year drop in Nvidia's sales, a slump to $5.93 billion in the third quarter of 2022, marking the second straight quarter of earnings declines. The slowdown in the PC gaming market post-pandemic didn't bode well, as Nvidia's gaming segment revenue halved.
31%: The growth in Nvidia's data centre business, year-over-year, in the third quarter. Analysts predict that this stream of revenue will keep growing
39%: How much analysts polled by FactSet expect Nvidia's earnings to fall by in the fourth quarter
$6 billion: Estimated revenue for the fourth quarter, indicating a 21% year-over-year decline, according to Zacks Equity Research
10,000: The number of Nvidia GPUs that OpenAI used to train its ChatGPT model, according to the UBS analyst Timothy Arcuri
One more thing: Nvidia's China problem (and solution)
In August, Nvidia warned that US export curbs would prevent some fast AI chips from being sold to Chinese companies. The next month, US authorities stopped Nvidia from selling two top chip models to China.
Come November, the company launched a modified chip with limited capabilities that would allow it to play by the export restrictions and still sell to China. Without the workaround, Nvidia stood to lose close to $400 million in sales.
"China is a significant market for Nvidia and it makes ample business sense to reconfigure your product to avoid trade restrictions," Wayne Lam, an analyst at CCS Insight, told Reuters at the time.
Related stories
🤖 Artificial intelligence is a huge part of the game for Nvidia now 
💻 Intel has spared a part of its chips business from the chopping block (for now)
⚠️ The company that created ChatGPT is releasing a tool to identify text generated by ChatGPT