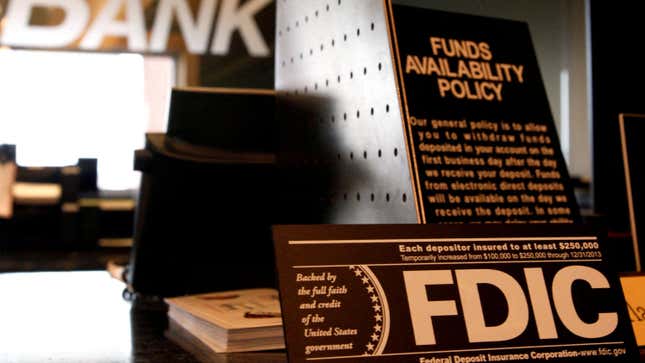 By law, the Federal Deposit Insurance Corp. (FDIC) has to hold the equivalent of 1.35% of all insured deposits in its deposit insurance fund (DIF). Lately, that's means keeping $128 billion on hand. But the FDIC predicts the fund is going to take a $23 billion dollar hit after the failures of Silicon Valley Bank and Signature Bank.

To cover this loss and top up the DIF again, the banking regulator will simply increase the assessment fees it collects from big banks. But if Congress raises the deposit insurance limit to include all deposits, the numbers are going to swell, said Todd Phillips, a former FDIC lawyer.
US banks hold $17.5 trillion in deposits. Keeping 1.35% of that amount in the DIF comes out to a little over $236 billion, an 84.4% increase from today's minimum.
To be sure, the DIF is not the only tool the FDIC has to backstop deposits. If the fund goes down to zero—which has only happened in the wake of the 2008 financial crisis—then the FDIC may borrow from the US Treasury. (During the most recent spate of bank failures, the FDIC briefly borrowed $40 billion from Treasury, but returned it after the Federal Reserve stepped in to make its emergency lending tool available to both failed banks, so that all of their depositors would be protected.)
Because of Dodd-Frank, the FDIC is required to charge banks like JPMorgan Chase, Bank of America, and Wells Fargo more on their assessment fees to top up the DIF. This means that the majority of this increase would land on the balance sheets of multitrillion-dollar banks which are systemtically important rather than making it harder for community banks to operate.
It's unlikely this would happen without a fight from banking industry groups though. The last time the FDIC voted to raise the amount that banks were paying into the fund by 0.02 percentage points, banking associations balked but still had to pay. Since Congress has to legislate the deposit insurance increase, trade groups may have more success at shutting down the proposed changes.