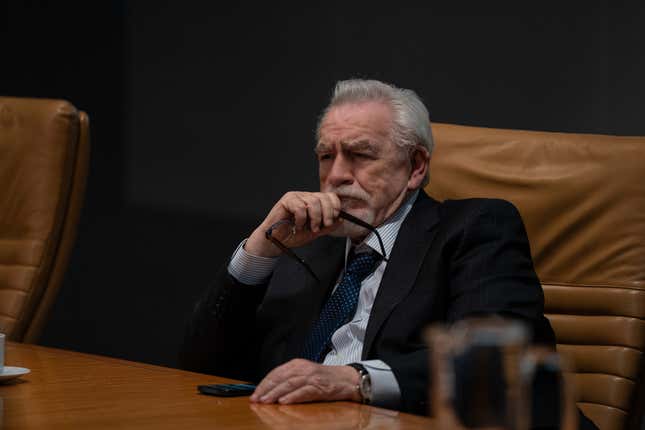 By now, it is no spoiler to discuss the death of Logan Roy, the fictional media titan whose dynasty is at the heart of the HBO drama Succession. On a Friday afternoon, Roy dies aboard his private plane, en route to Sweden to discuss the sale of his company and (in the process) skipping out on his son's wedding.

At the ceremony, his children—his sometimes-feuding, sometimes-united heirs—receive the news by phone. Their grief gradually gives way to a most businesslike consideration: the share price of Roy's company, Waystar Royco. Would the stock tank when it emerged that Roy, the founder, CEO, and guiding spirit of his company, had died?

"Are you thinking: 'Can we hold this information until the markets close?'" a Roy advisor wonders.

No one demurs, exactly. Then Shiv, Roy's daughter, asks of the plane: "Can we keep it up there, for an extra beat?"

Another advisor responds: "Do you want me to ask if they can circle?"
"Not until the markets open on Monday," Shiv says, "but just, you know, so we can think."
When Steve Jobs got sick, Apple shares fell
The trope is an old one: the illness or sudden death of an executive, and then the sharp worry that jittery markets will react badly to a rudderless company. Steve Jobs hid his cancer diagnosis for months; when Apple finally announced he was taking indefinite medical leave, its shares dropped 6%. Last September, when Bed, Bath & Beyond's CFO died, in an apparent act of suicide, the company's stock lost 15%.
The temptation to withhold news, or to release it after markets close, can be strong. But since such events are material, affecting the movements of markets, the US Securities and Exchange Commission (SEC) requires public companies to disclose them as soon as possible. Kendall Roy, Shiv's brother, reminds her of this. Every single thing they say and do, he says, "is going in the...congressional record. It's coming up at board meetings, it's going in SEC filings."
How the death of a CEO affects stock prices
The cult of the CEO is a uniquely modern thing. A 2016 paper analyzed 240 sudden CEO deaths at US public companies between 1950 and 2009. It found that, over the course of that period, markets seemed to react more and more strongly to such deaths, even after accounting for other factors.

It isn't a foregone conclusion, though, that stock prices will drop when news of a death breaks. The 2016 paper, written by business scholars at the University of Notre Dame, found that shares can rise sharply as well. Another paper, published in 1985 (pdf), tracked 53 sudden deaths of senior corporate executives between 1971 and 1982. It, too, found that "positive...stock price adjustments" sometimes occurred in the immediate wake of these events.
These unexpected surges in investor confidence can come about for a number of reasons. Perhaps, as the Notre Dame professors suggested, the CEO had been bad for business. (In fact, as Quartz wrote of one of their findings, "investors are happier about the death of a bad CEO than they are sad about the passing of a good one.") Perhaps, as the Lehigh University scholar Jesus Salas argued in his 2007 study, death had come for an "entrenched" executive—someone the board had been unable to remove, such as a founder like Logan Roy. Or perhaps, Salas added, the executive had been proving an obstacle to a takeover bid that promised to reward shareholders.

Additionally, investors react much better if the future stability of the company is assured—if, for instance, the CEO has long been visibly positioning a reliable executive as their replacement. On this count, Shiv was right to worry about the impact of her father's death. The very point of the show, after all, is that there is no succession plan in Succession.