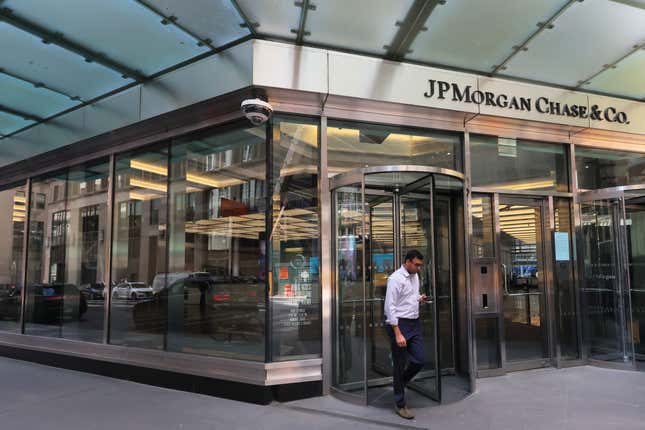 JPMorgan Chase announced today (June 12) it agreed "in principle" to settling a lawsuit filed by one of Jeffrey Epstein's victims that alleges the bank was complicit in his sex-trafficking operation.

The lawsuit was filed in November in the Southern District Court of New York. The plaintiff, only referred to as Jane Doe 1, said she filed the suit in the name of all the women and young girls who were victims of Epstein's sexual abuse.
The suit alleges (pdf) that the banking giant, which had a longtime relationship with the deceased sex offender, "turned a blind eye to evidence of human trafficking" because of Epstein's "financial footprint."
The settlement amount was not disclosed in the statement, but it was later reported to be $290 million. Victims in the case could reach upwards of 100, according to the New York Times.
"The parties believe this settlement is in the best interests of all parties, especially the survivors who were the victims of Epstein's terrible abuse," JPMorgan said in the statement, as published by CNBC.
Epstein's 15-year history with JPMorgan
Epstein was a client of JPMorgan from 1998 to 2013—a period comprising his 2008 conviction for soliciting sex with minors—where he retained accounts holding hundreds of millions of dollars.
JPMorgan executives have been pointing fingers internally as to why it maintained a relationship with him for over 15 years despite observing warning signs, such as Epstein's regular and sizable cash withdrawals.
After JPMorgan eventually severed their relationship, Epstein began banking with Deutsche Bank, where he remained a client until 2018. Epstein died in prison in 2019 awaiting trial on sex trafficking charges. His death was ruled a suicide.
Following in Deutsche Bank's footsteps
Today's settlement announcement follows just days after lawyers in the case called for the bank's CEO Jamie Dimon to commit to a second deposition, following his first on May 26, and requested two other bank executives be deposed in court.
Meanwhile, two other suits, one between the US Virgin Islands and JPMorgan, and the other between former JPMorgan employee Jes Staley and the bank, are still pending.
In May, Deutsche Bank agreed to settle a similar case brought by victims of Epstein's abuse for $75 million. On June 1, US district judge Jed Rakoff put approval of the settlement on hold, requesting lawyers clarify who might qualify for the settlement, according to a Reuters report.
Related stories
🌗 Deutsche Bank is offering Epstein accusers half what it paid New York regulators
🕵️ The US Virgin Islands hired a private investigator to subpoena Elon Musk in the Jeffrey Epstein case
👉 JPMorgan is suing a former executive over his ties to Jeffrey Epstein
This story was updated with the amount of JPMorgan's proposed settlement.