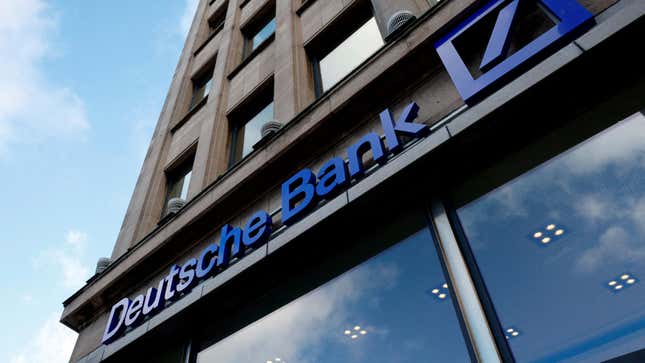 Deutsche Bank has agreed to pay $75 million to settle a case brought forward by women who accused disgraced financier Jeffrey Epstein, a bank's client, of sexual abuse.

The German bank, which managed Epstein's finances between 2013 and 2018, is settling a federal lawsuit accusing the bank of enabling and benefiting from its customer's sex trafficking of young women, The Wall Street Journal reported last night (May 17). The settlement is subject to court approval.
The bank failed in its attempts to get the lawsuit dismissed, and a trial in the case, which could have been highly damaging to the bank's reputation, was scheduled for September 5. Deutsche Bank shares were up more than 3% at market opening today (May 18).
The $75 million figure on offer is half the $150 million Deutsche Bank agreed to pay New York state's top financial regulator in 2020 to settle allegations that it didn't do enough to monitor suspicious financial activity by Epstein. And it's a pittance compared to the billions of dollars worth of fines for rate manipulation and money laundering.
In 2008, Epstein pled guilty in Florida state court to soliciting sex for money from an underage girl and was registered as a sex offender. His arrest on sex trafficking charges came only a decade later in July 2019. The following month, in August 2019, Epstein died by suicide in prison. His demise put an end to all criminal cases, and alleged victims could sue instead his half-a-billion-dollar estate, and hold banks that managed his money accountable.
Deutsche bank's Epstein settlement, by the digits
At least $75,000 and up to $5 million: How much each alleged victim could receive, depending on an evaluation of their claims
More than 4 billion euros ($4.34 billion): How much Deutsche Bank spokesman Dylan Riddle said his bank has spent to strengthen internal financial controls
$150 million: Penalty Deutsche Bank agreed to pay New York department of financial services, acknowledging "our error onboarding Epstein in 2013, and the weaknesses in our processes, and have learnt from our mistakes and our shortcomings."
Quotable: Holding Epstein's banking partners accountable
"The settlement will allow dozens of survivors of Jeffrey Epstein to finally attempt to restore their faith in our system knowing that all individuals and entities who facilitated Epstein's sex-trafficking operation will finally be held accountable."—Edwards Pottinger, one of the law firms representing the unnamed woman who filed the case alleging Deutsche Bank continued to do business with Epstein despite knowing that his financial dealings were illicit
Bank of interest: JPMorgan
JPMorgan, the bank Epstein was with from 1998 to 2013, faces similar, if not more damning, accusations as Deutsche Bank. The bank only dropped Epstein after several warnings from its compliance team and some executives reportedly still kept in touch with the disgraced financier.
The banking behemoth maintains it is not liable. It has even sued former executive Jes Staley for his dealings with Epstein.
Later this month, on May 26, CEO Jamie Dimon is due to be deposed in a case filed by Epstein's alleged victims.
At the same deposition, Dimon is also due to be questioned under oath about a case brought by US Virgin Islands, the territory where the late financier owned a palatial villa on a private island and registered several businesses. As prosecutors investigate the bank's ties to Epstien, they're subpoenaing high-net-worth individuals like Tesla chief Elon Musk and Oracle's Larry Ellison—clients who may have been referred by Epstein—to share communications.
Related stories
🕵️ The US Virgin Islands hired a private investigator to subpoena Elon Musk in the Jeffrey Epstein case
🔊 Jamie Dimon will have to explain how much JPMorgan knew of Jeffrey Epstein's crimes
📜 JPMorgan is suing a former executive over his ties to Jeffrey Epstein