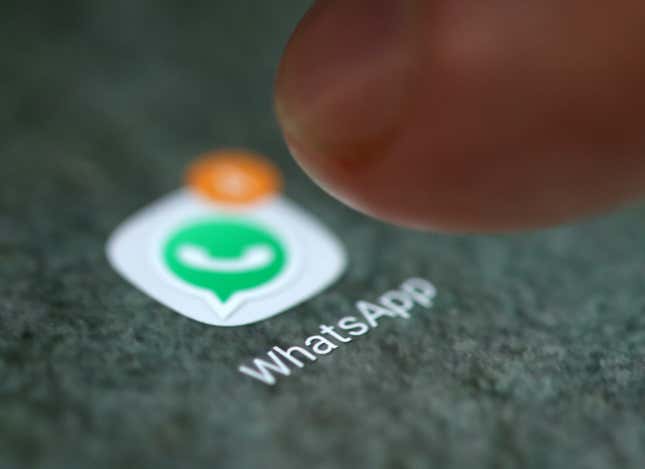 WhatsApp became the world's most popular messaging service by enabling communication among groups of people. Now, the app is making a case for one-way conversations, turning users into followers.
Paulina Porizkova on approach to Instagram
Parent company Meta announced today (June 8) the launch of a new feature called "channels," which it described as "a simple, reliable, and private way to receive important updates from people and organizations."
The new feature will be homed in a tab called "updates," where WhatsApp will display various private broadcast streams that a user chooses to follow. A channel admin can send text, photos, videos, stickers, and polls, to the audience that subscribes, according to WhatsApp's blog post.
All these channels will be discoverable in a searchable directory, and they'll all have invite links that can be shared.
The feature will first be made available to "leading global voices and select organizations" in two countries—Colombia and Singapore. Over the coming months, WhatsApp will bring channels to more countries and the ability for anyone to create a channel over the coming months.
Who can create a WhatsApp channel?
The ability to create and moderate channels has been given at first to a number of selected, notable organizations.
The World Health Organization, which already used WhatsApp to issue health alerts during the covid-19 outbreak, is one of the first groups with access to the feature. As are other international organizations like the International Rescue Committee (IRC), according to TechCrunch. Local entities like Singapore Heart Foundation and fact-checker Colombia Check are also on board.
Sporting clubs FC Barcelona and Manchester City are also part of the pilot, Reuters reported. Media outlet Channel News Asia has already set up a channel for Singaporean users, it said.
Eventually, anyone will be able to create channels. Individuals, such as dance teachers, could broadcast their class schedules. Businesses, like clothing retailers, could send photos of their new collections and even carry out transactions with WhatsApp's in-built payments feature. Just last month, WhatsApp started letting users in Singapore pay merchants in the app.

The WhatsApp channels rules
🫣 Both the channel admin's phone number and profile photo, as well as subscriber's personal details, will be hidden.
🔓 For now, the chat is not end-to-end encrypted so it can reach the widest audience. Channel history will be stored on WhatsApp's servers for up to 30 days. In the future, WhatsApp will work on encrypted channels for limited audiences.
🚫 Admins have the power to regulate the channel in myriad ways, including in deciding who can follow the channel, whether or not it'll be discoverable in the public catalogue, and in blocking screenshots and forwards from their channels.
App of interest: Instagram
Channels is coming to WhatsApp mere months after Meta rolled out a similar service on the photo- and video-sharing app it owns, Instagram. When it made the announcement in February, the company said it would bring what it described as "a public, one-to-many messaging tool for creators to invite all of their followers into and engage with their most interested fans" to Messenger and Facebook as well.
On WhatsApp, channels messages will show up in a new tab labelled "updates," unlike on Instagram, where they show up in direct messages.
One big number: Buying WhatsApp
$19.6 billion: How much Meta—then Facebook—splurged on acquiring WhatsApp in 2014. At the time, 450 million people were using the messaging platform. Today, WhatsApp boasts of more than 2 billion users. But the platform contributes little money. Time and again, the question of whether the steep price tag will ever yield returns arise. And every new feature WhatsApp launches, including Channels, does little to provide an answer.
Related stories
🏦 The era of WhatsApp banking is with us
📞 Why WhatsApp's founders still carry old Nokia phones
📰 How Burundi's activist journalists fill a news void using Facebook and Whatsapp