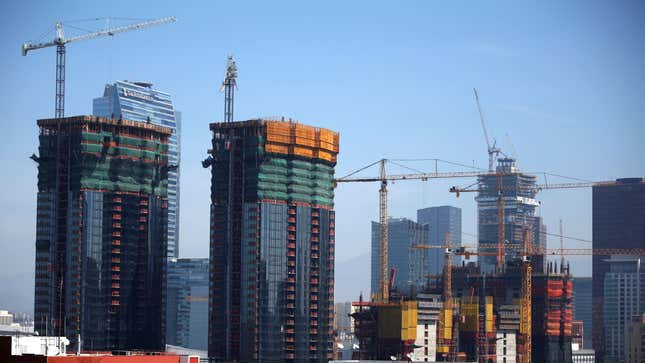 The Federal Reserve Bank of Atlanta's running estimate of US economic growth is on the rise. The regional Fed branch's real-time model for gross domestic product (GDP) moved up its third-quarter GDP prediction from 4% to nearly 6% in a matter of weeks.

The latest increase in the outlook came from a surge in new construction projects for single-family homes in July. A measure of US industrial production also beat economists' expectations, as manufacturing companies ramped up in advance of the coming federal funds provided by the Inflation Reduction Act, the CHIPs Act, and the Infrastructure Investment and Jobs Act.
More than half of the GDP forecast is made up of personal consumption. The surge in car sales and the sustained strength of US retail sales, despite a drop in various goods categories, play a major role in this, said Skanda Amarnath, executive director at labor economics firm Employ America.
Meanwhile, auto manufacturers are finding it easier to source the computer chips they put into their cars, after having production hamstrung by a semiconductor chip shortage brought on by the covid-19 pandemic.
Will residential construction improve as much as the Fed thinks it will?
The latest forecast was the first in which the Atlanta Fed's model tool predicted that residential investment would be positive in the third quarter. Here, the Fed's prediction may be too bullish, Armanath noted.
"You saw a modest improvement in housing starts from June to July," Armanath said. "That's not the kind of thing I would say is indicative of the breakneck pace of residential. Residential fixed investment doesn't typically yield a 40 basis point contribution to GDP."
The US is seeing record numbers in terms of new apartment units being built, noted NerdWallet home expert Holden Lewis, in an emailed statement. With a seasonally adjusted 986,000 multifamily units coming online, the US is now building apartments at a faster pace than it was in the 1970s, when baby boomers were searching for housing, Lewis said.
Consumer spending on durable goods was weaker in the past year because of how down the housing market was, said Bill Adams, chief economist at Comerica Bank. For wealthier consumers, a stabilizing house and stock market are going to increase spending, he added.
Retail sales growth is also improving
Deutsche Bank economists who are forecasting 3.6% growth for the third quarter note that retail sales growth in July was the strongest it had been since January, and that growth in consumer spending was spread out across all of the categories that the Census Bureau measures when reporting US retail sales.
It's just the sort of broad-based improvement that the Atlanta Fed is seeing, across the various sectors of the US economy.