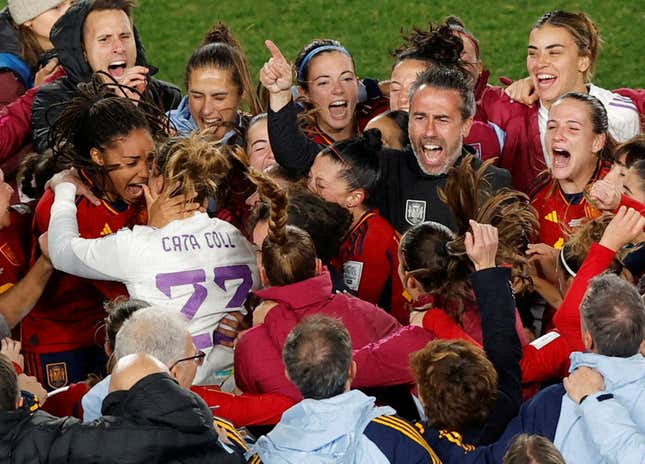 Ahead of the anticipated championship game this Sunday (Aug. 20), FIFA president Gianni Infantino announced that the Women's World Cup generated at a self-sustaining $570 million, after operating at a loss during the 2019 and 2015 tournaments.

Why a tightening of credit conditions could lead to a weak economy
"More than half a billion. There are not many competitions, even in men's football, who generate more than half a billion," Infantino said at the FIFA Women's Football Convention in Sydney on Friday (Aug. 19).
This year's world cup, held in Australia and New Zealand, has been breaking viewership records around the world, even with time difference that's tricky for its Western viewership.
The US team's second group stage match against the Netherlands drew a record 6.43 million viewers on English-language television, according to Fox Sports.
Gianni Infantino scores an own goal on pay equality
Still, Infantino drew criticism from a number of women's footballers for his failure to guarantee equal pay between the women's and men's teams. Instead, he implied it was on women to convince men they deserve to be paid the same.
"Pick the right battles. Pick the right fights. You have the power to change. You have the power to convince us men what we have to do and what we don't have to do," Infantino said. "Just do it. With men, with FIFA, you'll find open doors. Just push the doors."
The tone-deaf remark inspired a comeback from legendary Norwegian striker Ada Hegerberg, the first woman to win a Ballon D'or, who responded to the quote on Twitter, saying she was "working on a little presentation to convince men."
Previously, Infantino has been broadly supportive of raising the profile of the Women's World Cup during his tenure, including increasing the tournament's prize money from $30 million to $110 million this year. He has also said he wants to ensure equal prize money for the men's and women's World Cups in 2026 and 2027.
This is not the first controversial assessment of the Women's World Cup by a FIFA president. In 2003, disgraced former FIFA head Sepp Blatter suggested that women's soccer could be more popular if the players wore tighter shorts.
Women's World Cup, by the digits
1991: The year the Women's World Cup first premiered. The men's World Cup has been played since 1930, giving them a head start.
32: The number of teams playing in this year's tournament, up from 24 in 2019. This reform is credited with raising revenue and the global visibility of the event.
$10.5 million: The award given to the winning women's team. For comparison, the Argentinian team that won last year's men's World Cup received $42 million.
Related stories
🏃‍♀️7 numbers to know ahead of the 2023 FIFA Women's World Cup
⚽ The US women's soccer team got the same contract as the men
💲Women soccer players are younger than men because they can't afford longer careers