Matt Lauer's staying power on the Today show has been extraordinary.
For 20 years, he maintained his position as co-anchor of NBC's morning show, as his female co-hosts came and left.
This morning, though, he was fired by NBC News amid allegations of sexual harassment.
Lauer, who joined Today in 1994 as a newsreader and replaced Bryant Gumble at the anchor desk in 1997, survived a bevy of dramatic departures and gossip about power dynamics on the set, but he could not survive #MeToo, the movement that has encouraged women to come forward with their stories of sexual harassment and abuse and has led to the fall of numerous powerful men, especially in the entertainment and media industries.
Lauer dropped out of college in 1979 for a job in local television. His path to Today was filled with the usual career twists and turns for those who rise to the level of network star. The real drama started once he got to the anchor desk.
Coming out of Katie Couric's shadow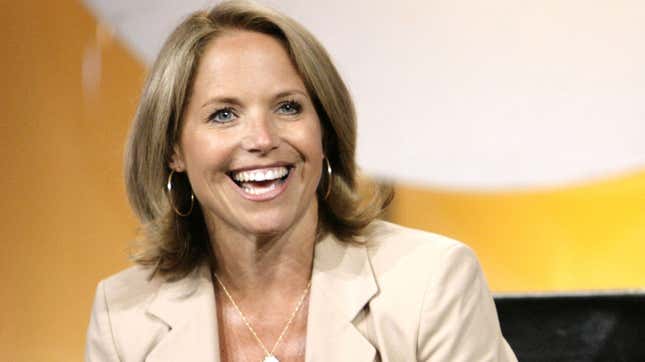 Laurer bid farewell to Couric, probably Today's most popular co-anchor in history, in 2006. At the time, The New York Times wrote of Couric: "America watched her morph from sassy reporter to working mother and widow, and most recently to glamorous diva."
Couric had been a co-anchor since 1991. Lauer, who once described her as "kind of my soul mate," played second fiddle to her fame and could not match her on-screen chemistry with guests. NBC News said goodbye to Couric in two weeks of tributes before her final day on set. Lauer's ascension to becoming the anchor who embodied Today didn't happen until Couric had left.
Meredith Vieira joined Lauer from 
2006 to 2011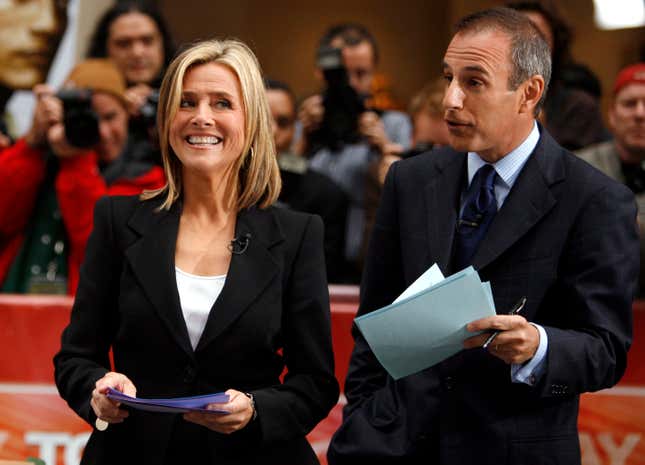 Award-winning news veteran Meredith Vieira was named as Couric's successor, in a change that  was said to provide Today, which at that point had owned morning TV for 10 years, with "the smoothest possible transition from one of the best-known and most experienced program hosts in television to another."
But in the spring of 2010, Vieira took a one-year contract instead of a longer-term option. News reports at the time said she wanted to spend more time with family.
Ann Curry, a fixture on the news desk, was co-anchor for only one year
Ann Curry, who had been a stellar news reporter and newsreader for Today since 1997, took over from Vieira in 2011. One year later, NBC was getting criticized for suddenly forcing the popular journalist out. According to rumors that reached several media outlets, Lauer did not like Curry; it was said that he would leave if she stayed. And then she was gone.
The New York Times television critic was unkind to Curry in reviewing her farewell show, writing: "Ms. Curry turned to the camera and delivered a tearful farewell that was gallant and also embarrassingly maudlin and grandiose and that pretty much summed up why she got the hook after just one year in the host chair next to Matt Lauer." ABC's Good Morning America was gaining market share to boot, while the Today show's co-anchor changes turned into a soap opera.
Curry told viewers: "For all of you who saw me as a groundbreaker, I'm sorry I couldn't carry the ball to the finish line, but, man, I did try."
One year later, New York magazine depicted Curry's last show in a completely different light, from the point of view of Curry's fans:
Five million viewers, the majority of them women, would not soon forget how Curry, the intrepid female correspondent and emotionally vivid anchor, spent her last appearance on the Today show couch openly weeping, devastated at having to leave after only a year. The image of Matt Lauer trying to comfort her—and of Curry turning away from his attempted kiss—has become a kind of monument to the real Matt Lauer, forensic evidence of his guilt.
Today, Curry's admirers are taking to social media to share their take on "Ann Karma" and suggesting NBC bring her back to the show. Here's the editor in chief of the Huffington Post:
As it happens, in the spring of 2012, Lauer signed what was called  "the most lucrative deal in the 60-year history of morning television," a contract worth a reported $25 million per year, just before the show lost its top ratings spot to Good Morning America.
In 2012, Savannah Guthrie took over as co-anchor. With NBC's Hoda Kotb, she announced Lauer's firing this morning.