The anti-corruption campaign initiated by China's president Xi Jinping in late 2012 has generated arrests, trials, at least one novel, and a slew of television dramas, as well as prompted civil servants to turn in the expensive gifts showered upon them to curry favor.
A major recent auction of the spoils—possibly one of the last big ones due to the crackdown on gifting—showed the strange range of these presents: Rolex watches, naturally, but also underwear, pajamas and discount-store gift cards.
At the auction in the central Chinese city of Wuhan, some 280 bidders purchased goods amounting to 994,000 yuan ($146,000), local newspaper Chutian Metropolis Daily reported (link in Chinese) on Saturday (June 10).
One man, who declined to be interviewed by Chutian, bought a Rolex watch for 40,000 yuan ($5,884) and a Cartier watch for 32,000 yuan ($4,707). A Walmart gift card with a store value of 1,380 yuan ($203) was sold along with two other store gift cards at 2,300 yuan ($338).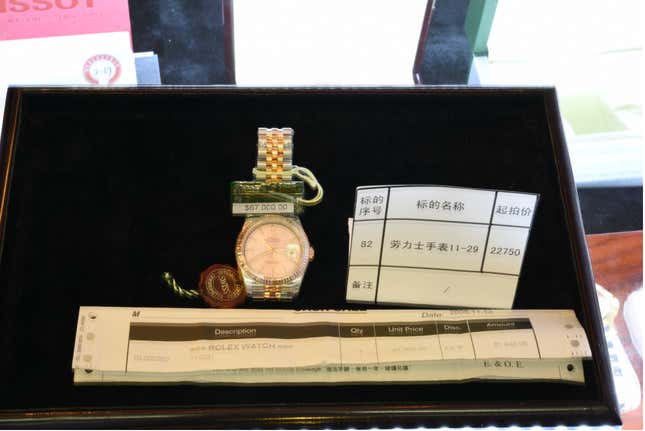 The Hubei Integrity Auction Company, the local firm that conducted the auction, gathered over 500 items for the sale, according to the company's website (link in Chinese).
The company's CEO told Quartz that the company didn't guarantee the authenticity of the products—and buyers have to bid in person. "All the customers must be on the scene to bid and many did seem to be professional buyers who came with examining tools," said Xia on the phone, only giving her last name. "Some of the products have been in storage for more than 10 years."
People online wondered who might have the money to bid on the items being auctioned. "Would common people dare to buy these commodities?" asked a user of social media platform Weibo. Others felt turning in and selling the items didn't go far enough in fighting corruption.
"Can we find out who gave the items in the first place? Or would the officials be cleared after handing these in?"asked one (link in Chinese) on China's social media platform Weibo.
Auctions like this one have taken place periodically in the last decade, but more so in recent years.
Earlier, Hubei Integrity participated in two auctions that netted more than half a million dollars for the state treasury. In November, the company participated in an auction event in Wuhan with the local anti-corruption department of the Communist Party and the city's finance bureau. That auction sold a total of 222 items, including 690 gift cards worth 880,000 yuan ($129,466), state publication People's Daily reported. Another one took place in March.
But the auction company CEO says that gifting is down, and that therefore major auctions are coming to an end.
"A big-scale auction like the June one is unlikely to happen again," says Xia, "I believe that as our Party continues tightening discipline, there will be fewer bribes."
Visen Liu contributed reporting