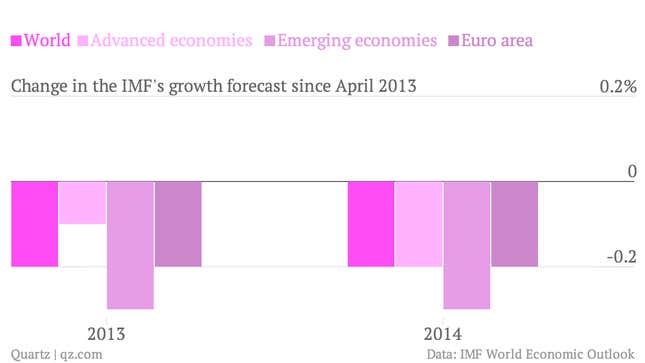 From talk of tapering at the US Federal Reserve to protestors in the streets in Brazil, trends in the last three months have economists expecting less economic growth this year and next.
The International Monetary Fund's update of its world economic outlook, released today, confirms something the OECD revealed when it released its leading indicators on Monday: The pace of recovery is changing in different parts of the world, and growth in emerging markets is slowing faster than in the wealthier nations whose economic troubles have been more in the news.
The IMF expects global growth will be 0.2 percentage points below its last projection, coming in at 3.1% this year and 3.8% next year. The international finance mavens offer three reasons why:
Emerging markets are expected to grow at a fairly robust 5% this year, but major movers like Russia, China and India all saw their growth forecasts downgraded. Brazil in particular was embattled, in part because of the commodities plunge tormenting its richest man. One important factor noted by the IMF is capital fight out of emerging markets as interest rates rise in the United States.
The Euro area is forecast to be in recession again this year, shrinking by .6% before (somewhat improbably) growing .9% in 2014, bolstered by Germany, the only major continental economy expected to grow more than 1% next year. Europe remains the most pressing problem for global policymakers.
Japan was one of three advanced economies to have its growth forecast upgraded, to 2% this year, while the United States expected to slow mildly to an expected growth rate of 1.2%. This shouldn't be a surprise surprise. Yesterday, the White House released another report showing that deficit reduction is going faster than expected, while markets have roiled at the perception that the Fed will begin slowing its purchases of government bonds. Meanwhile, Japan has launched a no-holds barred stimulus effort.