Summer is sale season for Uber. Last August Uber sold its China business to arch rival Didi Chuxing. Today it merged its Russian operations with Yandex.Taxi, the local leader in ride-hailing and a subsidiary of Russian search giant Yandex.
The newly formed venture is valued at $3.7 billion, Yandex said in a press release. It will be owned 59.3% by Yandex and 36.6% by Uber, with the remaining 4.1% held by employees. Current Yandex.Taxi CEO Tigran Khudaverdyan will serve as chief executive of the combined businesses, which will also be overseen by a board with four directors nominated by Yandex and three by Uber.
The deal marks the second time Uber has ceded a major market to a competitor. The sale to Didi Chuxing brought an abrupt end to a battle for ride-hailing dominance in the Middle Kingdom that had cost Uber a reported $1 billion a year. The Chinese ride-hailing market is estimated to be worth as much as $73 billion by 2020. Didi invested $1 billion into Uber (last valued at nearly $70 billion) and Uber received a 17.7% stake in Didi in that deal, which valued the combined China operations at $35 billion.
As part of the merger with Yandex, Uber has agreed to invest $225 million into the newly formed company and Yandex to invest $100 million. The two companies said they completed a combined 35 million rides in Russia and five other countries in June for $130 million in gross bookings. They are projecting an annual run rate of 419 million rides and $1.6 billion in gross bookings based off those figures, with Yandex's share roughly double Uber's.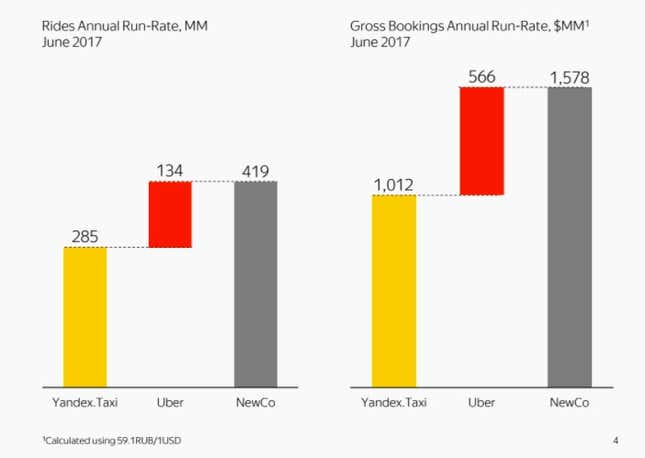 Yandex.Taxi was founded in 2011, two years after Uber began operating in the US. The ride-hailing business is a prized part of Yandex's portfolio, and has garnered praise from Yandex executives in each of the company's last six quarterly earnings reports. "Yandex.Taxi was a real highlight," chief operating officer Alexander Shulgin said when Yandex released its fourth-quarter and full-year results for 2016. "I am particularly excited about Yandex.Taxi, which delivered 484% growth in rides in Q1," he said the following quarter.
What Yandex executives are less likely to point out is that besting Uber wasn't cheap. Yandex reported an operating loss of 1.2 billion rubles (about $20 million at current conversion rates) for its taxi business in the first quarter of this year. The three months before that, its operating loss was 1.3 billion rubles ($21.7 million). It wasn't always like that; for most of 2015, the taxi division was turning a small operating profit. But Yandex.Taxi has racked up losses since early 2016 as Yandex expanded the business aggressively and poured money into promotional efforts, including minimum fare guarantees for drivers and discounts and coupons for riders.
Ride-hailing is filled with geographic and cultural nuances. In China, Uber struggled with sophisticated scammers, crippling gridlock, and a regulatory environment that bore little if any resemblance to its hometown of San Francisco. In Europe, taxi-friendly rules forced Uber to suspend service entirely in Denmark, and worker-friendly policies have threatened its core model of hiring drivers as independent contractors rather than employees. In Brazil, Uber tried accepting cash payments to jumpstart growth in a poorer country, then was forced to grapple with a spate of murders and robberies involving its drivers. In Russia, it was hampered by mapping technology sophisticated enough to sort out Moscow's traffic jams, a comparative strength of Yandex (the "Google" of Russia).
What rarely changes are the fundamentals of ride-hailing—i.e, that it's an expensive business to be in. Because the barriers to entry are relatively low, competitors abound. Companies break ahead by attracting customers with discounts that make rides cheap, and drivers with the promise of high wages. Inevitably, the costs add up. Uber lost more than $2 billion in China and Didi was suspected to have similar burn rates. This time last year, Grab, Uber's main competitor in Southeast Asia, was reportedly spending $35 million a month. Lyft, the no. 2 ride-hailing service in the US, lost $600 million in 2016. Uber narrowed its operating loss to $708 million in the first three months of 2017, compared to $991 million in the previous quarter.
It should come as no surprise that Yandex's victory over Uber in Russia came at a high price. Now that Uber has been converted into an ally, the question is whether Yandex can turn those losses around.