After what looked liked a cool down in Argentina's black market for US dollars, the exchange rate is heating up again. And fast.
Earlier this year, amid growing fears that Argentina's government would default on its debt, Argentines rushed to exchange pesos for anything that held its value better than the local currency: real estate, cars, bitcoins—but mostly US dollars.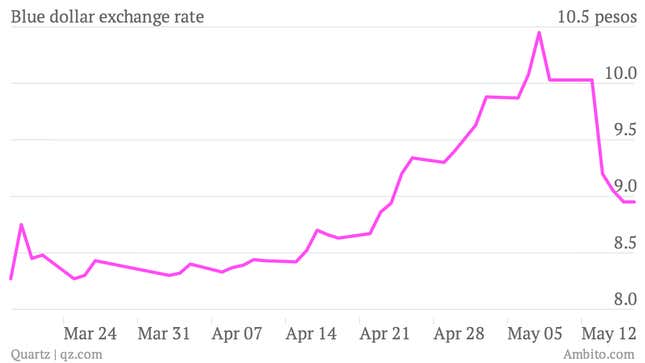 The resulting jump in demand for US greenbacks—a demand that couldn't, and still can't, be met—shot the country's black market exchange rate for US dollars (also known as the blue dollar rate) up above 10 pesos to the dollar. At the time, that was more than twice the official rate. A scary thought, considering that Argentines weren't merely happy to pay it—they were incredibly eager to.
Argentines have in fact been hoarding dollars for some time now. Ever since the government defaulted on its debt back in 2001, locals have mistrusted their country's financial system. And since 2011, president Cristina Kirchner has enacted over 30 measures to curb US dollar hoarding in Argentina, which came to be known as "the dollar clamp." From questionable bond offerings to even more questionable pseudo currencies, Kirchner has tried it all. And, at times, it has appeared to work.
In fact, from early May to late June, the blue dollar rate dropped to about 7.5 pesos, barely two pesos above the official rate. But now this: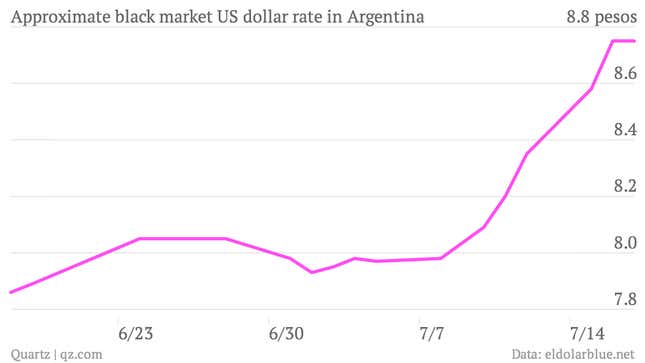 Over the past month, the blue dollar rate has jumped over 11%, back up to 8.75 pesos, where it closed yesterday after peaking at 9.5.
Argentina can ill afford any panic. Its foreign reserves have been falling fast, and it still has plenty of outstanding debt to deal with. The less Argentines buy into the country's financial system, the more difficult it will be for Kirchner's government to source the cash it needs. If the blue dollar rate climbs up to near or above 10 pesos for a second time, the repercussions will likely be worse.