Uber is in hot water in London, where it will lose its license to operate at the end of the month. The local transport authority rejected Uber's application for license renewal today (Sept. 22), citing its "approach" to reporting crimes, vetting its drivers, and explaining away its "Greyball" software designed to hide illicit Uber activity from law enforcement. Uber has until Oct. 13 to appeal.
The decision has sparked confusion and outrage in London, Uber's biggest European market with 3.5 million riders and more than 40,000 licensed drivers. But everyone needs to take a deep breath: the Transport for London (TfL) decision doesn't really change anything.
First and most importantly, TfL said itself that Uber, which launched in London in June 2012, "can continue to operate until any appeal processes have been exhausted." In other words, Uber will not be banned from providing rides in London while it appeals the licensing decision, which the company has already said it intends to "immediately challenge" in court. That process could take "any length of time," Guy Pitt, a TfL spokesperson, told Quartz by email. Uber "is sort of deemed to have a licence" and can keep providing rides until the appeal is finished, he added.
Second, Uber has already begun its campaign for reinstatement, imploring its London users by email to "Save your Uber in London." "By trying to ban the app from the capital, the Mayor and Transport for London have caved in to a small number of people who want to restrict consumer choice," writes Tom Elvidge, Uber's general manager in London. Uber has used similar messaging to great effect in countless US cities that tried to restrict its ride-hailing service. The strategy has worked just about everywhere in the US, with the notable exception of Austin, Texas, which Uber fled after losing a special election on ride-hailing regulations in May 2016. A year later, the state of Texas passed legislation that overruled Austin, and Uber resumed operations.
Third, consumer sentiment is in Uber's favor. London's black cabs are notoriously expensive, with fares that start at £2.60 (about $3.50) and climb quickly with every mile. Uber offers a more affordable and convenient alternative to the established taxi industry that consumers love as much as regulators and longtime cabbies hate.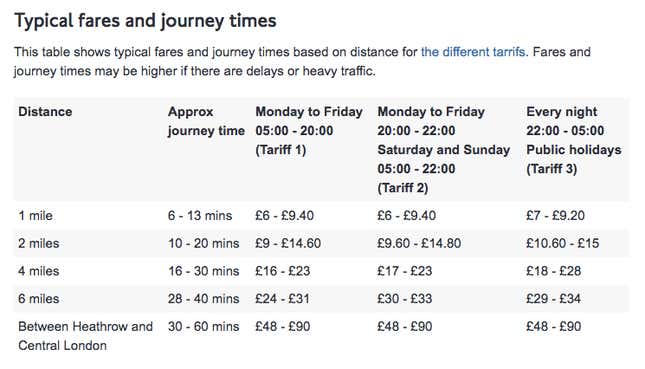 "Uber will have their lawyers and lobbying partners on this and will not even feel this," Rich Pleeth, a London-based entrepreneur and former chief marketing officer of Uber competitor Gett, told Quartz. "It demonstrates to TfL critics that they care about the black cabs but really it will be appealed and they will continue to operate. But all good press for Uber as it will start a customer outpouring of support."
Uber isn't without obstacles in London. The service there is already heavily regulated, more similar to how Uber operates in New York, under the thumb of the local taxi commission, than in most other markets where anyone with a driver's license and suitable car can sign up to drive. Uber's labor practices have also received some of their most intense scrutiny in London, where an employment court ruled last October that Uber broke the law by not providing two drivers with certain benefits. (Uber was granted the right to appeal that decision in April, with a hearing scheduled for Sept. 27.)
The TfL ruling causing an uproar today, however, is all bluster with very little bite. Uber will keep operating for the foreseeable future—at least until the courts have something to say about it.