When the Dutch newspaper NRC Handelsblad announced after an inquiry that its longtime China-based correspondent had fabricated parts of his recent stories, many Chinese news assistants working for foreign correspondents saw it as a vindication.
The newspaper had begun its probe after a social media post by the reporter's news assistant, Zhang Chaoqun, sent shockwaves through China's journalism community. Zhang wrote in a biting September post that he had been witness to the "dark art"of creating fake news, and then detailed several stories that he said contained made-up quotes, and other problems.
The 64-year-old reporter Oscar Garschagen, who had at first disputed the allegations, resigned. The Dutch newspaper, which had also criticized Zhang for tarnishing the name of a respected longtime correspondent, conceded there were problems with the articles that the former news assistant flagged.
For many of the journalists who work alongside foreign correspondents in China, as Zhang did, the saga also offered a stark reminder of their unacknowledged and often perilous position under the Chinese rules that govern their employment. On the one hand they get little recognition for their indispensable roles in helping to tell the world important stories about China, and are often barely known to the distant management of the papers they work for.
"We hold up half the sky in foreign media—basically they cannot run without us," says Zhang, 32, who resigned from NRC after posting his allegations against Garschagen, in a phone interview.
At the same time they face scrutiny, pressure and suspicion from their own government—and sometimes from their own compatriots as well.
Working in anonymity
Most foreign news organizations in mainland China rely heavily on Chinese nationals to navigate the country's complex bureaucracy, flag important developments, and find people willing to be quoted in a foreign paper. But China bans its citizens from working as full-fledged journalists for these publications. Instead, they are only allowed to offer "assistance," after they sign employment contracts with agencies affiliated with the Chinese foreign ministry, according to a set of regulations (link in Chinese) released by the ministry in 2008. In other words, news assistants in foreign organizations are officially employed by the Chinese government, much like Chinese staffers at foreign diplomatic missions. (The restrictions don't apply to Chinese nationals based in Hong Kong.)
"I consider myself a journalist, but my government does not," says a Chinese news assistant who works for a Western media outlet based in Beijing. He asked not to be identified due to the sensitivity of the topic.
The Chinese foreign ministry didn't reply to queries for this story.
The main duty of Chinese assistants is to help foreign correspondents find story ideas, do research and translation, and set up interviews. They join correspondents on reporting trips but are not supposed to go out reporting alone. In Zhang's case, he usually spent half the day skimming news in Chinese media to send Garschagen a round-up of under-reported stories. Sometimes, he would spend an entire day transcribing an hours-long interview in Chinese, and translating it into English. He was also responsible for booking tickets and hotels ahead of reporting trips. Hired on a recommendation from an assistant at another news outlet, Zhang earned around 10,000 yuan ($1,500) per month, almost double what he earned in his previous jobs as hotel waiter and salesman.
Zhang says Garschagen rarely involved him in story framing, and didn't show him articles that included his inputs before publishing. Garschagen, who had initially told the paper's management the two were experiencing friction over problems with Zhang's work, declined to comment. "Maybe another time," he told Quartz. Earlier, regarding showing Zhang story drafts, he told Shanghai-based online publication Sixth Tone that it's just not the way he works.

At other bureaus, many correspondents do go over drafts with assistants, especially since these stories often rely heavily on their reporting. In addition, highly experienced news assistants at times pretty much write the entire story. But in most cases, due to Chinese regulations, they won't get a byline that recognizes them as the author. Instead, they'll get a tagline at the bottom of the article that says they "contributed" to the piece.

Keith Richburg, a former China correspondent for the Washington Post from 2009 to 2013, recalls experimenting early on in that stint with putting his news assistant's name first on a story published in print, since he had done none of the reporting. The next day, he says, he got a call from the Chinese foreign ministry on his cell phone, asking him why he wasn't following Chinese rules.

"It's gutting not to be able to give them a byline or real credit for the amount of work they've done, when in fact 90% of it is their work," says Richburg, who now heads the journalism school at the University of Hong Kong. (Quartz has a partnership with the journalism school.)

Current and former employees say major foreign publications take a variety of approaches to the byline issue. The Washington Post sometimes allows Chinese staffers to have a joint byline with a foreign colleague on web-only stories. Bloomberg gives all China-based reporters a tagline at the bottom of the piece, whether the writer is a Chinese or foreign national; and if China-based reporters team up with reporters based elsewhere, the reporters outside China also only get taglines, in order to be fair. The New York Times, which is commonly targeted by the Chinese government for its coverage on human rights in China, has increasingly allowed Chinese employees to have their own bylines. Media representatives for these publications didn't respond to requests for comment.
Zhang says he never got even a tagline for his work at NRC in the past two years—something also not uncommon among his peers.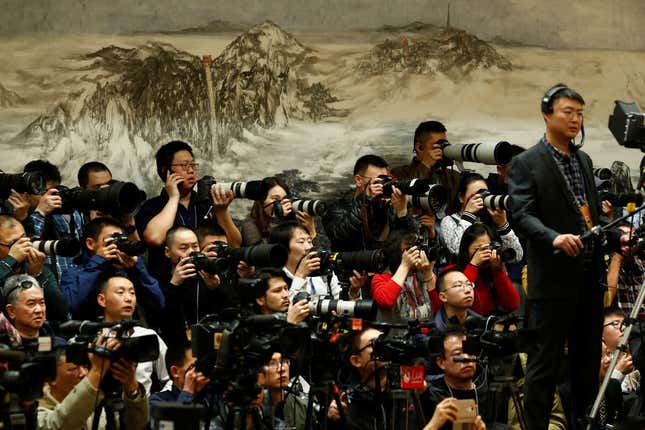 Tea drinking and jail time
Two days after Zhang made his allegations against his employer, NRC's editor-in-chief Peter Vandermeersch said in a blog post (link in Dutch) that Garschagen was worried about his news assistant's "lack of openness" about his contacts with Chinese security. Another reason for the falling out, the paper said, was that Zhang appeared unwilling to cover the upcoming leadership reshuffle meeting of the ruling Communist Party.
Zhang says he never was in contact with security agents over his work for NRC because he was not officially registered as a news assistant. Garschagen, NRC, and the Chinese foreign ministry didn't respond to queries about this. But for official Chinese news assistants, regular contact with state security is part of the job, as their employers know.
Invitations from security agents to "drink tea" are understood by news assistants to be compulsory. Security agents ask about what stories their foreign correspondents are working on, and assistants say they usually answer honestly, describing these meetings as generally relaxed and friendly. "After all, we have nothing to hide," says Huang, a former news assistant who asked to be identified only by his last name, "but I definitely won't reveal information about my sources." The Beijing-based assistant says the correspondents he worked with never asked what happens at those meetings, because "they understand it's tough to be caught in the middle."
At other times, though, being a news assistant involves evading surveillance as much as possible.
Zhang Jie, a former Washington Post assistant who worked with Richburg, says she always made sure to use temporary SIM cards and secondhand phones to reach out to human-rights activists. These included blind lawyer Chen Guangcheng, who among other things campaigned against forced abortions, and late Nobel Peace Prize winner Liu Xiaobo, who died in custody in July after being imprisoned over contributing to a manifesto calling for political reform.
During the unrest in Tibet in 2008, Zhang was taken away by police while taking photos of lines of armed police officers standing guard on a bridge in the autonomous region. At the police station, she got a chance to flush her business cards down the toilet, and made her way out by pretending to be a tourist.
But she wasn't so lucky a year later, when she was reporting on riots in China's Muslim-majority Xinjiang region. She traveled to the western city of Kashgar by herself because the region was shut to foreigners. After days of reporting, she sent out her notes to the Post's Beijing office by fax, because the internet had been cut off in the area. The fax drew the attention of police, who soon afterwards apprehended her.
That night, Zhang spent around 12 hours in detention and was interrogated in front of a camera. Upon her release the next morning, she says, a police officer "announced that I'm not welcome in Kashgar, and demanded that I leave immediately."
The risks Chinese assistants face working within the limitations of a repressive government made global headlines in 2015, when a German journalist published a story detailing her assistant's detention, and her failure to secure the assistant's release. In October 2014, police in Beijing arrested Zhang Miao as she was on her way to attend a poetry reading in support of Hong Kong's Umbrella Movement, after she accompanied the German correspondent to the city to cover the pro-democracy protests in the former British colony. Later, Zhang was released without charge after nine months of detention. Earlier in 2014, police in the southwestern metropolis of Chongqing also detained an assistant to Japan's Nikkei newspaper in the run-up to the 25th anniversary of the Tiananmen Square massacre.
One of the darkest moments for Chinese news assistants happened in 2004, when then New York Times researcher Zhao Yan was arrested and charged with leaking state secrets, for his alleged role in reporting ex-president Jiang Zemin's plan to retire from his top military post. Zhao was eventually sentenced three years in jail for fraud.
China ranks 5th from the bottom on 2017's World Press Freedom Index. By the end of 2016, China had 38 journalists in detention, including those held in previous years, putting China just after Turkey as the world's second-worst jailer of journalists, according to US-based nonprofit Committee to Protect Journalists. The communist state also ranks 5th from the bottom on this year's World Press Freedom Index, with only Syria, Turkmenistan, Eritrea, and North Korea ranked worse.
"As a foreign correspondent in China, I was always conscious of the fact that pretty much the worst that was ever going to happen to me would be I'd be kicked out of the country," Richburg says. "A news assistant, I don't think they would bat an eyelash about locking them up or accusing them of stealing state secrets."
"Running dogs"
As China takes a more assertive role on the world stage in recent years, nationalism is also on the rise among its citizens. Many Chinese people believe that Western media is biased against their country, an idea that has been played up by state propaganda.
Huang, the former assistant, once accompanied a foreign colleague to report on the massive chemical blasts that killed more than 170 people in the northern port city of Tianjin in 2015. They arrived at a local hospital one morning, trying to talk with family members of the victims. But soon they were forced to leave, Huang says, after a group of onlookers started to drive away foreign faces from the scene. One of them raised his arms and shouted: "I can't let these foreigners report on this!"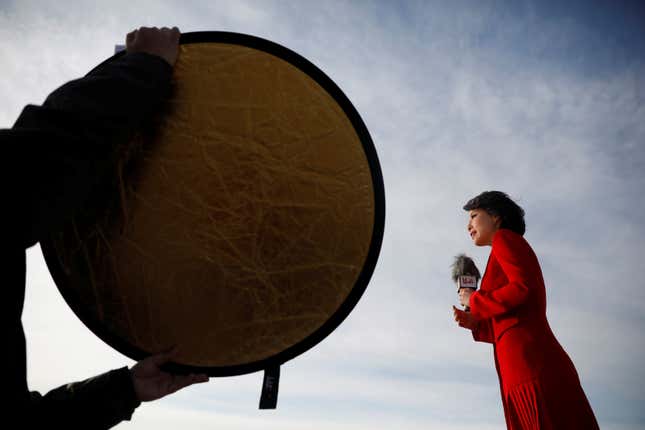 Against that backdrop, Chinese nationals who assist foreign journalists have to live with hostility from their countrymen from time to time.
A former news assistant who transitioned to being an overseas reporter says people have many times called him a "running dog" for working with foreigners on stories critical of China. Back in 2008, after news emerged that the Chinese girl who wowed the world at the Olympic opening ceremony was actually lip-synching, he went out on Beijing's streets to ask people what they thought about it. That was one time, he says, where he was surrounded by people yelling "traitor" at him. Another time, when he and his foreign coworker were shooting videos on the fringes in Beijing, someone called the police on them.
Zhang Yajun, a former assistant at Christian Science Monitor's Beijing bureau for four years, says she and her Chinese colleagues received anonymous faxes written in Chinese wishing they would commit suicide for working for a foreign news organization, amid a wave of anti-foreign media sentiment due to CNN's allegedly distorted reports on the 2008 Tibetan riots.

It's almost impossible for Chinese assistants to advance in foreign organizations within China's constraints. They could become full-fledged reporters in Chinese news organizations—but that comes with a whole different set of restrictions including censorship and self-censorship. Richburg says the "average lifespan" of assistants is three years, and after that most of them quit journalism. "What do you do then? Do you go work for Global Times or China Daily? You are not going to be satisfied once you've been working at the top levels of Western journalism," he says, referring to two state-run publications.

Many of the former news assistants Quartz spoke to have abandoned journalism in recent years. Zhang Yajun, who had worked for the Christian Science Monitor, now works in public relations for Chinese companies. Zhang Jie left her assistant job at the Washington Post, and China, to study in the US. Huang has also left the field. Zhang Chaoqun, who has been at home with his wife and one-year-old son after leaving NRC, says he's not sure what he'll do next.

By not allowing Chinese citizens to grow into bigger roles in foreign publications, China also unwittingly lets foreign journalists dominate the narratives of the most important stories about China outside of the country—the very thing it's trying to counter by spending billions of dollars to spread propaganda overseas in recent years.
"If you want to get China's voice in international media, first you should let Chinese people become visible in international media," says Zhang Jie. "Chinese people could have had bylines and opportunities to win awards, but these rules have closed the door to them."