Catalan leader Carles Puigdemont declared today (Oct. 10) that Catalonia's government is putting independence on hold.
In a speech in parliament, Puigdemont said, "I want to follow people's will for Catalonia to become an independent state. We propose to suspend the effect of the independence declaration… in order to work towards putting into practice the result of the referendum… Today, we are making a gesture of responsibility in favor of dialogue."
He continued, "I am not planning any threat. Any insults. We are all responsible for this. We need de-escalate the situation, not feed it any longer. I want to address everyone about the issue. We are all part of the same community and we need to go forward together. We will never agree on everything, but we have proved many times that the only way to move forward is with democracy and peace. That requires dialogue."
He also said "thank you" to all who made the region's Oct. 1 referendum possible as well as the integrity of the vote.
Puigdemont was scheduled to speak at 6pm local time, but delayed the speech after reports that the president of the European Commission, Jean-Claude Juncker, stepped in for last-minute "mediation efforts" with the board of parliament and party spokespeople.
Over the last week, the EU clarified its official position and said Catalonia's bid for independence was an "internal" Spanish matter. Puigdemont said the issue of independence was not a "domestic affair" and that Spain's central government has shown "radical" refusal to negotiate.
"We are not criminals, we are not mad. We are normal people, and we just want to vote. We have been ready to talk and have dialogue. We have nothing against Spain. We want to have a better understanding with Spain. The relationship hasn't been working for many years, and now it's unsustainable," he added.
All eyes are on Spain's central government
It is unclear how Spain's prime minister Mariano Rajoy and his central government will react to Catalonia's bid for independence but willingness to engage in discussion. Police are stationed around the government buildings in Barcelona, the capital of the Catalonia region in Spain.
Article 155 of the 1978 Spanish constitution allows the central government in Madrid to take over running Catalonia, currently an autonomous region of Spain, and Rajoy could could invoke it if it declared unilateral independence. If Rajoy did invoke Article 155, it would lead to imposing direct rule on Catalonia. Various banks and businesses have already planned to relocate from Catalonia ahead of uncertainty.
Earlier today, president of the European Council Donald Tusk tweeted to Puigdemont:
I appeal to @KRLS not to announce a decision that would make dialogue impossible. Let's always look for what unites us. United in diversity.

— Donald Tusk (@eucopresident) October 10, 2017
In Scotland, which has toyed with leaving the United Kingdom, First Minister and leader Nicola Sturgeon said that she hopes "dialogue will replace confrontation" and that "it is time for the Spanish government to sit down with the government of Catalonia. It is time for them to talk and to find a way forward. A way forward that respects the rule of law, yes. But a way forward that also respects democracy and the right of the people of Catalonia to determine their own future."
Spain's worst political crisis in four decades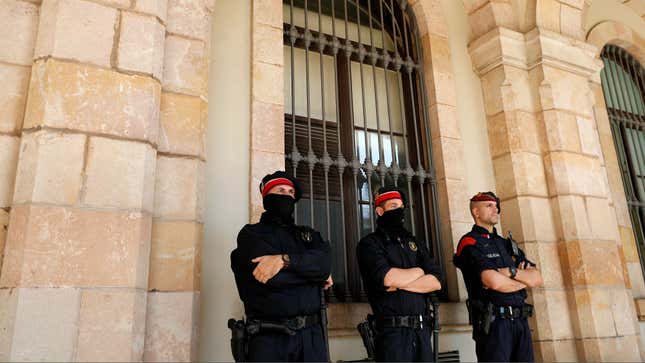 Catalonia has a long history of trying to break away from Spain. Puigdemont used much of his speech to give listeners a history lesson.
"Since the death of the dictator Franco, Catalonia has contributed massively to Spanish democracy. Catalonia thought the 1978 Spanish constitution could be a good platform for democracy, and got involved. But later, we realized that the Spanish authorities were seeing this as the final target, but for us, it was a transition," he said.
"In 2005, 85% of this parliament, following the procedures that the constitution establishes, approved a new statue for Catalonia, and that triggered a massive anti-Catalan campaign by the people that want to govern and dominate Spain at any price."
Since then, Spain has managed to prevent a referendum from going forward, and Spain's highest court deemed the recent referendum illegal. It went ahead anyway on Oct. 1, and the world watched police drag and beat voters at makeshift polling stations, confiscate ballot papers and boxes, and even shut off the internet in some places to prevent access to census data to carry out the vote.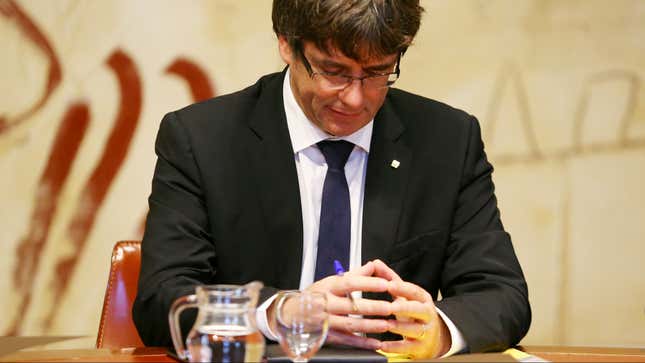 Despite ballot boxes being seized and generally poor conditions for an accurate count of citizens' preferences, the Catalan leader said 90% of the 2.3 million ballots were cast in favor of breaking away from Spain. He called the vote "valid and binding."
Two days later Catalonia's regional government asked the EU to intervene in its dispute with the central government in Spain, in order to avoid a "traumatic" split while thousands of people went on a general strike. This was a shift from the Catalan government's previous promise that it would declare independence within 48 hours of a majority vote.