Catalonia's regional government asked the European Union to intervene in its dispute with the central government in Spain, in order to avoid a "traumatic" split. Catalan president Carles Puigdemont claimed that the independence referendum held on Oct. 1, in which 90% of the 2.3 million ballots were cast in favor of breaking away from Spain, is "valid and binding." Ballot boxes were seized by police during the vote, some polling stations were forcibly closed beforehand, and generally the conditions for an accurate count of citizens' preferences were lacking.
"There is no button to push for independence, it does not exist," Puigdemont said at a press conference yesterday. "It is not a domestic matter. It's obvious that we need mediation. We don't want a traumatic break. We want a new understanding with the Spanish state."
This is a shift from the Catalan government's previous promise that it would declare independence within 48 hours of a majority vote for breaking away from Spain.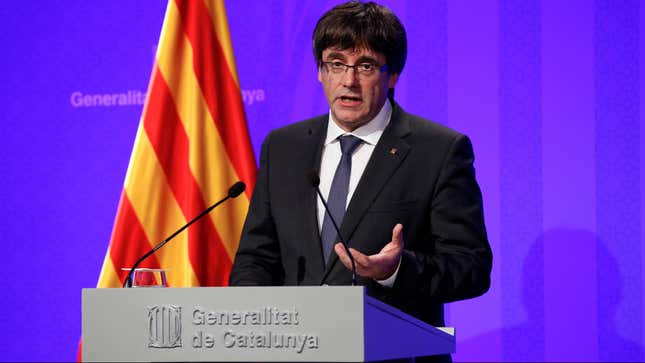 The referendum was deemed illegal by Spain's highest court. It went ahead anyway, but as the world watched police dragged and beat voters at makeshift polling stations, confiscated ballot papers and boxes, and even shut off the internet in some places to prevent access to census data to carry out the vote.
"The vote degenerated into an unedifying spectacle," said Peter Ceretti, Spain Analyst at the Economist Intelligence Unit. "Results cannot be treated as those of a proper referendum, not least because of police disruption."
It is unsurprising that Catalonia is asking the EU for help, given the violence on the day of the vote. Today, a general strike has brought large parts of the region to a halt.
For its part, the European Commission affirmed that the vote was "not legal" under Spain's constitution. "This is an internal matter for Spain that has to be dealt with in line with the constitutional order of Spain," it said in a statement. "We call on all relevant players to now move very swiftly from confrontation to dialogue. Violence can never be an instrument in politics."
Spanish markets have slipped since the vote, although not by enough to erase recent gains—Spain's benchmark stock index is up around 10% so far this year.
Still, analysts at Bank of America Merrill Lynch see increasing risks to the country's economy stemming from political instability: "Increased uncertainty could start affecting investment projects and consumers in the region, and potential general strikes in a region that represents 20% of the Spanish economy could dent the dynamic recovery Spain is currently experiencing," they wrote.