Catalonia is still pushing to break away from Spain although its leader Carles Puigdemont declared yesterday (Oct. 10) that he is suspending a hard declaration of independence straightaway in order to try and de-escalate tension in the region and negotiate terms of its exit.
Puigdemont and other regional leaders signed a declaration of independence from Spain and now all eyes are on prime minister Mariano Rajoy's government and what it will do next. Puigdemont used his speech yesterday to detail the central government's "radical" refusal to negotiate, and added that the European Union should step in as mediators.
"We are not criminals, we are not mad. We are normal people, and we just want to vote. We have been ready to talk and have dialogue. We have nothing against Spain. We want to have a better understanding with Spain. The relationship hasn't been working for many years, and now it's unsustainable," said Puigdemont.
But in the end, it's highly unlikely that Catalonia will achieve the full, unilateral independence it seeks any time soon.
No EU support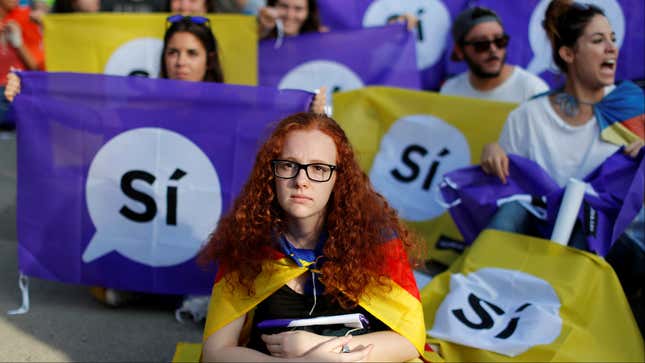 The public will be looking to Rajoy's cabinet to see what the official response will be during an emergency meeting called for today (Oct. 11). But despite the signing of a declaration by separatist leaders, it is highly unlikely that Catalonia will ever fully break away from Spain.
"I think it's very unlikely that Catalonia will become fully independent. Without any of the structures in place that would be necessary to run a separate state, and in the context of open hostility from Spain and no support from the EU, outright independence would be economically disastrous," said Peter Ceretti, Spain analyst at The Economist Intelligence Unit to Quartz.
Over the last week, the EU clarified its official position and said Catalonia's bid for independence was an "internal" Spanish matter. Puigdemont said the issue of independence was not a "domestic affair" and called on the EU to help as a mediator. It seems unlikely that Brussels will change its mind after a public declaration to stay out of it. On top of that, big EU players like France recently clarified its position that it wouldn't recognize an independent Catalonia (even though European Commission Jean-Claude Juncker said the bloc would the week before).
The problem with Article 155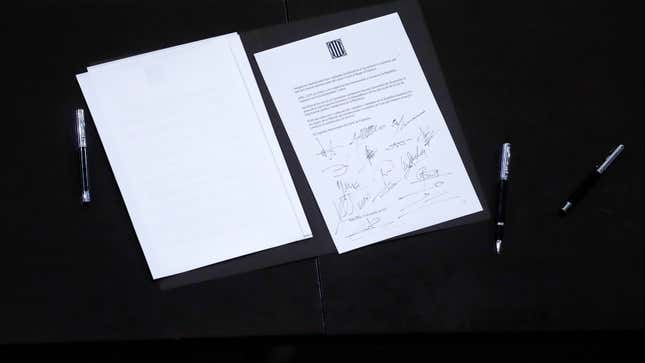 The biggest issue is Article 155. It's worth remembering that Spain's central government declared the referendum "undemocratic" and "illegal" making it not constitutionally recognized.
Article 155 of the 1978 Spanish constitution allows the central government in Madrid to take over running Catalonia, currently an autonomous region of Spain, and Rajoy could could invoke it if it declared unilateral independence. It would lead to imposing direct rule on Catalonia.
"Catalonia would effectively be leaving the EU and only be able to use the euro as a de facto currency. I also think that the Spanish government is likely to take all legal measures at its disposal, possibly including the use of Article 155 of the Constitution and increased security presence in the region, to defend the state's territorial integrity," said Ceretti.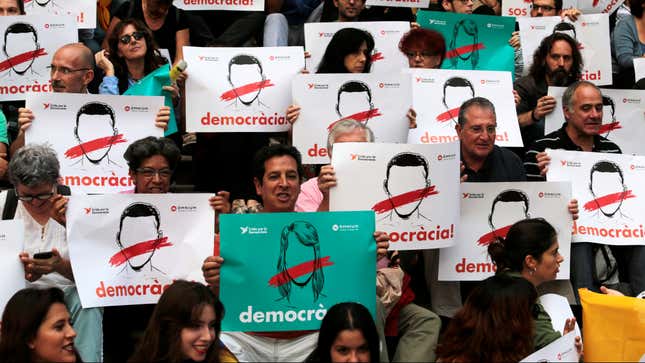 "I think a hard, unilateral declaration of independence—something more definitive than the ambiguous declaration that Carles Puigdemont made [last night]—could be met by a strong legal response from the national government. This might include the use of Article 155 or other measures, or some combination of legal instruments. In such a scenario, this would probably have the support of the opposition Spanish Socialist Workers' Party (PSOE). However, at present, it's unlikely that the government will go so far, as deploying Article 155 prior to a clear, unilateral declaration of independence might look disproportionate, particularly to the PSOE."
"Rajoy has ceded nothing since the referendum on Oct. 1, and both his statements and those of Soraya Saenz de Santamaría, the vice president of the government, would suggest that he has no intention to negotiate," said Ceretti.
"Over the long-term, perhaps under a different government and after a major realignment of the political landscape at the national level, there could be a productive dialogue between Catalonia and the central government. The PSOE, in particular, has advocated a federalist constitutional reform that could lead to some of the concessions that the Catalan government desires. Over the near term, I think it's very unlikely. The best that the Catalans might get would be improved fiscal terms with central state."
And under Rajoy's command, the world saw how the central government responded to the referendum. Police dragged and beat voters at makeshift polling stations, confiscated ballot papers and boxes, and even shut off the internet in some places to prevent access to census data needed to carry out the vote.