Uber has ended a troubled car leasing program for drivers with bad credit in New York.
The company told Quartz it terminated the lease-to-own program it operated through partnerships with four car dealers in New York City after an internal audit of its "vehicle solutions" in the city. That review was prompted by a Quartz investigation into the subprime car leases that Uber marketed to its largely immigrant driver population, which came with three-year contracts and high termination fees. Uber halted referrals to the car leasing program in June, after being approached about it by Quartz.
Uber will continue to partner with local dealers to offer car rentals, but is making some key changes. First, the company is ending its auto-deduction program, a previously mandatory part of lease and rental contracts that let Uber automatically deduct weekly payments from a driver's earnings. Auto-deductions from weekly earnings helped to guarantee that drivers in these leases and rentals worked for Uber before a competitor. Second, Uber says it's creating an internal "monthly scorecard" it will use to track and rank dealers based in part on driver complaints.
"We asked drivers to tell us what wasn't working with vehicle solutions and, based on their feedback, we decided to make some fundamental changes," Matt Wing, an Uber spokesman, said in an emailed statement. "The dealers we work with have been receptive to these changes and are working with us to improve how they serve drivers."
Uber's Vehicle Solutions division, designed to help drivers get cars, has stumbled this year. The company is in the process of shutting down Xchange Leasing, a two-year-old Uber subsidiary that lost about $9,000 per vehicle. Last month it emailed drivers offering them $450 Visa gift cards to return their cars to an Xchange dealership within a week. Over the summer, Uber also admitted to knowingly renting defective Honda Vezels at risk of overheating to drivers in Singapore.
In New York, Uber said it reviewed existing complaints about car leases and rentals to find that 45% of drivers reported problems with inaccurate billing and 25% had trouble with auto-deductions that continued after returning their vehicle. The company said many of those complaints fell through the cracks because Uber expected dealers to handle disputes, and didn't always forward complaints directly or ensure problems had been resolved.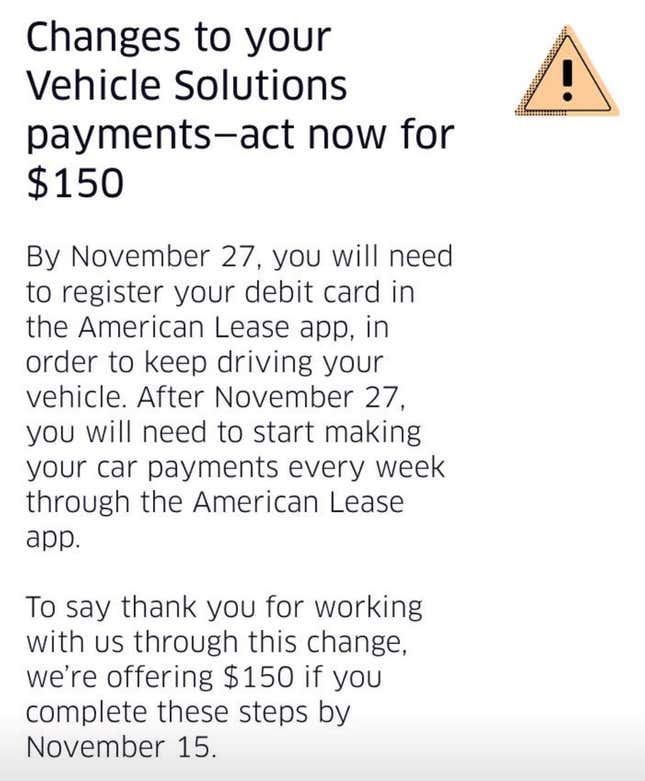 Under a new process Uber is introducing, complaints it receives about rentals will automatically be sent to dealers, who will be required to reply to the company showing they are handling the matter. Uber will factor complaint handling into its scorecard, and plans to meet with its four partner dealers each month to review their performance.
The company has also begun notifying affected drivers that auto-deductions are going away, and offering them a bonus to register a new payment option by next week.
"By November 27, you will need to register your debit card in the American Lease app, in order to keep driving your vehicle," read one such message. (American Lease is one of Uber's partner dealers.) "To say thank you for working with us through this change, we're offering $150 if you complete these steps by November 15."