Authorities in China's northeastern province of Jilin, which borders North Korea, apparently take the threat of its belligerent neighbor seriously. Jilin's official newspaper today (Dec. 6) published a rare, if not unprecedented, full-page article instructing its citizens on how to protect themselves in case of a nuclear attack.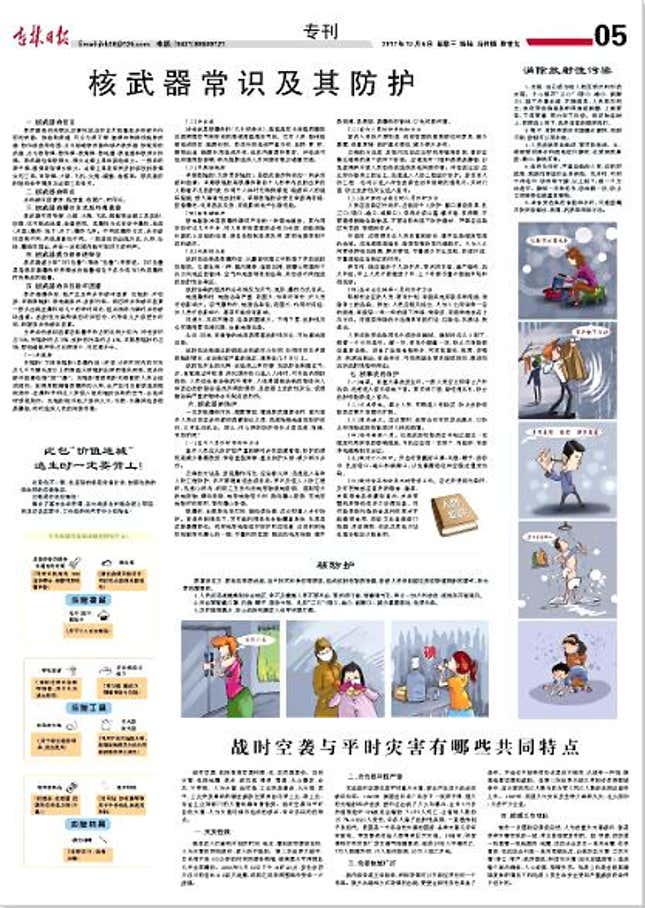 North Korea last week fired another ballistic missile over the Pacific, its first missile test since September and the 20th this year—and one that is capable of reaching the mainland US. Beijing stuck to its usual script in condemning the missile launch and called for all parties to show restraint. But authorities in Jilin, whose citizens felt the shockwaves triggered by a North Korean nuclear test earlier this year, are apparently preparing for the worst.
The article in the Jilin Daily newspaper doesn't specifically mention a possible nuclear attack by North Korea, but explains in detail how nuclear weapons are more devastating than traditional arms, and how people should protect themselves in case of a nuclear attack or leak. Cartoons demonstrate the ways to self-decontaminate in a radiation emergency, for example by brushing shoes with water and cleaning ears with cotton buds.
"It's natural that Jilin province is more sensitive to the situation on the Korean peninsula, given its special geographic location. It's necessary for the provincial paper to publish information on nuclear weapons," wrote state tabloid Global Times (link in Chinese) in an editorial. The article, however, also assured the public that there was no immediate risk of a nuclear attack.
Beijing has long insisted that enacting a "freeze for freeze"—the US and South Korea should suspend their joint military drills in the region in exchange for North Korea's suspension of its missile and nuclear programs—is the best way to begin to resolve the North Korean crisis. The idea serves China's bottom-line position that it won't allow any armed conflict or a refugee crisis on its doorstep.
Jilin isn't the only place on edge. Hawaii tested its first nuclear-warning siren in decades after North Korea's latest missile test, while the US and South Korea this week kicked off their largest-ever joint aerial drills. A visit from a top United Nations official to Pyongyang this week, however, provides a sliver of hope that perhaps diplomacy could be the way forward.