"For giving voice to open secrets, for moving whisper networks onto social networks, for pushing us all to stop accepting the unacceptable, the Silence Breakers are the 2017 Person of the Year," TIME magazine announced today (Dec. 6, 2017).
The cover story includes 35 Silence Breakers, who came forward to speak about sexual harassment. Of them, two are men; Blaise Godbe Lipman, who accused Tyler Grasham of assaulting him, and Terry Crews, who filed a suit against William Morris Endeavor talent agents for sexual misconduct. Two of the women are anonymous, and two more, labeled "university professors," stand for a larger group.
Six women made it to the cover: Ashley Judd, who was amongst Harvey Weinstein's first accusers; Adama Iwu and Susan Fowler, who started movements by speaking up on sexual harassment in their companies, Visa and Uber respectively; Taylor Swift who went to court to take on a DJ who had groped her during an event; Isabel Pascual, a strawberry picker from Mexico who asked to use a pseudonym (the story does not share much detail on her). The bent arm of a sixth woman is visible, too, representing the women who spoke out under condition of anonymity—and the million others who are still silenced.
The sisterhood is the person of the year—and the second instance when a group of women have represented TIMES's person. The other was 1975, when TIME had the faces of Susan Brownmiller, Kathleen Byerly, Alison Cheek, Jill Conway, Betty Ford, Ella Grasso, Carla Hills, Barbara Jordan, Billie Jean King, Carol Sutton, Susie Sharp, and Addie Wyatt.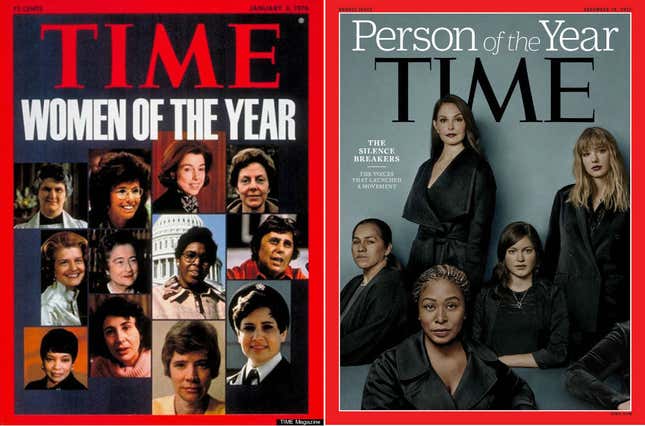 Prior to 1975 there were only three other women on TIME's cover—Queen Elizabeth II, because she was a monarch, and Wallis Simpson and Soong Mei-link, both known primarily for being someone's wife.
Post-1975, over a 42-year stretch only two women made the cover individually: Filipino revolutionary Corazon Aquino, and German chancellor, Angela Merkel. "The Whistleblowers" Sherron Watkins, Coleen Rowley, Cynthia Cooper were chosen, once again as a group, in 2002. That's right, in 90 years of history TIME has only found women worthy of being the person of the year eight times, and two of those times they were part of a large group.
For comparison, nine men including Mikhail Gorbachev, Bill Clinton, George Bush, Joseph Stalin, Barack Obama each were the person of the year twice, and Franklin D, Roosevelt made it it three times. None of those men made it because they were notable husbands.
Indeed, even in a year where women were the flavor of the week, like, every week—it took a group of them to top a shortlist packed with men (Wonder Woman's director Patty Jenkins was the only other female candidate). The first runner up, Trump, is still an self-admitted sexual predator.
Many more could have been included: From those who organized and attended the Women's March to groups of women who came forward to report abuse. Their stories were a counter-narrative, particularly in the US, to the systematic political attack of women's rights.
Indeed, this is the year in which women responded to  threats with strength, ran for office in larger numbers than ever, held their ground when being questioned as to why they didn't come forward earlier. Even though the 2017 is ending with the most powerful office in the world held by a man accused of sexual misconduct by 17 women, these women started a tangible wave of change.
Day after day, men who at one time seemed utouchable are being publicly called-out for having engaged in sexual misbehavior. They are being investigated, losing high-profile jobs and falling from a grace, something that once seemed unthinkable.
It is affirming and emboldening to see the #MeToo, women, and feminism recognized. There is something very powerful in its celebration of female solidarity—lest anyone believe the stereotype that women are competitive, first and foremost, with one another. After all, women so far have had to work as a pack in order to take down predators. It is only in numbers that they found the strength society still isn't affording them as individual.
Next year, perhaps, a woman—there are so many who would be worthy—might stand out on her own.
And so this cover, and the history it follows metaphorically and officially establishes this as a new coming of the modern feminist movement, it also reminds us that the job is not yet done. Hopefully this is the time we, once an for all, take care of what Hillary Clinton famously called "the unfinished business of the twenty-first century": Women's equality.
Correction: Women were featured eight times, not seven.