While some holiday shoppers might be ogling the Nintendo Switch or that perfect pair of jeans, savvy folk like you and I understand that deep down your friends and family are secretly hoping to unwrap the gift of a speculative, volatile investment.
Bitcoin, the digital currency that JPMorgan boss Jamie Dimon once called "a terrible store of value," is an appealing mix of danger, value, and zeitgeist for the discerning gift-giver this holiday season. The cryptocurrency has been on a tear this year, jumping by around 1,700% in value.
Giving a friend or loved one bitcoin is the imperfect midpoint between gifting a savings bond (zzz) and a lottery ticket (tacky). Like a savings bond, the gift has an intrinsic value that you pass on to the recipient. But like a scratch-off, at some point in the future it could be worth much more than what you paid for it. Or, even more exciting, it could be worth absolutely nothing.
How to buy a decentralized, blockchain-verified gift
Let's assume the person you're buying bitcoin for doesn't know anything about cryptocurrency. Maybe they've seen something about bitcoin on the news, but never got in on the action.
Although a bitcoin currently goes for around $17,000, you can buy a fraction of a coin, so decide how much you want to buy in—ugh—fiat money, like dollars, pounds, or euros. It's probably best to do this as close to the time you're giving the gift as possible, due to bitcoin's wild price fluctuations. If you haven't bought bitcoin before, the easiest way to get set up is with a web-based wallet like Coinbase.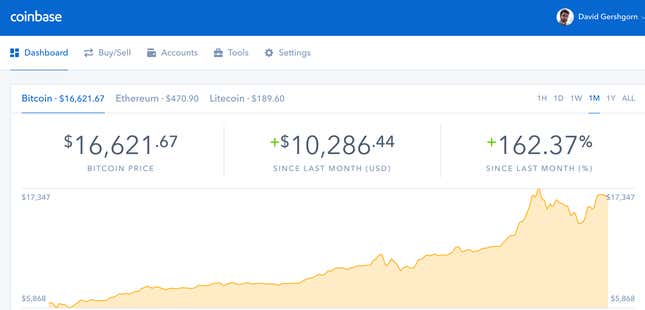 Through Coinbase, you create an account and buy the bitcoin. Be warned: depending on where you live you might have to submit personal information like your address and last four digits of a social security number. You will also have to verify a bank account or debit card with photo identification to transfer bitcoin into Coinbase's system. Another caveat: it can take up to three days for the bitcoin you buy to process and end up in your account.
Another option is a Bitcoin ATM—you can simply feed in cash and get bitcoin at these machines, for a hefty fee. You can find the nearest one through a website like CoinATMradar, which says there are 1,930 ATMs in 61 countries. Concentration seems to be higher in major metropolitan areas, but if you live near the Chevron gas station just outside Shreveport, Louisiana, you're in luck.
You might also want to study up on tips and tricks to avoid getting hacked. Some $15 billion in bitcoin has been stolen from online wallets over the years, and the thing about a stateless, distributed cryptocurrency is that once you lose it, there is no central authority to turn to for help. It's a bummer of a message to deliver with a gift, but a necessary one.
Don't send bitcoin through email
After you've obtained the bitcoin, it's time to prepare a way to send it. You could email it via Coinbase's "Send" functionality under the "Accounts" tab, but sending a gift via email is lame and you're better than that.
The easiest way to physically give someone some bitcoin is through a paper wallet: Literally, a printed piece of paper that contains the public and private keys that correspond to the wallet online.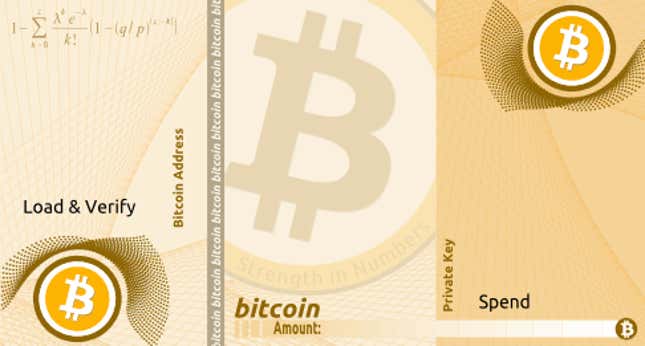 Go to Bitcoin.com's paper wallet tool, which will generate a wallet for you to send the funds you just acquired on Coinbase. Print out the piece of paper, and guard it like cash. To transfer the funds, on your Coinbase dashboard, go to "Accounts," then "Send," and enter the public key it shows on the piece of paper. Once the transfer is complete, slip the paper in a card or small box, and hope bitcoin doesn't crash in the meantime. (Or soar, since then you'll be tempted to keep the cryptocurrency for yourself.)
After surely squealing in delight at your creativity and generosity, the recipient can check their funds on blockchain.info, or follow the directions on Bitcoin.com's paper wallet tool to transfer money back to cash. (As if.)
If you're feeling really generous, you could also give someone a "hardware wallet," essentially a tiny computer that looks like a USB stick, with the sole function of storing bitcoin. They start at about $80, and we've recommended the brands Ledger and Trezor in the past. However, SatoshiLabs, the company that makes Trezor products, says that the jump in Bitcoin value has left the company unable to fill all the orders they've received in time for the holidays. Bah humbug!