The number of Americans who claimed their initial unemployment benefits over the past month was the fewest in nearly 6 years according to data released today by the Bureau of labor statistics.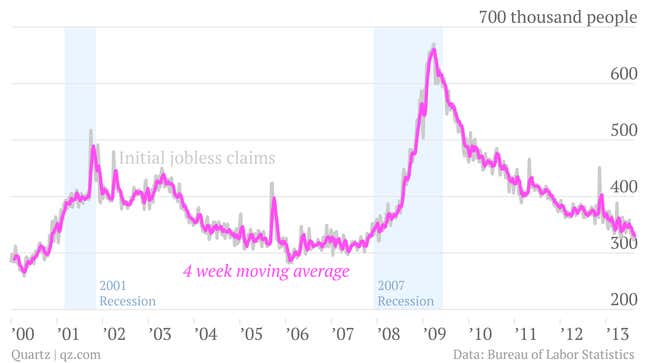 "Initial clams," as they're known, were widely cited as a sign of doom during the recession that followed the financial crisis. Claims rapidly increased from around 350,000 a week in December 2007 to a peak of 670,000 in March 2009, which was a 27-year high.
The most recent data show 336,000 claims were made during the week that ended August 17. While the most recent data point is an uptick from the week before, the 4 week moving average of the measure fell to 330,500. The last time the moving average was this low was in November 2007 just before the start of the Great Recession in December.
The amount of time Americans remain unemployed is declining, too. The median time unemployed is now 4 months, down from a peak of 6.2 in June 2010.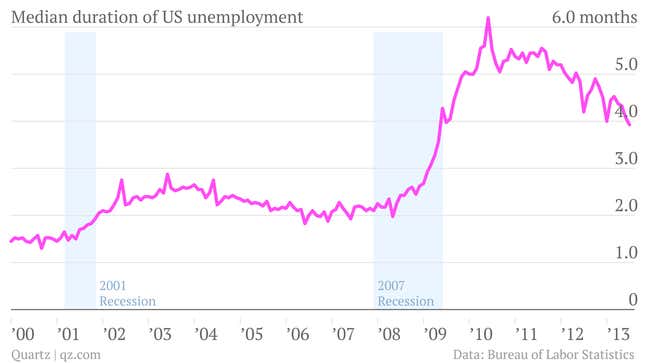 The data are yet another indication of the US economic recovery, following 34 months of employment growth as well as a rebound in housing and a decline in credit card debt.
North Dakota, aided by an oil boom, has the fewest new unemployment claims relative to the size of their labor force. Alaska has the most, with 4.31 new claims per 1,000 Alaskans with non-farm jobs.