In late April, it was rumored that the grandson of Mao Zedong, China's founding father, was among the 32 Chinese tourists killed in a bus crash in North Korea. More dramatically, it was said that the tour group was on its way to the grave of Mao's eldest son, who was killed by a US bombing during the Korean War.
But Mao Xinyu made a rare public appearance last week, proving the reports of his death—also denied by the Chinese foreign ministry as "groundless"—had been greatly exaggerated. On May 4, Mao and other military officials visited the research facilities of one of China's largest state shipbuilding conglomerates in Beijing, the company said on its website (link in Chinese). Mao was introduced as one of the four heads of the war study center of the Academy of Military Science, the top research institute of China's armed forces.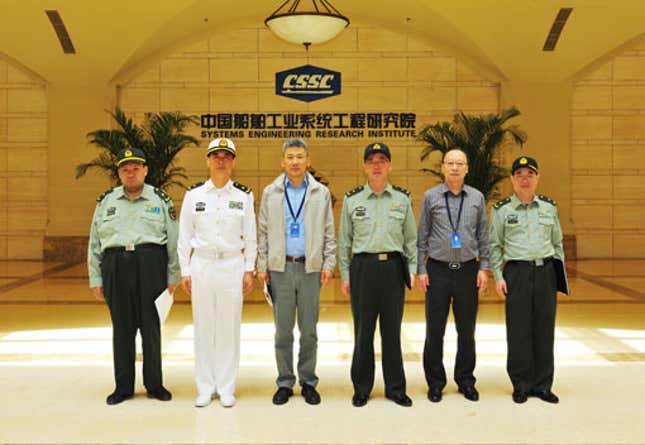 Mao, 48, is the only son of Mao Zedong's last surviving son, Mao Anqing, who died in 2007. (His uncle, Mao Anying, is the one who famously died as a "volunteer" fighting in the Korean War in 1950, and is buried in Pyongyang.)
The chubby grandson has long been viewed as a celebrity of sorts in China. In 2010, Mao was promoted as China's youngest major general, after a decade of studying his grandfather's military theory at the military academy where he now works. In 2011, he was given the role of a part-time lecturer at a university in Guangzhou. From 2008-2017, he had been a member of China's top political advisory body, which convenes every March at the same time as the legislature. Despite his largely ceremonial role, Mao was always among the prime target of the reporters waiting outside the Great Hall of the People in Beijing.
But prior to his rumored death, Mao had been out of the sight of the public for many months. He and several other "princelings"—the descendants of Communist Party elders, as they are called—were not re-elected as political advisors for this March's gathering. Before that, Mao was also among the military princelings who were not invited to the party's 19th national congress, a twice-a-decade leadership reshuffle event that is the single most important thing on China's political calendar. Mao's non-presence is effectively a death penalty for his future promotions within the military.
His increasing irrelevance comes at a curious time in China, which is in the midst of Maoist revival fostered in no small part by Chinese president Xi Jinping since he took on the party leadership role in 2012. In the last few months, Xi has consolidated power around himself to an unprecedented level since Mao Zedong. Xi's moves—from scrapping the presidential term limits to adding his name to both the party's and the state's constitutions—have raised concerns about the return of one-man rule and personality cult of the Maoist era, a time of socially traumatic social upheaval. Mao's Great Leap Forward collective agriculture experiment is believed to have led to tens of millions of deaths, and was followed by the decade-long Cultural Revolution—a mass movement to reinvigorate socialism and also weed out Mao's opponents. It led to the deaths of as many as two million people, according to some estimates.
Despite the toll of that time, at the grass-roots level, too, China has seen the rise of a "neo-Maoist" movement (paywall), as many grow nostalgic for the idea of a simpler, more equal society than is visible in today's China. Every year, tens of thousands of Mao devotees make a pilgrimage to Mao's hometown, Shaoshan village in central China, to celebrate his birth. In 2016, residents from a village in central Henan province chipped in nearly 3 million yuan ($459,000) to build a giant, golden statue of Mao, which was later demolished by local authorities. The tour group at the center of the bus crash in North Korea is also reportedly (link in Chinese) organized by an online forum popular among Maoists.
As these twin strands of a renewed cult of Mao have grown, though, Mao Xinyu has often been reduced to being the butt of jokes, with internet users in China ruthless poking fun at his bumbling interviews and childish calligraphy. Ironically, Mao's grandson seems to be losing his place in an increasingly Maoist China.