In the grand finale of China's most important political event, six men, led by the all-powerful party chief Xi Jinping, strode onto the stage of Beijing's Great Hall of the People to meet the press Wednesday (Oct. 25).
The unveiling of the new Politburo Standing Committee (PSC)—the Chinese Communist Party's very top rung of power—came a day after the party's 19th national congress concluded. The twice-a-decade leadership reshuffle saw Xi further consolidate his power, with his name inserted into the party's constitution, an honor no Chinese leader has enjoyed while still in power since Mao Zedong.
The composition noticeably includes no one in their fifties—that is, young enough to be Xi's successor as party chief in 2022, when he is due to step down. That's a signal Xi could break with convention to hang on to power beyond his second term. Less unusually, it includes zero women.

Xi and premier Li Keqiang, the party's No. 2 official, retained their spots as expected while the rest five in the apex group were elevated from the broader 25-strong Politburo. These new faces are seasoned politicians who as a group appear to strike a balance between Xi allies and others. Their specific government or party positions, for the most part, have yet to be announced.

Here are profiles of the seven most powerful people in the Communist Party, in the order of seniority suggested by the sequence in which they trooped into the Great Hall of the People.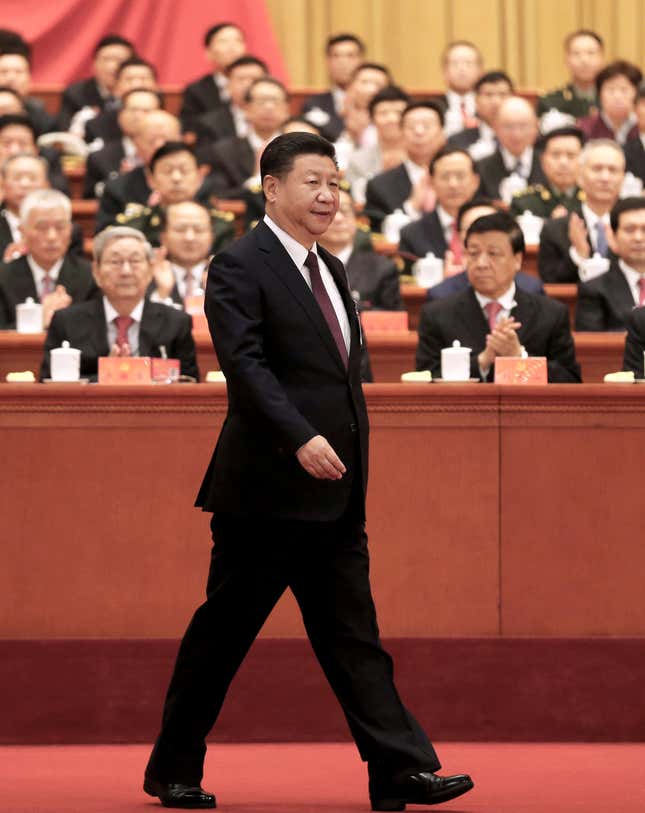 Xi Jinping, 64, party general secretary and China's president
Political alignment: Xi started out as a princeling largely accepted by all party factions after the dramatic fall of his leadership rival Bo Xilai. Five years on, he is immensely powerful, and has installed his own men—some considered part of the Zhejiang clique—in key party and government positions.
Known for: Having waged a war against corrupt officials and won official recognition as the party's "core," Xi became China's most dominant leader in decades in his first term. Now he has emerged from the party congress on par with Mao and reformer Deng Xiaoping, with his own name added to the party's constitution. During the leadership conclave, Xi also declared a "new era" for his country, which entails the idea that China is moving closer to the center of the global stage as an influential power. Xi's career trajectory has involved a steady ascent through the ranks of the party, ambitious global-facing infrastructure projects, and ruthless crackdowns on political opponents and dissidents.
Policies: An optimistic take on Xi's power play would be that it's a way for him to be better placed to deliver on big promises, such as greater prosperity. Critics, however, don't expect him to do a lot to address China's structural economic problems, such as excess industrial capacity and rising debt.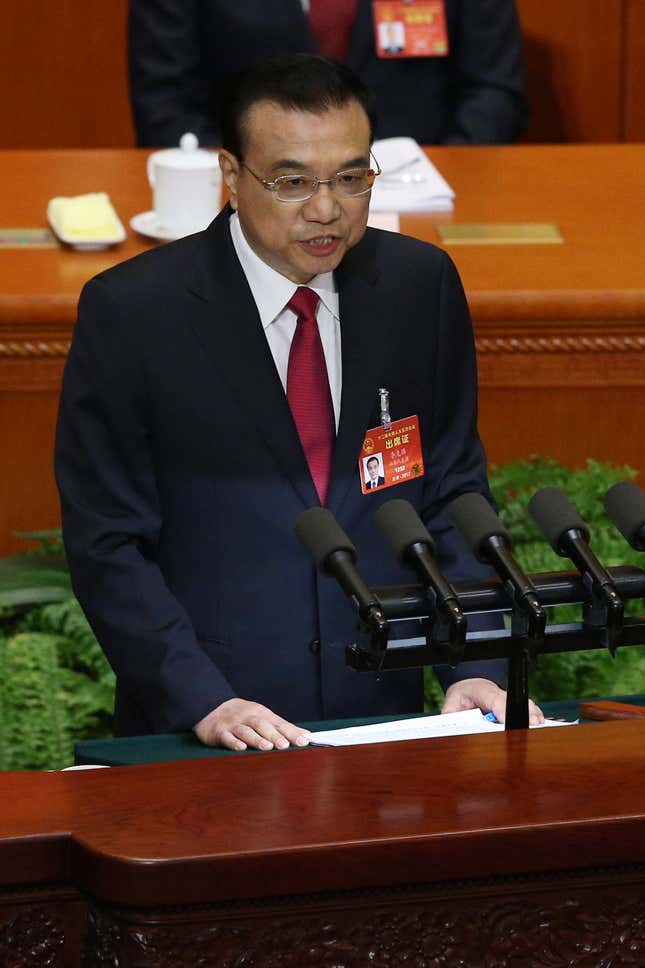 Li Keqiang, 62, party #2 and China's premier
Political alignment: Li advanced through the Communist Youth League, once an influential training ground for party high-flyers, including ex-president Hu Jintao, that has now been sidelined.
Known for: Li is the weakest Chinese premier in decades. Although he is nominally the party's No. 2 responsible for steering China's economy, Xi has effectively taken away much of Li's role by himself serving as the head of a series of party groups that guide economic and financial affairs. A trained economist, Li has made little headway in the much-needed economic reforms the government has promised. Instead his past five years as premier have been marked by a growing debt bubble and an epic stock market meltdown in 2015, among other crisis. Speculation had been rife that Xi would replace Li as premier.

Policies: Li seems likely to hang on his premier job after all (the shuffle of government posts only begins around March). But how much say Li has on the economy depends on Xi. As the Economist notes, "it may prove useful for Mr Xi to retain him as a fall guy, in case a bigger crisis hits."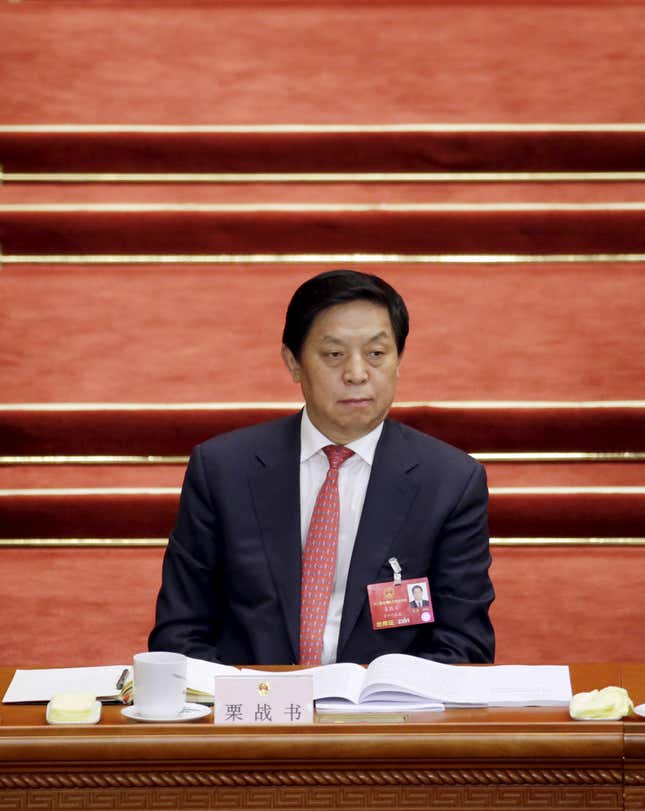 Li Zhanshu, 67
Political alignment: Li is one of Xi's most trusted confidants, essentially serving as the president's chief of staff since Xi took power in 2012.
Known for: Li got his name from the phrase zhandi jiashu—which means "a letter from the battlefield"—a reminder of his family's extensive ties with the Communist Party during wartime. Li spent decades of his political career in China's poorest areas including the rust belt province of Heilongjiang and the southwestern farming province of Guizhou, which has proven to be a poverty-fighting test ground for the party's rising stars. During the 2012 power transition, Li replaced Ling Jihua—a Hu Jintao ally who was later sentenced to life in prison for corruption—to head the General Office of the Communist Party, which is responsible for the daily administrative affairs of senior leaders. He was also elevated to the 25-strong Politburo, a position Ling never earned.
Policies: As Communist Party watcher Zi Yang notes, Li pushed for heavy investment in infrastructure and cutting bureaucratic red tape for private businesses back in his days in Guizhou; as Xi's chief of staff, he has gone beyond his day-to-day brief when it comes to foreign affairs, accompanying Xi to visit world leaders such as Vladimir Putin and Donald Trump.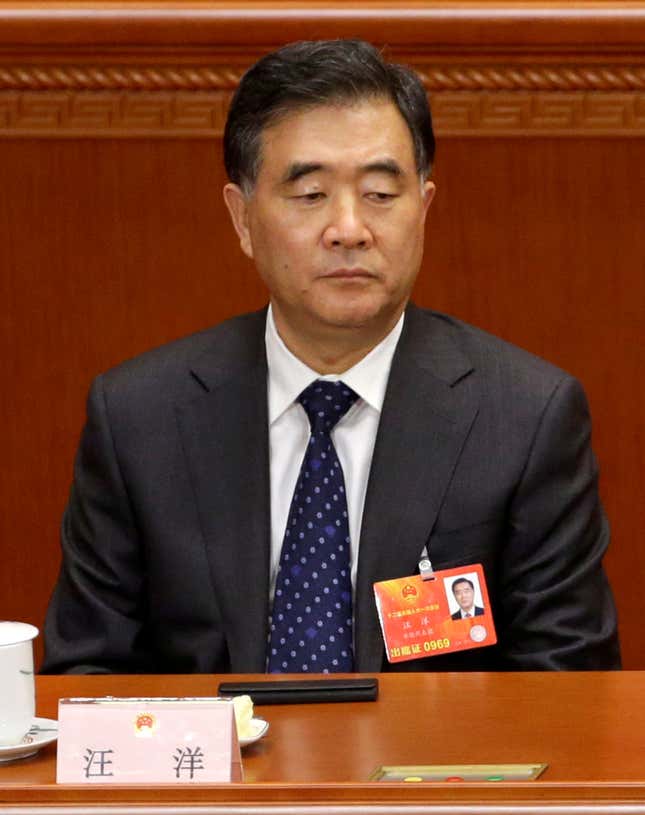 Wang Yang, 62
Political alignment: Wang was nurtured in the Communist Youth League.
Known for: Wang currently serves as one of China's four vice-premiers, in charge of  agriculture and foreign trade. Prior to that, he had taken some of the country's most important regional leadership offices: he was Chongqing's party boss between 2005 and 2007, and party boss of the southern Guangdong province between 2007 and 2013.
Policies: Wang is largely considered a more liberal leader in the party's ruling elite. During his tenure in Chongqing, Wang urged local media to focus more on ordinary people rather than municipal officials in their coverage. In Guangdong, he pushed for greener, more sustainable economic growth (paywall). He also won praise for allowing Guangdong's fishing village of Wukan—once hailed as a cradle of grassroots democracy in China—to elect a new local chief amid a series of protests in 2011.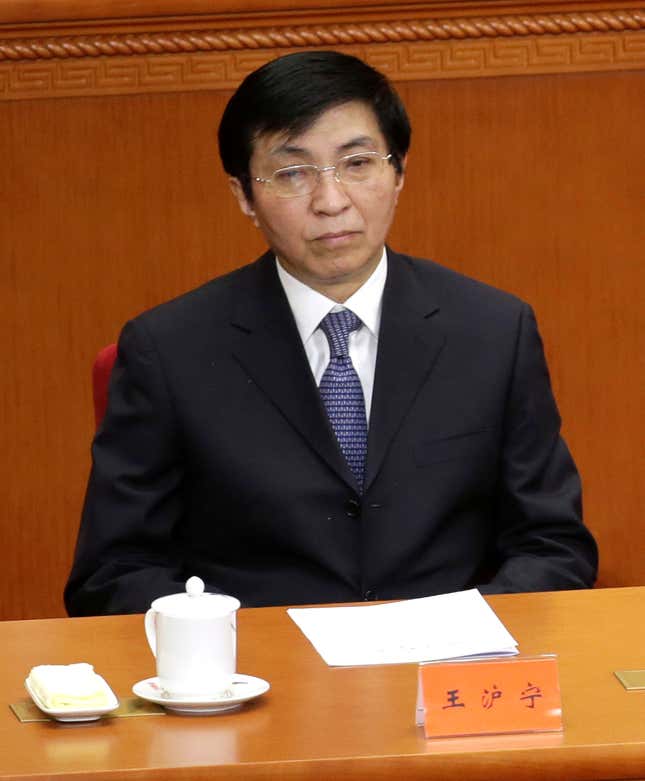 Wang Huning, 62, Secretary of the Central Committee Secretariat
Political alignment: Wang is considered part of Xi's inner circle.
Known for: Wang has been a senior policy advisor to Xi and his two immediate predecessors, Hu Jintao and Jiang Zemin. "Huning" literally means "Peaceful Shanghai," where he was born and spent most of his academic career as a political scientist specializing in US politics. After travels in the US, he published a book in 1991 criticizing the US political system called "America Against America." Currently heading the party's Central Policy Research Office, he is considered the brain behind Xi's "Chinese dream" campaign. Like Li, Wang is also a routine member of Xi's overseas entourage.
Policies: Wang's diaries from his early academic career, published by Chinese media last year, revealed that he is an advocate of "neo-authoritarianism," the doctrine that holds that political stability is fundamental for economic development, and that democracy and individual rights should come later when the time is appropriate. He also argues for a more assertive foreign policy, one Chinese scholar who's known Wang since the 1980s told the Wall Street Journal (paywall). Wang is now the first-ranked member of the party secretariat, which helps carry out decisions of the Politburo and its Standing Committee.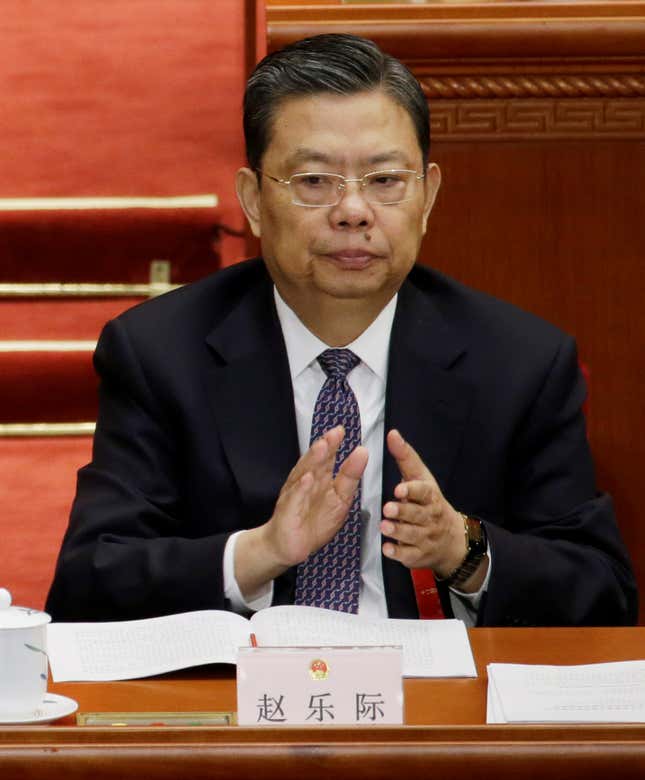 Zhao Leji, 60, the party's new top graft buster
Political alignment: Zhao is considered not to have any strong factional affiliation.
Known for: Zhao currently serves as the Communist Party's personnel chief. He spent more than three decades climbing the political ladder in Qinghai province until he became the western region's party boss in 2003. He was transferred to the same post in Shaanxi province in 2007. He is said to have a poker face, and also described as media shy and largely uncharismatic.
Policies: Zhao was selected Tuesday (Oct. 24) as a member of the party's internal discipline watchdog, and has officially replaced Wang Qishan, a trusted ally of Xi who is no longer in the Standing Committee, to serve as his anti-corruption tsar.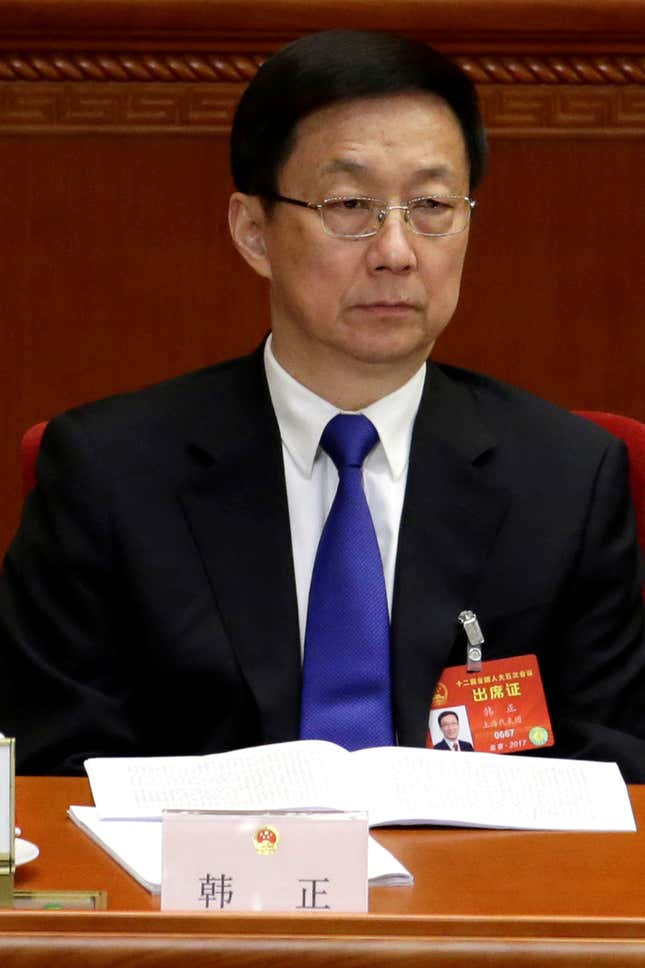 Han Zheng, 63
Political alignment: Han was once considered part of ex-president Jiang Zemin's faction.
Known for: Han has spent his entire career in Shanghai, a powerbase of Jiang's. At age 48, Han became the city's youngest mayor in five decades. Han has proven to be a political survivor of a 2006 pension-fund scandal that brought down his immediate boss. He served under Xi, then Shanghai party boss, for eight months in 2007 before Xi headed to the central government. During the 2012 power transition, Han himself was promoted to become Shanghai's party chief, a position that traditionally secures a seat in the PSC.
Policies: Han has overseen Shanghai's free-trade zone trials and other experiments of financial liberalization.