Donald Trump announced from the Oval Office that he'd reached a "very special" deal for American manufacturers and farmers, in a bilateral trade arrangement with Mexico he envisions as replacement for the North American Free Trade Agreement that has included Canada.
NAFTA, Trump said again today (Aug 27), was a "ripoff," and Canada would have to scramble to to negotiate to join the new deal—which he dubbed the US Mexico Trade Agreement—or face tariffs on all cars it exports to the US.
"We'll give them a chance to have a separate deal, or we could put it into this deal," Trump said.
It sounds bad for Canada, but what, exactly, have the US and Mexico committed to? Less than it looks like, trade experts say.
The White House press event was another Trump presidency trade moment that was heavy on threats and light on substance (not to mention marred by a glitchy conference call with Mexican president Enrique Peña Nieto.)
Congress has power on NAFTA
Trump can't just unilaterally scrap the 25-year-old NAFTA deal, even on behalf of the US. Changes the administration has been re-negotiating for months require congressional approval.
In fact, the negotiations with Mexico aren't yet finalized, the US Trade Representative confirmed later. The US's top trade representative, Robert Lighthizer, is expected to file documents Aug. 31 that would include specifics.
Then Congress has 90 days to read and approve the details, thanks to Trade Promotion Authority rules, a process that could extend past the contentious mid-term elections. There's no guarantee Trump's Republicans will hold its majority in the House.
Republicans are eager to make sure that Canada is included in a new trade deal. Orrin Hatch, the Utah senator who chairs the Finance Committee that would need to approve any deal, stressed that "a final agreement should include Canada."
Canada has power on NAFTA
Any changes to NAFTA deal require Canada's approval, as foreign minister Chrystia Freeland's office pointed out. Freeland, who is traveling to Washington DC tomorrow (Aug. 28) to continue negotiations, "will only sign a new NAFTA that is good for Canada and good for the middle class," her office said. "Canada's signature is required," for any renegotiation, it noted.
The Mexican president was sure to add he was "quite hopeful" that Canada will start discussing "sensitive bilateral issues" with the US. Canadian and Mexican officials are believed to be working together under a "gentlemen's agreement" that neither would sign a deal with the US without including the other, said Nick Anstett, a director at Albright Stonebridge Group, which consults for global businesses.
Mexican officials have been in touch with their Canadian counterparts all summer, and today Justin Trudeau's office said the Canadian prime minister had spoken with Peña Nieto on Sunday to share "their commitment to reaching a successful conclusion to this agreement for all three parties."
Peña Nieto appeared to be sending a signal to the Canadians during the conference call with Trump, Anstett said, by constantly referring to "NAFTA" even as Trump tried to rename the deal.
In saying he was scrapping NAFTA, Trump "completely ad-libbed," believes Jorge Guajardo, a former Mexican ambassador to China who advises companies on Latin America and China issues from Washington. Mexican officials on the Oval Office phone call with Trump "were not on board with this," he said, and were caught by surprise.
Canadian officials hold "much more negotiating power than they're being given credit for," he said.
Tariffs on Canadian cars hurt US companies
Trump's threat that he will tax car imports unless Canada agrees to lower tariffs on dairy products appears to be an empty one. Canada doesn't have any major homegrown vehicle brands. Many of the cars made there last year were models made for the US's big automakers Ford, GM, and Chrysler, according the Canadian government: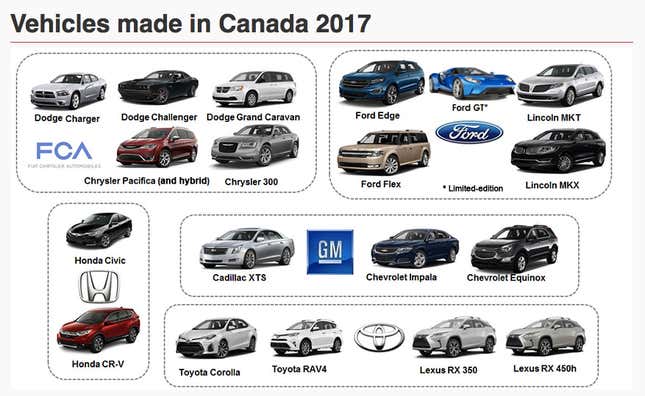 Putting a tariff on GM's Cadillacs would only make them more expensive for US consumers, and cut into US companies' profits.
New wage rules favor Canada
An earlier sticking point in renegotiating NAFTA was the US's insistence that 50% of the content of cars sold in the US be made in the US, Anstett said. The USTR statement issued today says instead that "40-45 percent of auto content be made by workers earning at least $16 per hour."
Mexico's hourly average factory wage are less than $3 per hour, while Canada's are around C$25 (US$ 19.28) so that shift is likely to restrict Mexican imports to the US, not Canada's.
Another clause, that requires "75 percent of auto content be made in the United States and Mexico," is expected to include Canada as well when the final negotiations are over.
The sunset clause is over
One of the biggest sticking points between the US and Canada in earlier negotiations was the Trump administration's insistence that any agreement end after five years, and be negotiated all over again. Canadian officials balked, because it would make it harder for companies to plan their investments in factories and other facilities.
The new agreement would Mexico would last for 16 years, a senior administration official told reporters after the press conference, but be up for review in six years, with an eye to another 16-year term.
Another confusing day in DC
One House representative from Virginia echoed the thoughts of many in DC, when he expressed bewilderment at what, exactly, Trump had announced.
Canada is the top export market for 36 of the US's 50 states (the top export market for several of the remaining states is Mexico, particularly those on the US's southwest border).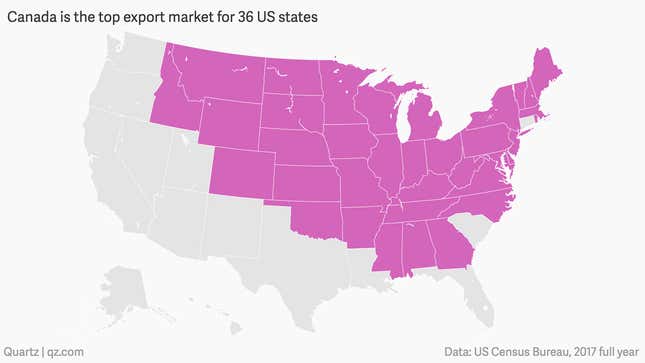 Canada is the also the US's longest, and closest defense partner, and helps protect the US's northern border and bolsters its presence in the Arctic.